Such a cute sophisticated yet sweet Valentine party – will you be the milk to my cookies? Cookies and milk go together and what a fabulos idea to create this for a Valentines theme. Party planner extraordinaire, Amy of Dimply Sweet designed this party and shares the following:
"After having my sights set on styling a "Cookies & Milk" party for some time, the thought of combining a Valentines shoot seemed like the perfect opportunity to do so! The idea of exchanging decorated heart cookies in place of Valentine cards seemed like the perfect fit! With this our theme was born, "Will you be The Milk to My Cookie" a perfect twist on a Valentines Cookie exchange party!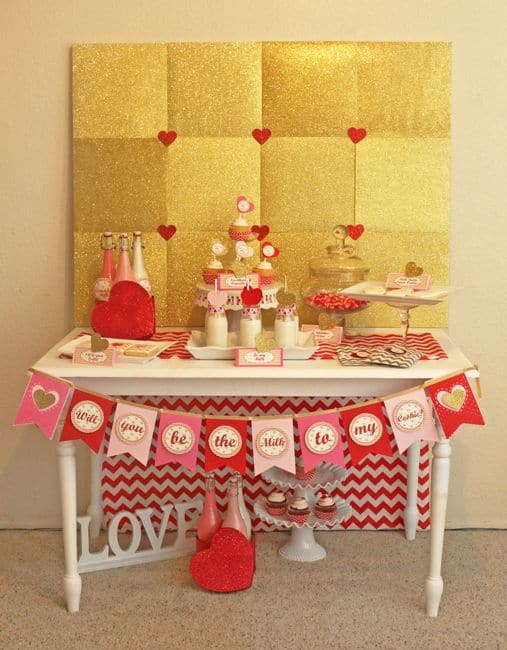 Lately my Love for all things Sparkly has been overwhelming so the thought of combining our traditional Valentine colors with a gold sparkle twist and a touch of chevron seemed to be the perfect fit for a Modern and contemporary Valentines Party! Although our inspiration was to keep this design Contemporary, we could not help ourselves but add a touch of heart doilies for that overall traditional Valentines day look.
The Cookie Decorating table was adorned with heart shaped doilies and heart shaped dishes. Various cookie decorating sprinkles to choose from along with cookie icing was plentiful! To drink we enjoyed organic strawberry milk placed in mini milk jugs, the perfect fit for those little hands! To tie it all together, our sweets table was adorned with cupcakes and some of the most stunning Chevron heart decorated cookies and Milk jugs from Natsweets!
We loved the final look to our Valentines "Will You Be The Milk to My Cookie", however, we can customize any of our themes to fit our client's needs, just contact Dimply Sweet."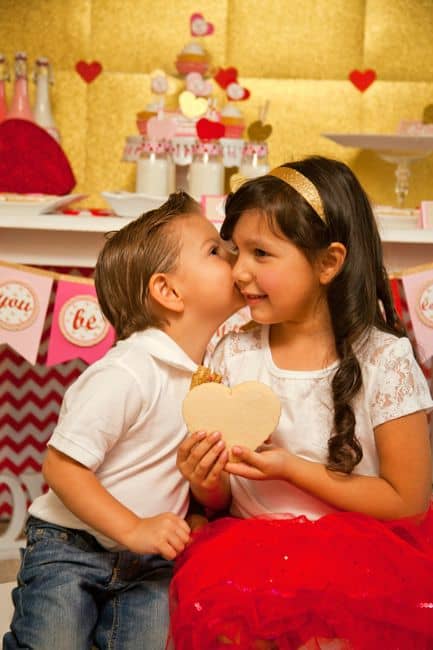 Fabulous Vendors:
____________________
(with the help from her lovely assistants Sony and Arlene)
Photography: Maria Healey Wedding Photography
Models: Zachary and Jocelyn
All Printed Party Decor: Dimply Sweet
Designer Cookies from NatSweets


Author:
Toni - Design Dazzle
Mentions:
valentine party
Keywords:
Valentine Party
Last Updated:
December 1, 2020