This post may contain affiliate links that, at no additional cost to you, I may earn a small commission. Read our Disclosure Policy.
Do you feel like your kids bring home as much sugar from their Valentine's Day parties as they do from Halloween trick-or-treating? Sometimes it's nice to break away from all the conversation hearts, boxes of chocolate, and baked goodies. (Although I really really love those!) Your mom friends will really appreciate this sweet, heart-shaped Valentine moldable sugar scrub. It is so exfoliating, smells like heaven, and is totally pink and heart-shaped just for Valentine's Day.
Supplies for Sugar Scrub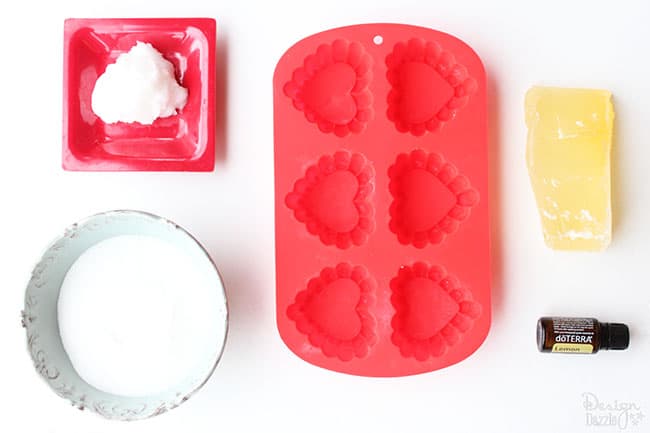 Step 1: Cut melt-and-pour into cubes and melt in microwave for 1 minute on half power, stirring occasionally. Melt time may vary based on different types of melt-and-pour and the power of your microwave. So make sure to check it periodically!
Step 2: Add the coconut oil to the soap, and let it melt. It may help to put it in the microwave, only for a few seconds. Mix together well. Add the essential oils and pink food coloring, mix well. Add more essential oils if you want it to smell stronger. You can also add more or less food coloring to change the color. Add the sugar, but stir it in quickly and mix it well. It will begin to harden quickly and you want it to be evenly mixed.
Step 3: Spoon the sugar scrub mixture into the molds. I only filled mine up about half way because I thought they looked cuter thinner. Push it down with the back of a spoon or with your fingers. Make sure that you push it down into the mold so that it gets the full texture and shape of the mold.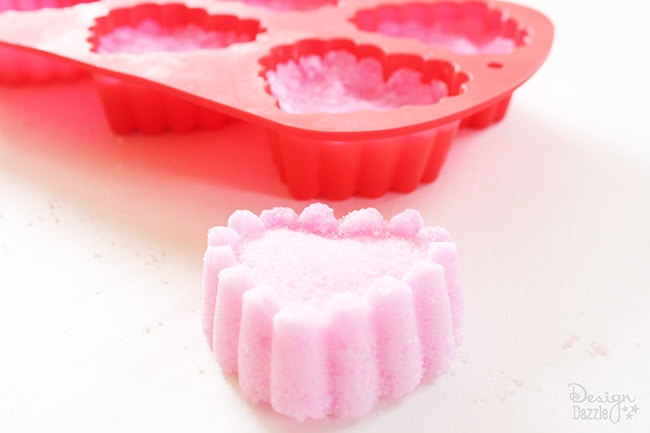 Step 4: Let it set. I put mine in the freezer for about 30 minutes or longer to let it really take shape and get hard.
*****If you want to use regular bar soap the melting process would be different. The scent would also be hard to change with essential oils. So if you want a delicious smelling, super exfoliating moldable sugar scrub, I would recommend using melt-and-pour soap base or an unscented soap.*****
Add a cute Valentine printable and you're good to go! I love this sweet little gift that's very sugary, but won't give you a tummy-ache. Happy scrubbing!
The Sugar Scrub Tags are FREE and available for immediate download by subscribing to Design Dazzle!
To receive this free printable – enter your email address in the box below and click submit. Make sure to check your inbox for an email from Design Dazzle. You will have access to all of our FREE printables and also will receive an email newsletters filled with lots of great information. Don't worry your email address will never be sold
Printable files are for personal use only. They are not for commercial use.