This post may contain affiliate links that, at no additional cost to you, I may earn a small commission. Read our Disclosure Policy.
As an Evite® Influencer, I'm sharing how to do an easy summer watermelon birthday party for kids. This post has been compensated by Evite®. All opinions are mine. #Evite20
I used to be a party planner. For me, it's fun to plan a beautiful summer party that everyone enjoys. My kids had their fair share of amazing parties. But sometimes you want to do easy and simple- especially when the weather is beautiful and kids want fun activities outside. The great thing about this party is even is even if you don't have summer birthday, you can still just celebrate summer by having your kids friends over!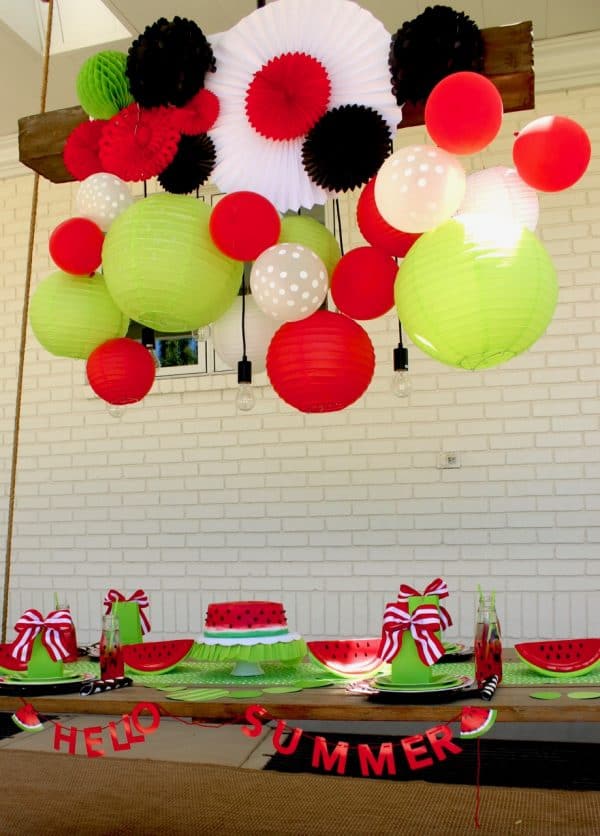 I'm sharing how I set up this cute watermelon-themed summer birthday party, perfect for a kid's birthday. I'm trying to inspire moms and dads out there on how to plan a fun summer birthday for your kids! Weather is a huge factor when celebrating in the great outdoors during the summer months. And no school alone is a big reason to celebrate!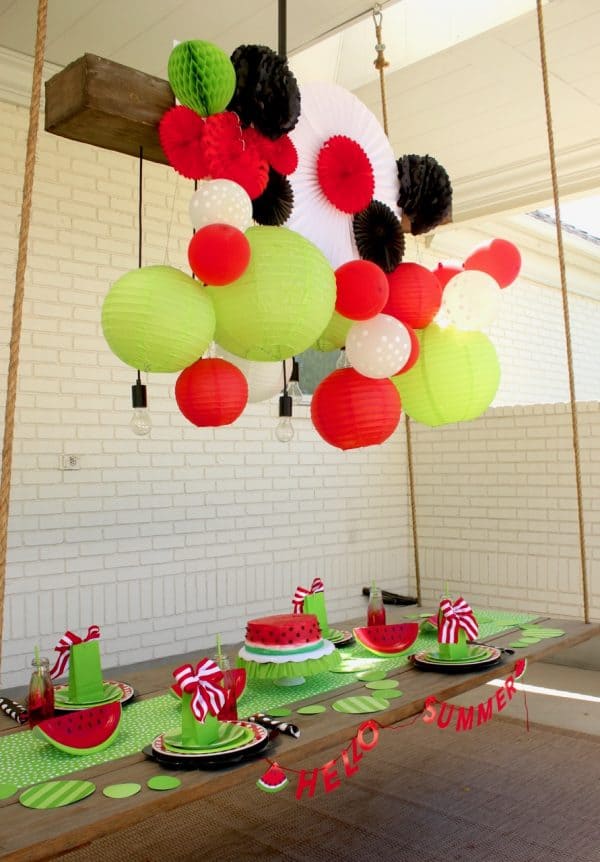 One of the first things to do when planning a party is come up with a date that works. Sending out invitations 2 weeks in advance is good for an informal party – such as a summer kids party. One way to make it really easy to send out invitations is to use a digital service like Evite®. Evite® makes it easy to send digital invitations for all occasions by email or text message. Evite's summer invitation categories feature a variety of designs perfect for saying yes to summer, as well as the option to design your own invitations. The Evite's invitation below I created in all of 3 minutes. Super easy to make and send out to your guest list.

How to create an Easy Summer Watermelon Birthday Party!
What kind of summer party do you want to have? Is it all about summer treats with a cute table display for eating and fun activities? Or is it all about summer pool parties? Decide what works for you! But most important make it an amazing day for your child!
The set-up:
I'm sharing how I set up this cute watermelon themed summer birthday party.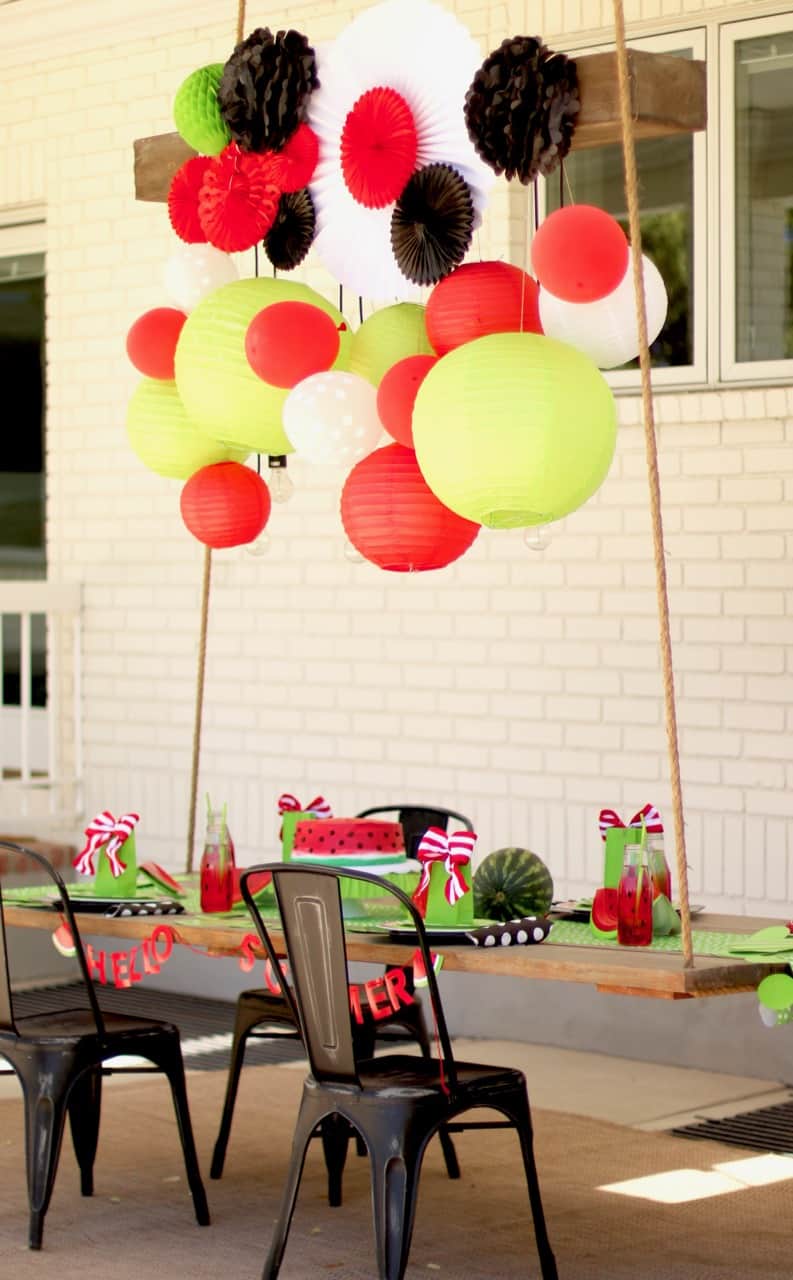 The biggest tip I can give you is to set-up early. Don't wait til the last minute. I decorated with the paper lanterns, tissue balls, paper fans and balloons the evening before.
First up, I tied the paper lanterns to my outdoor wood light, hanging the lanterns at different heights.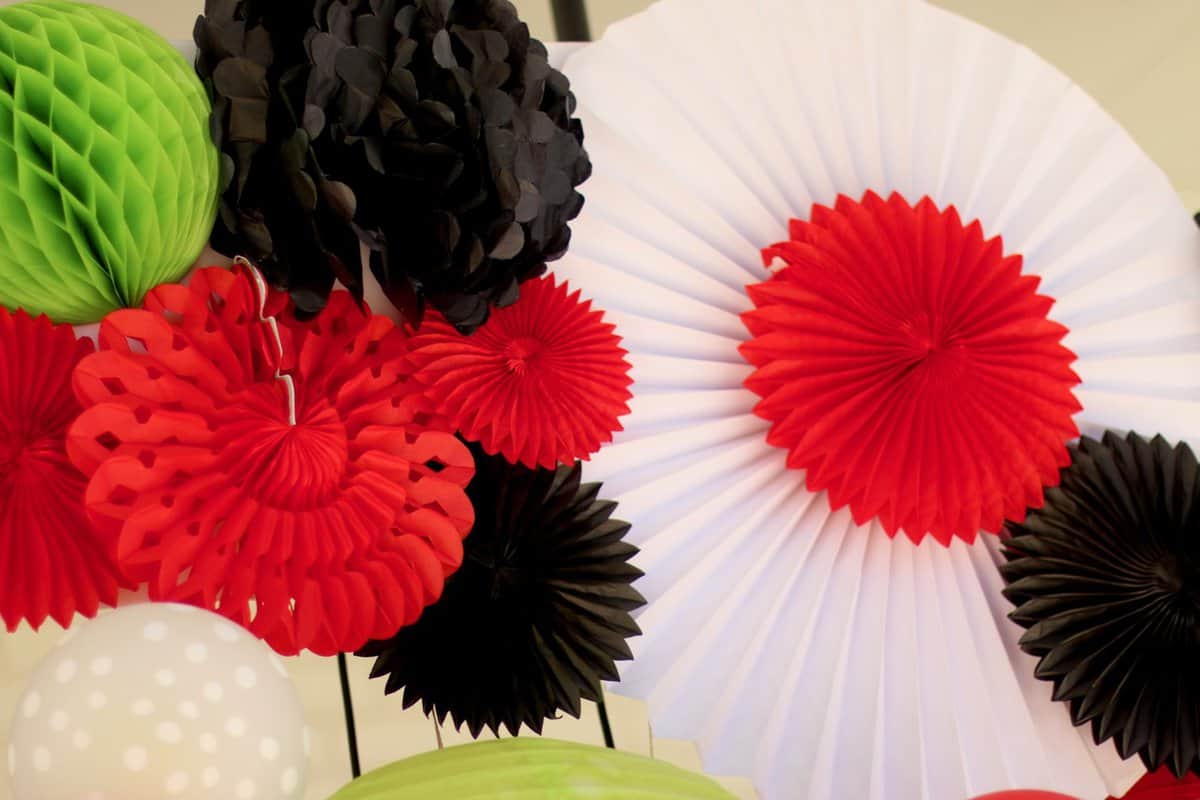 I used foam board and heavy tape to attach flat decorations to the foam board. Flat decorations such as paper fans, tissue paper balls, flat backed honeycomb tissue balls, etc. Attach decorations to the foam board while it is flat on a table and then attach the foam board to a wall or like I did to my hanging light. My outside chandelier is perfect for this because it's a wooden rectangular box with lights hanging from it.
Inflate balloons and attach to the paper lanterns with sticky adhesive dots to fill in the gaps of the paper lanterns. No need for helium with balloons that aren't floating.
Now, of course, if you want really easy there is no need to do this paper palooza chandelier. It just adds quite a bit of charm to the decor. But if you are short on time or funds skip this part.
Also, don't forget, depending on your kid's age, – some kid's LOVE to help. Assembling paper items like these is a great way for older kids to help with their own party.
Setting the table: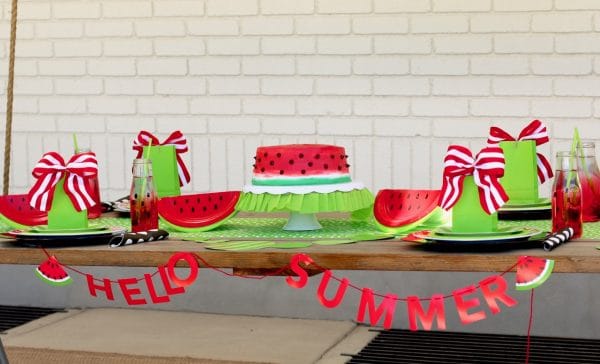 Use wrapping paper as a runner down the table. Simple and inexpensive.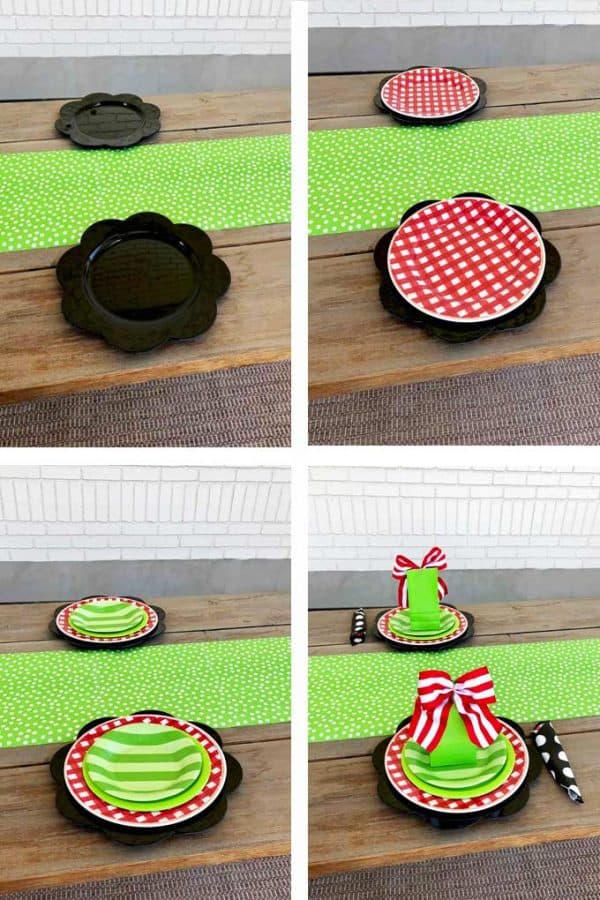 Tip: Shop your home before you purchase anything. I had several of these chargers and gingham plates (shown here). I used black chargers for the base and placed red gingham plastic plates on top. Two layers of bright green paper plates were added on top.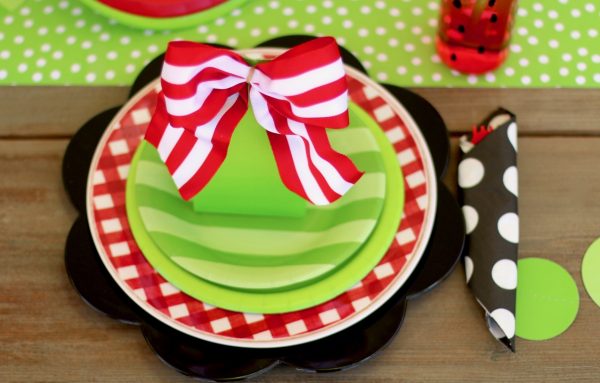 I believe the cherry on top is the cute little green paper favor bag filled with goodies and tied with a red and white striped big bow. Of course, you don't have to give out goodies bags -this is purely an option. I placed black and white polka dotted napkin filled with plastic utensils next to the plates.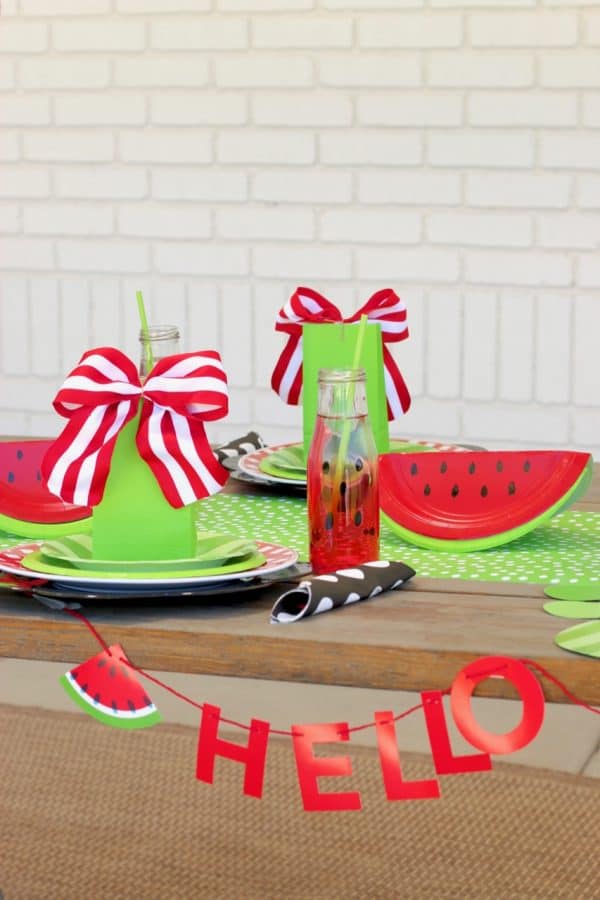 Milk bottle style cups with "sharpie-drawn" seeds and a green paper straw complete the placesettings.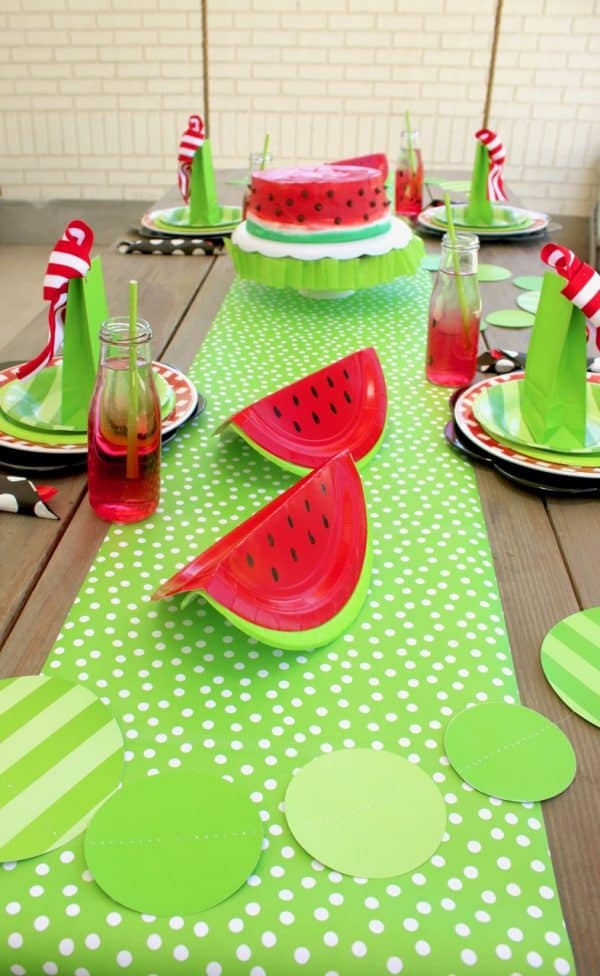 I added these cute watermelons made from paper plates to the center of the table. The watermelon cake is the centerpiece for the table. Isn't that easy?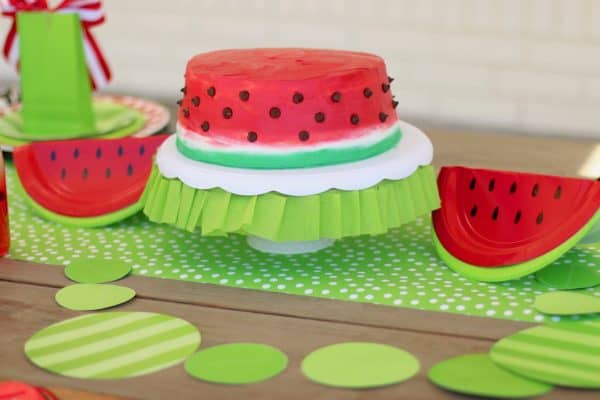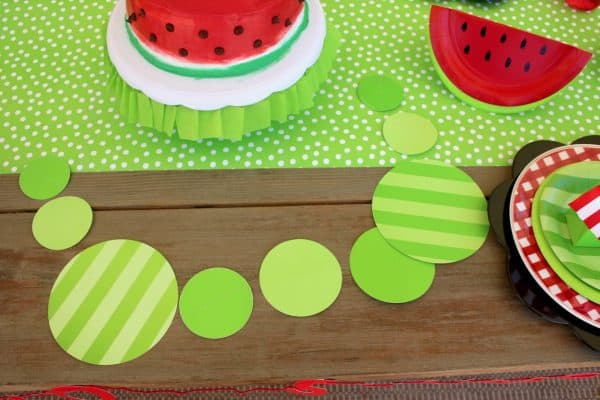 A simple way to add "confetti" or more color to a table is to add hanging decor like these large, green paper circles. These are on a string and can be hung or just placed on the table for a pop of color and an easy way to clean up. Confetti can get messy and this to me is jumbo-sized confetti.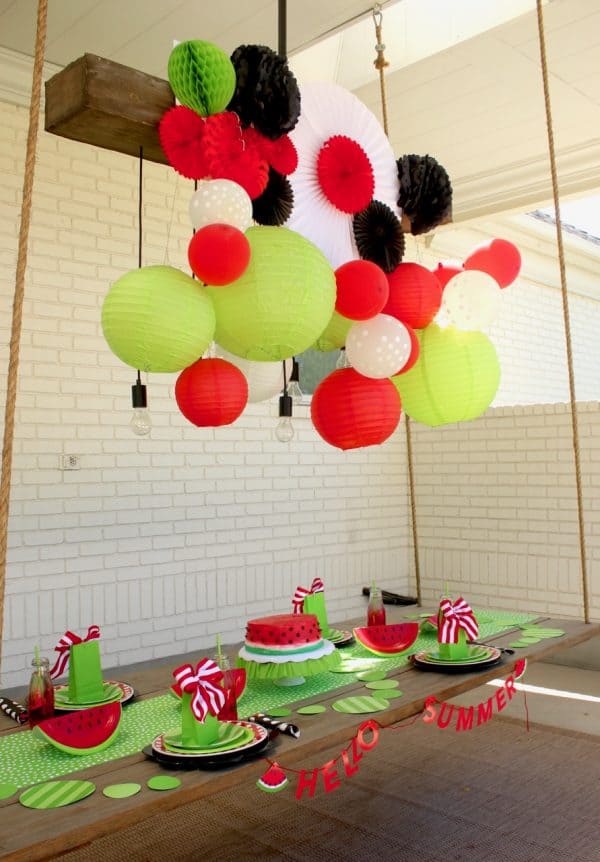 So, not too hard to set a cute tablescape for a kids summer watermelon birthday party! I added a "Hello Summer" banner to the front of the table.
Treats and Drinks:
Now you know how important it is for kids to eat and have treats at a birthday party. This is a must!!
A very simple set-up for kids. Kids like an easy way to fill up their drinks. This drink canister was filled with a red watermelon punch with soda added.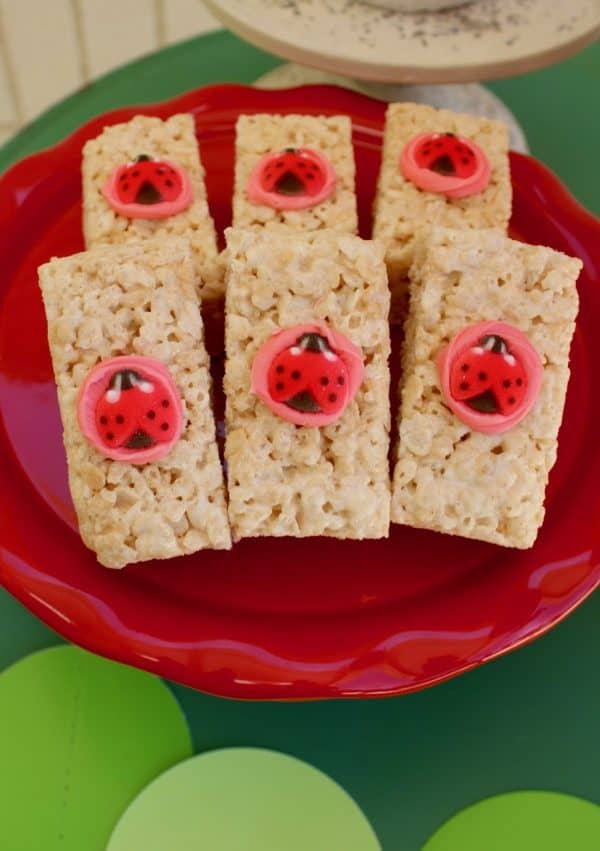 I purchased treats at the store and use a pastry bag filled with pink icing to put a dollop of icing on the Rice Krispie treat and then placed a ladybug sugar decor on top. Easy peasy and cute!
Of course, watermelon is an absolute at a watermelon party! Cut beforehand into sticks (easy for kids to eat) and place in containers. Or you can go the route of cutting the watermelon into wedges and handing to the kids – messy but a fun way to eat watermelon.
Activities and Fun!
What are some fun ways to entertain kids at a summer birthday party? Here's a list:
Bubbles – even older kids love playing with these GIANT bubbles.
Water activities – swimming, waterslides, water balloons, etc.
Making slime or play dough with watermelon scents.
A movie night with a kids favorite movie always works for a later evening party.
Bounce houses can be a favorite with kids. Two bounce houses work great when you have older and younger kids. Different age groups are assigned each a bounce house. It all depends on how many kids you have at a party.
Make sure to have several activities lined up to keep kids busy. That is most important. You don't want bored kids at a party.
For Evite's® 20th birthday celebration, Evite wants to celebrate all the creative ways kids can have fun celebrating no matter what time of year.
Did you know you can submit your photos to Evite's Summer Birthday Sweepstakes for a chance to win some fun prizes?? Here are the details:

Summer birthday bashes bring great snaps and memories. Share a summer birthday photo for a chance to win big prizes!
● $150 Visa Gift Card
● $100 Amazon Gift Card
OR
● Complete FUJIFILM Instax Camera Bundle
A few party tips:
Smaller kids parties are more fun for the parents ; ). Managing 6-8 guests at a kids party is much easier to handle than 15-20.
If you don't want to serve a lot of food, have an afternoon party after lunch. This way everyone has eaten and you can just serve treats and cake.
Have several activities/crafts planned depending on the age of the guests.
Have all food cut-up, scooped up, made several hours before.
Helpers are a must. Trade off with a girlfriend to help at each other's parties or hire a local babysitter to help out.
Set-up as much as possible the night before.
Most importantly enjoy the party! These times go quickly. Make sure to enter Evite's sweepstakes for some awesome prizes.