This post may contain affiliate links that, at no additional cost to you, I may earn a small commission. Read our Disclosure Policy.
Earlier this month I gave you a little peek at the post I recently shared over at The Crafting Chicks – one of our family's many favorite neighbor gift ideas – Sugared Nuts. I wanted to share it with you as well! ALL of our family gets involved in this. Everyone helps to make, create, cut ribbon, cut paper, apply embellishments, and "fluff" to make each gift great! One year we gave out about 70 handmade gifts so we don't do anything too time-consuming. We usually give food gifts and have given out frozen cookie dough, spiced cider, etc. We try to be a little different with what we give.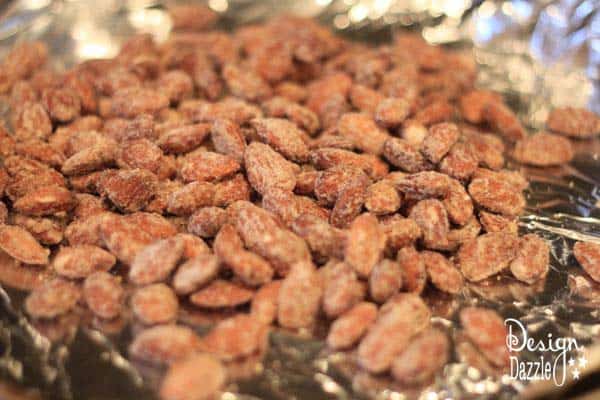 So I wanted to show you how to make sugared nuts! These are pretty simple to make and would make a great food gift to give. See recipe and link to the 2 printable tag designs below.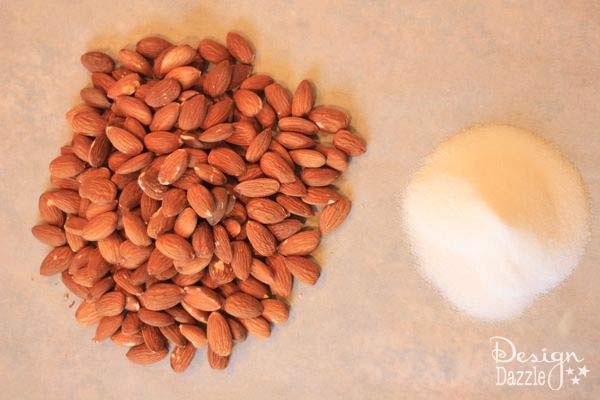 Ingredients:
1 1/2 cup raw almonds
1/2 cup sugar
2 tablespoons water
Instructions:
Add the water and sugar to a large pot. Bring to a boil over medium heat.
Once the sugar dissolves, add the nuts. Stir to coat the nuts. At about the 2 minute mark stir quickly. The water will begin to evaporate and the sugar will start to crystallize. Turn off the heat IMMEDIATELY (keep stirring) and remove the pan from the heat source. Do NOT overcook the nuts. Pour the nuts onto parchment paper or a plate to cool. They are ready to eat when they have cooled down enough to munch on! You might like eating them warm or cool.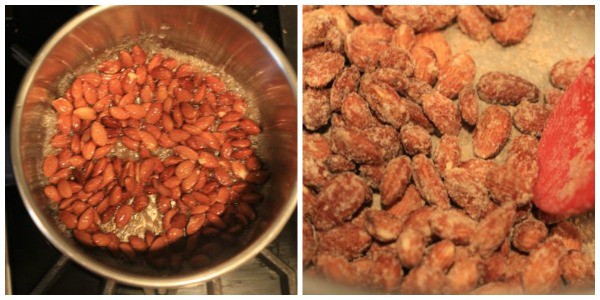 Package the nuts into cello bags. Add ribbon and our cute printable tags to make an easy and everyone-loves-gift! You can purchase the Clear Cone Shaped Cello Bag
here.
Tips for success…
Purchase nuts in bulk (Costco is a great place for almonds) for gift giving.
Use a non-stick pot.
Try adding different flavors: cinnamon or hot spicy or ?
Do not overcook on the stovetop.
If the nuts taste somewhat raw after making them, next time try baking the raw nuts for 3-4 minutes in a 350 degree oven before cooking on the stove.
The "We're Nuts About You!" printables are FREE and available for immediate download by subscribing to Design Dazzle!
To receive this free printable – enter your email address in the box below and click submit. Make sure to check your inbox for an email from Design Dazzle. You will have access to all of our FREE printables and also will receive an email newsletter filled with lots of great information. Don't worry your email address will never be sold.
Printable files are for personal use only. They are not for commercial use.


**This post originally appeared on The Crafting Chicks on November 11, 2013.