This post may contain affiliate links that, at no additional cost to you, I may earn a small commission. Read our Disclosure Policy.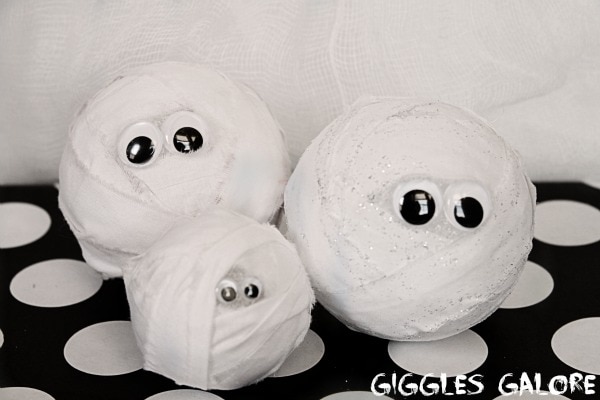 When Halloween rolls around I love to deck out my house with lots of spooky decor. It seems like during this time of year I  also tend to ramp up my craft projects. 🙂 While out shopping with my mom one weekend we ran across some mummy ornaments and I thought this would be fun project to recreate. Here is my version and how I recreated the round styrofoam mummies in just three easy steps.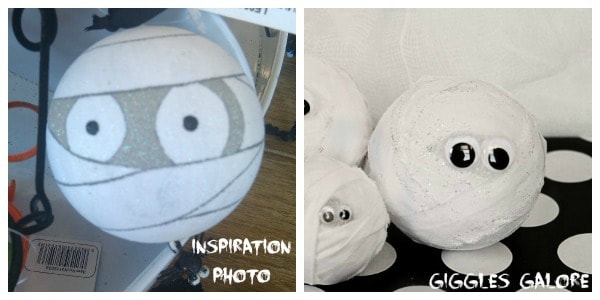 Step 1 – Gather your supplies, you'll need stryofoam balls, strips of white fabric and googly eyes.
Step 2 – I added a little extra pizzazz to the edges of the fabric with paint to give some of the mummies an aged look. I added glitter to the edges of some of the fabric for a little extra glam. Securely wrap the strips of fabric around the ball. Once you've completely wrapped the ball insert a straight pin to secure everything in place.
Step 3 – Add the googly eyes with glue dots.
That's it, three easy steps and you've got a fun new Halloween decoration.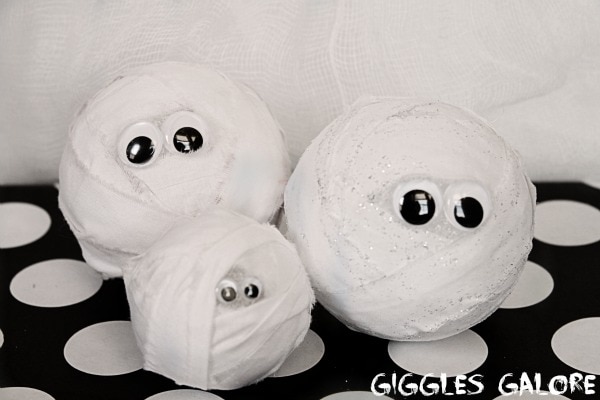 Mariah Leeson is a social butterfly who has a passion for celebrating life. She lives in Dallas, is a multi-tasking mom to 3 active kids, and a party enthusiast. She believes details are what set ordinary events apart from extraordinary events, even in everyday life! Crafty by nature she is resourceful and brings an art of creativity and personalization to everything she does. Her passion for celebrating can be seen on her blog,
Giggles Galore
where she shares parties, crafts and of course giggles galore!
Mariah's work has been featured in Parenting Magazine, Dallas Child Magazine, Amy Atlas Sweet Designs, Pizzazzerie, Hostess with the Mostess, Celebrations at Home, Kara's Party Ideas, Baby Lifestyles, TLC Parentables and many more.
Mentions:
crafts projects, diy crafts, halloween, halloween crafts, halloween decorating ideas, mummy
Keywords:
Styrofoam Mummies
Last Updated:
October 29, 2020