This post may contain affiliate links that, at no additional cost to you, I may earn a small commission. Read our Disclosure Policy.
I just can't resist giving little gifts to friends and family for holidays, no matter which holiday it is, to show them how much we love and care about them! These St. Patrick's Day moldable sugar scrubs are a quick and easy little gift to make for those special people in your life. There's even a free printable tag to go with them!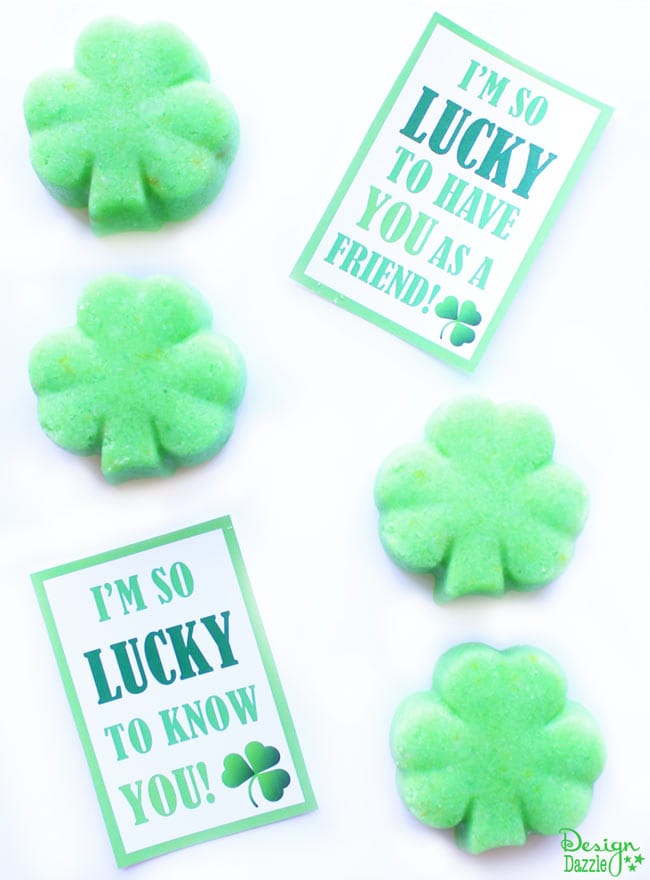 St. Patrick's Day is such a fun holiday! Unfortunately, it often gets overlooked for grown ups. Kids love dressing up in festive green, pinching bah-humbugs, and eating yummy green treats. We love making holidays fun for kids, but it can also be a fun holiday to treat your friends! This moldable sugar scrub is a cute way to show your kids and friends how lucky you are to know them! I hope you and your recipients enjoy this simple, sweet gift that's as sweet as a pot of gold!
Supplies for Moldable Sugar Scrub
1/2 cup coconut oil
1/2 cup melt-and-pour soap
1 cup sugar
5-7 drops of lemon essential oils
gel food coloring: kelly green, leaf green, yellow
shamrock silicone mold
microwaveable bowl
spoon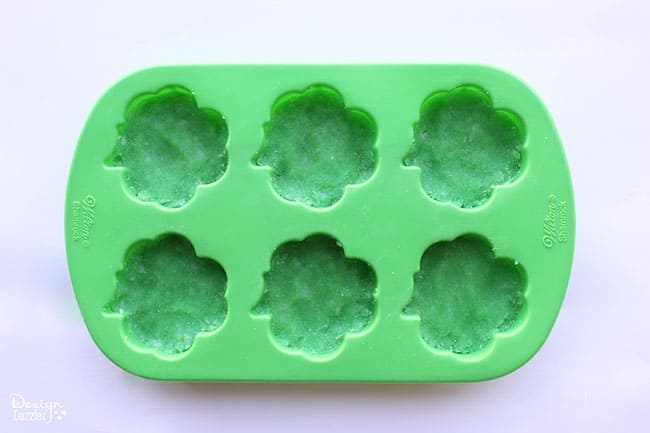 Step 1: Melt the melt-and-pour soap in the microwave for the instructed time on the package. I melted mine for about 1-2 minutes on 1/2 power, stirring occasionally every 20 seconds or so.
Step 2: Once the melt-and-pour is liquid, mix in the coconut oil. The mixture should be liquid. If it solidifies a bit, reheat it in the microwave for about 15-20 seconds.
Step 3: Mix in sugar, essential oil, and food coloring. Add only a little bit of food coloring at a time, until you reach your desired color. I used about 4 little dabs of kelly green, 3 little dabs of leaf green, and 2 little dabs of yellow. Yellow is key here to get the bright, fun green color!
Step 4: Continue to mix until the consistency is smooth and there are no chunks of different colors. Then, press mixture into a shamrock silicone mold.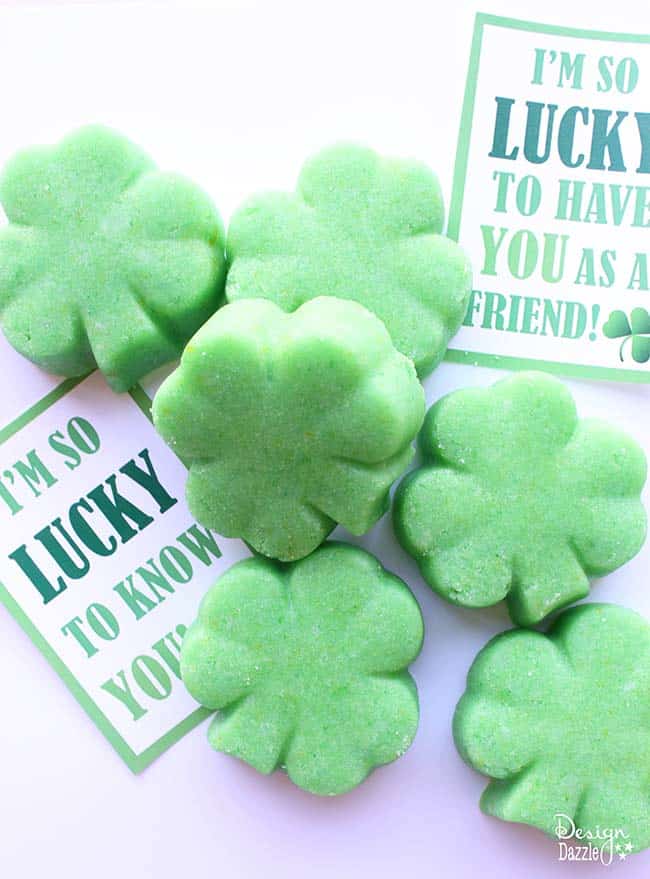 You can also visit my pink heart sugar scrub for more gift inspiration and sugar scrub fun!
The "St. Patty's Day Gift Tags" printables are FREE and available for immediate download by subscribing to Design Dazzle!
To receive this free printable – enter your email address in the box below and click submit. Make sure to check your inbox for an email from Design Dazzle. You will have access to all of our FREE printables and also will receive an email newsletter filled with lots of great information. Don't worry your email address will never be sold.
Printable files are for personal use only. They are not for commercial use.


Save
Save
Save
Save