This post may contain affiliate links that, at no additional cost to you, I may earn a small commission. Read our Disclosure Policy.
Happy Holidays Everyone! I'm Dru and I blog with my three daughters over at Polka Dot Poplars. I'm thrilled to be a part of Design Dazzle's Christmas Wonderful. I'm beyond impressed by all the ideas shared so far and know I will be using quite of few of them.
I love creating and painting on wood. One fun thing I like doing is seeing what kinds of things I can make from wood turnings found at your local craft stores like tongue depressor sticks, stars, dowels, etc. Have you ever put a bunch of popsicle sticks in front of a group of kids? Their imagination just takes off.
I've been seeing a bunch of snowflakes made of old barn wood, twigs, and yarn. I started playing around with my sticks and wood turnings and had a blast making snowflakes with them. The possibilities are endless.
Here is what I made:
There really are no set instructions. I used a cool temp glue gun to attach all the pieces together. I kept experimenting with different layouts and they kept getting bigger and bigger and I love them. Next, I'm going to make a bunch with my kids and grand kids and make a party out of it.
I ended up spray painting mine a creamy white and hung them up with twine. But, can you imagine them in different colors or sprinkled with glitter. They would even make great ornaments on a tree or a cute gift topper in a smaller version. My mind is going crazy with the possibilities.
This is my kind of craft; easy, inexpensive, and perfect for all ages.
Here's a picture of the sun shining through the curtain I hung these at. I love the look it gives.
Here are some other Christmas posts from our blog:
All of us here at Polka Dot Poplars wish you the best during the holidays.
We would love for you to come visit us….
FACEBOOK * INSTAGRAM * PINTEREST * BLOG
We are four women who are alike in some ways, but very different in others. We each have our own interests, talents, strengths, and weaknesses. We blog about our lives, what we love to do, and things we've learned throughout our lives. We hope you will join us. We love making new friends!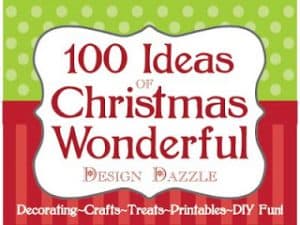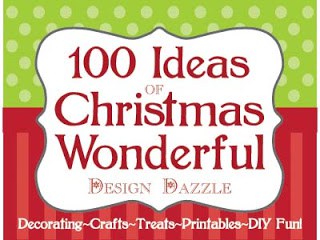 Christmas Wonderful runs until mid-December.