Hi everyone! I'm Holly from Paisley Petal Events and I'm so excited and honored to be guest blogging here with Toni at Design Dazzle and share my Halloween Cupcake Party!
I absolutely LOVE parties and recently started my own party and event planning business here in Utah. There are so many fun ideas out there right now for Halloween parties, but Kim at The TomKat Studio is one of my favorite party stylists and when she came out with these fun Halloween cupcake party printables, I KNEW I had to throw a party for my daughter and her friends using this theme.
I love this cupcake party idea because it really is a fun and easy way to throw a party for your little ones with not a lot of work and not a lot of money. To me, one of the things that really makes a party stand out is the party printables. For those of you not familiar with party printables, they are basically a package of PDF files that you purchase from a designer (there are TONS of amazing designers on Etsy) and they e-mail you the files that you can then print from your home computer and then cut out the different pieces. The package usually contains things like an invitation, cupcake toppers, food tents, banners, water bottle wraps, favor tags, etc. Below is the collection that I purchased HERE from The TomKat Studio:
So about a week or so before the party we handed out the invitation to 5 of my daughter's friends. We had the party at 12:30 in the afternoon and started with a little lunch.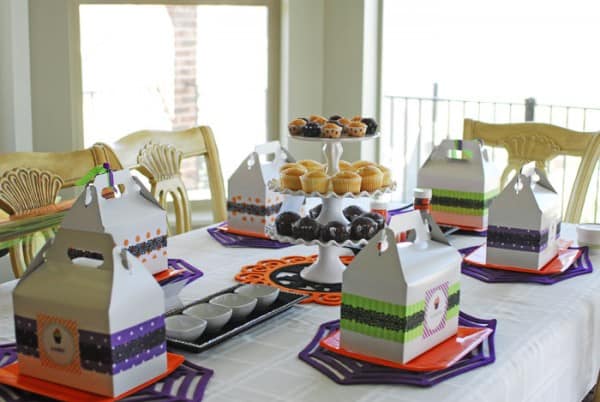 Each place setting consisted of a purple spider web placemat I found at the dollar store, an orange paper plate and their own box lunch.
I bought the white gable boxes at Xpedx and dressed them up with some scrapbook paper, the spider webs (created using a Martha Stewart craft punch), one of the labels from the printable package with each girls' name on it and some ribbon to match.
Inside the box was their little lunch, which included a pb&j sandwich, a fruit cup, a bite of cheese and a tiny can of Halloween orange soda.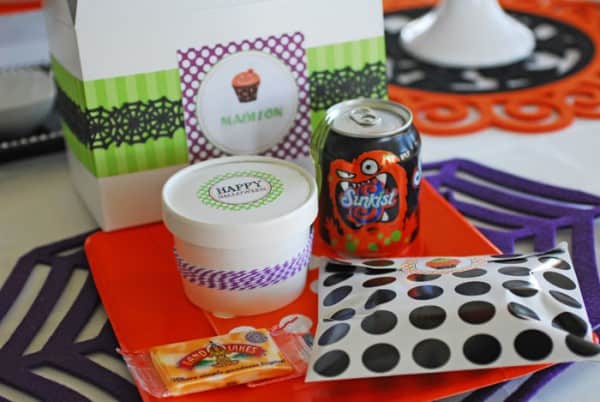 The sandwich was made into a pumpkin shape using a pumpkin cookie cutter and was packaged in polka dot bags I made out of wrapping paper and sealed with one of the labels from the printable package.
The fruit cups were made using some simple white paper cups I bought from a local baking supply store that I embellished with another cute label and then attached the little fork with some matching baker's twine.
After everyone was done eating, it was time to decorate the cupcakes! I made both regular size and the mini cupcakes because I thought they would be fun to decorate too! The girls just used their lunch plates to decorate on and they could choose either purple or green frosting to start with.
After the frosting, they added their toppings…all sorts of sprinkles and candy to make them oh so cute!
Here's a few of the wonderful creations…aren't they fun!!??
After they decorated their cupcakes, we colored some Halloween pages (4&5 year old girls LOVE to color!), decorated paper with some foam Halloween stickers and played a witch hat ring toss game. All of the girls were just so cute and nice. They really had a good time!
For party favors, I bought these small jars at IKEA ($4 for a pack of 4) and filled them with black, orange and white gumballs, and tied the Thank You tag with Halloween ribbon.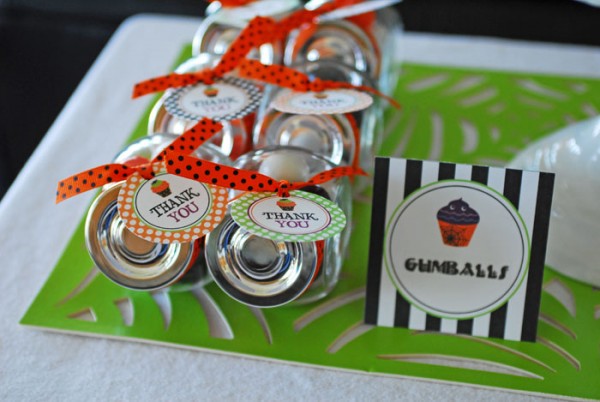 And then I saw the cute Halloween chapstick at HomeGoods for $5.00 and had to buy it 🙂
Such a simple party that anyone can easily pull together for their little ones. Have the kids come in their Halloween costumes…they love to dress up and it's another chance for them to wear their costumes!
Here's a few more ideas for decorating to make the party area more festive. Above the table hanging from the chandelier, I made these polyhedrons out of Halloween colored paper plates. They were really easy to make and just dress up the work area a little more. Here's the link to the tutorial at Anders Ruff (another one of my favorite party sites!) if you want to give it a try.
I tied tulle and Halloween ribbon around each of the chairs where the girls would be sitting.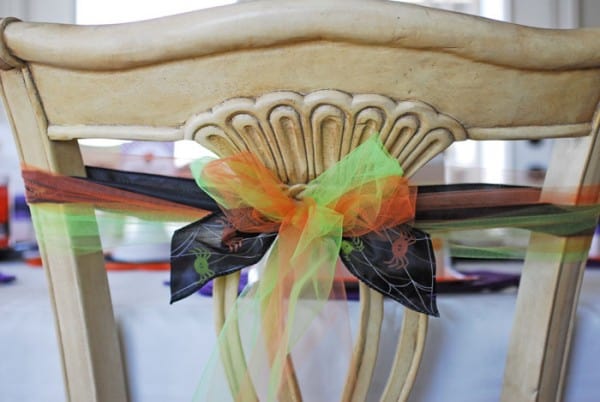 And I just had to share these cute cupcakes that the amazing Jill at Sprinklebelle Cakes made for me to match the party printables and invitation…aren't they so darling??!!
Anyway, I hope this inspires you to have your own little cupcake Halloween party with some simple and inexpensive ways to make the party really look great! Let me know if you throw your own Halloween party…I'd love to hear about it!!
And thanks again to Toni for letting me share my Halloween party ideas with you all!
xoxo
Holly