This post may contain affiliate links that, at no additional cost to you, I may earn a small commission. Read our Disclosure Policy.
Hi, my name is Erica and I blog over at 5 Little Monsters. I am really excited to be here today sharing a free Christmas Printable based on one of my favorite Christmas songs, Silent Night.
I love Christmas, it is one of my favorite times of the year. So naturally, when I had the opportunity to participate in the Christmas Wonderful series here on Design Dazzle I was really excited. One of my favorite things about Christmas time is the music. I also love Christmas decorations and Christmas crafting so I decided to combine all of those in the project I am sharing today.
Even though I love making Christmas projects I also feel like this time of year can get so busy that sometimes it is nice to have something really simple to put together. For that reason I deciced to make a printable today. All that you have to do is print it off, trim it, and frame it. Then it is ready to be hung on your wall, set on your mantle, given as a gift, or whatever else you would like to do with it. It is an 8×10 size print.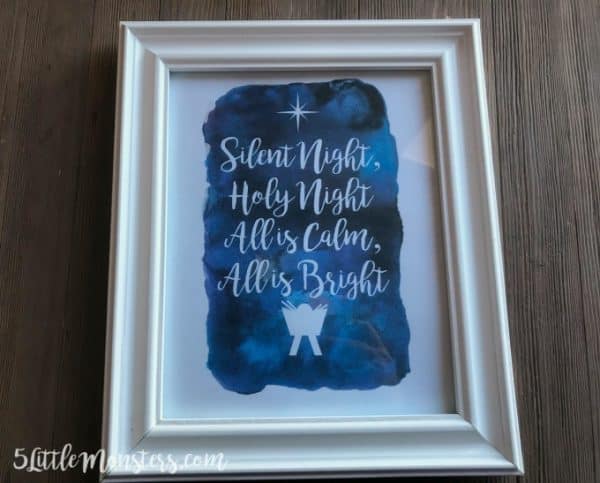 All you will need for this project is:
The PDF of the printable which you can find here: silent night printable
white cardstock
Printer
an 8″ x 10″ frame
Because it will be printing on an 8 1/2″ x 11″ piece of cardstock you will need to trim a little off of the edges so the the print will fit in your frame, but other than that all you need to do is print it and stick it in a frame. Super simple, super quick and you have a new Christmas decoration.
Come visit me on my blog, 5 Little Monsters, for more Christmas projects and crafts. You will find crochet patterns, Cricut crafts, sewing projects, and more. You can also follow me on social media: Facebook, Instagram, Pinterest, Twitter, and YouTube.
________________________________________________________________
Thanks so much to Erica for sharing this gorgeous Silent Night printable with us! Be sure to check out her
blog
 for more awesome crafts and sewing projects!
_______________________________________________________________