This post may contain affiliate links that, at no additional cost to you, I may earn a small commission. Read our Disclosure Policy.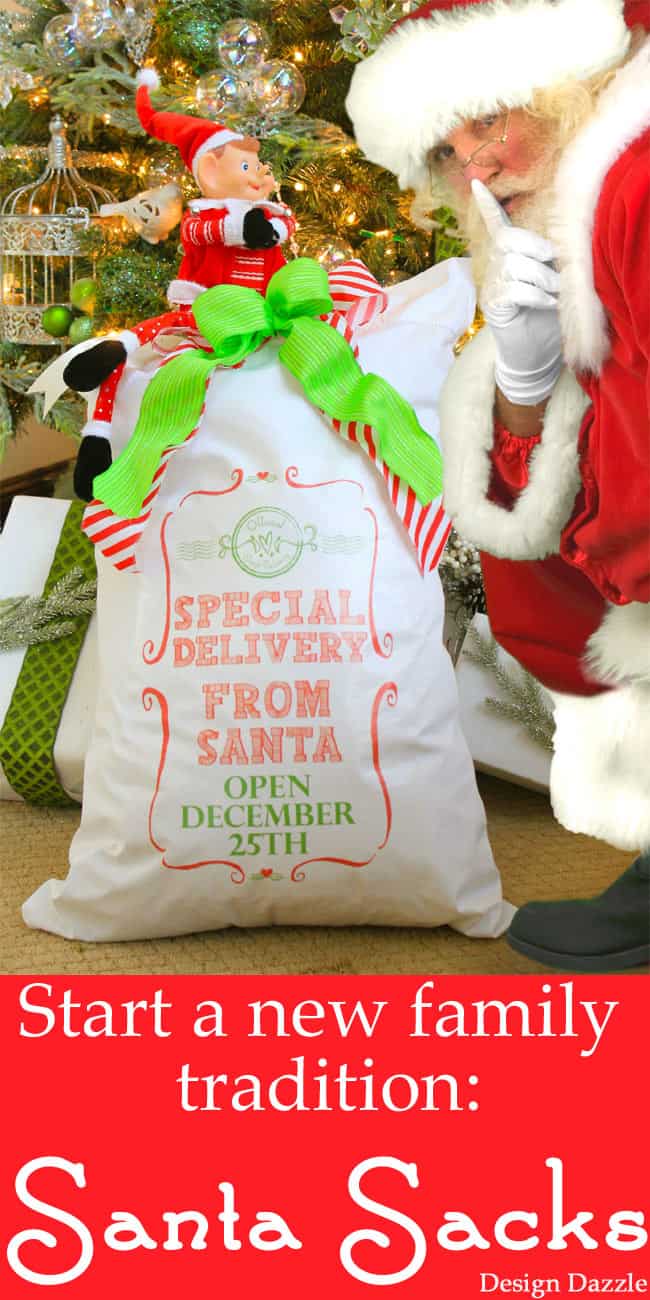 Can you believe Santa has never left wrapped Christmas gifts under the tree in our home? The reason? Santa Sacks! These sacks have been a tradition in my family for decades. What are Santa Sacks? They are reusable fabric gift sacks used year after year. The sack is the size of a pillowcase. Santa leaves gifts in the Santa Sacks (instead of under the tree) to be opened on Christmas morning. On Christmas Eve our kids leave their own empty Santa Sack under the tree or at the end of their bed or their sleeping bag (we use to sleep as a family next to our tree in the family room with it all lit up at night). Now we open the Santa Sack as a family around the Christmas tree. Each child takes turns "opening" their Santa Sack and brings out one gift at a time. The BRILLIANT idea behind these sacks…there's no wrapping of Santa gifts!! We do wrap our family and friends gifts for under the tree. This Santa Sack was made with a pillow case and our Santa Sack printable (scroll to bottom of post to purchase) which was printed onto iron-on transfer paper. The Santa Sack wording reads, "Special Delivery From Santa Open Dec 25th!". The North Pole postmark reads, "Special Sleigh Delivery". If the iron-on isn't the way for you to go, I shared a post a while back on how-to sew your own Santa Sack.
Are you ready to start a new family tradition? I guarantee you'll love it!!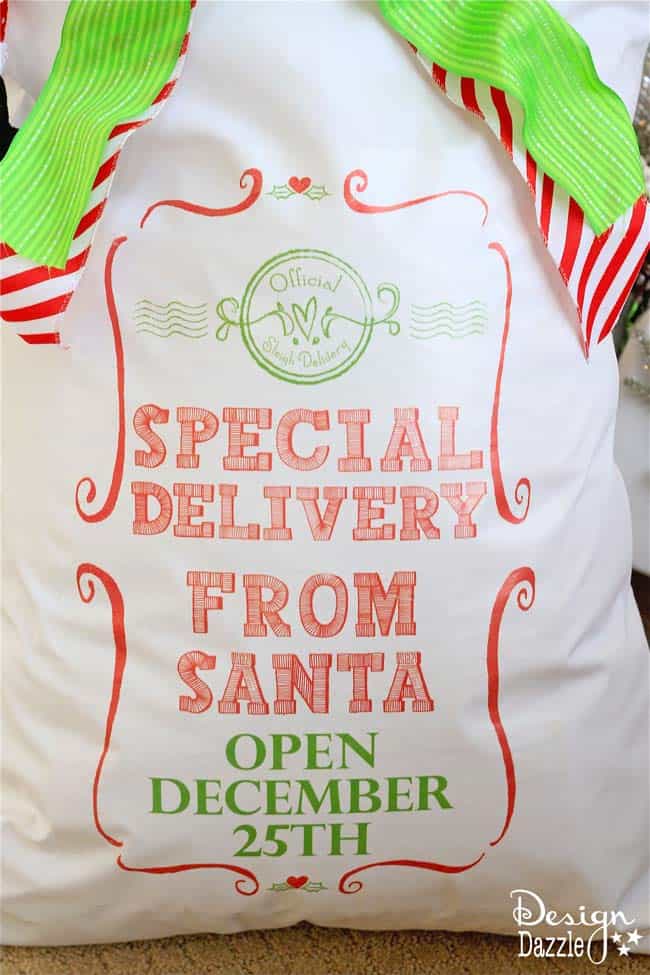 Check the bottom of the post for the printable.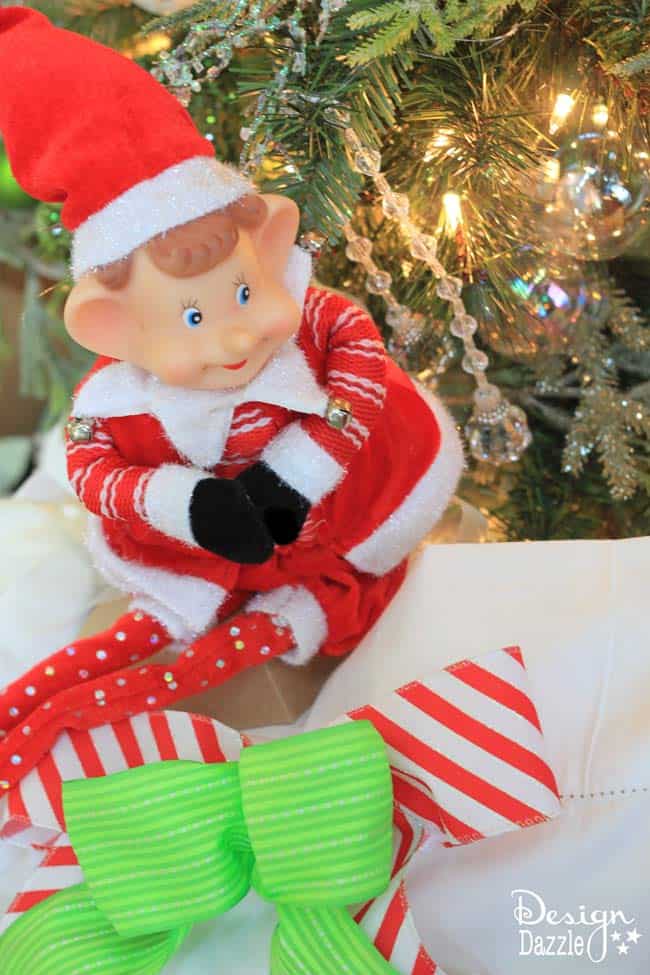 If you have an elf, you can always use him/her to deliver the EMPTY Santa Sack before Christmas Eve. He can inform your kids that Santa will be delivering the toys in the Santa Sack this year! The kids can leave the empty sack at the end of their bed or under the Christmas tree. Whatever works best for your family.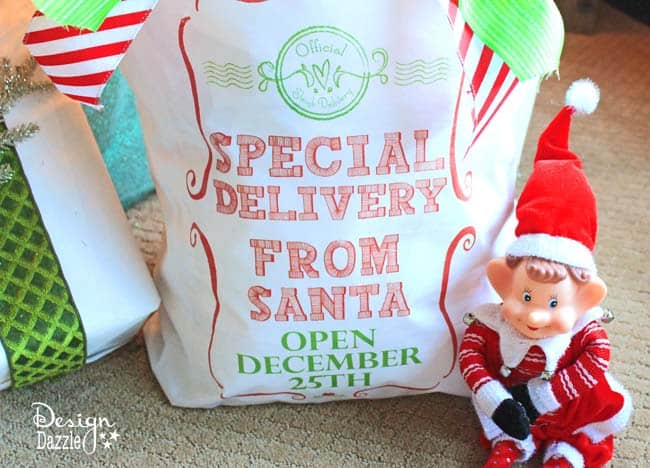 Why I LOVE Santa Sacks…
1. Saves moms sanity! Have you ever found yourself staying up late at night on Christmas Eve wrapping gifts? Well, not with Santa Sacks – place Santa's gifts in the sack and voila all done!! It takes me all of 5 minutes. There is no wrapping of Santa gifts – none, nada, not one bit! Santa Sacks leave a lot less mess to clean-up Christmas morning!
2. Eco friendly – completely reusable year after year! Such a perfect way to prevent waste of money on gift wrap.
3. Odd sized or bulky gifts – these can be so difficult to wrap! Santa Sacks make it easy : ) Our Santa Sack measures 21″ x 33″
4. My children LOVE their Santa Sacks. They talk about how they will carry on this tradition when they have kids.
5. Awesome family tradition!
Instructions:
Download the printable and print onto iron-on fabric transfer paper
. Make sure to follow instructions for the iron-on transfer paper. The printable comes in two parts. The top and bottom decal is formatted for TWO 8 1/2 x 11 papers. Before you iron on you might want to trim around the edges and between the wording "delivery" and "from" there is extra space there. Piece the two papers together and place print down on the surface you want to apply to. I ironed this onto a $5 pillowcase purchased from Walmart. I used HEAVY pressure while ironing and no steam. It took several minutes of ironing before the transfer was ready to pull off. The image needs to be completely cool before peeling off. I added ribbon to the pillowcase but this is optional.
Another idea would be to use this printable to create a Hot Iron Transfer Pencil
for embroidery! I would LOVE to see this design embroidered onto a pillowcase! How awesome to have grandma or mom create a lasting heirloom.
I hope this begins a fun awesome tradition for your family!
Please note that your download links will be available for 72 hours after purchase. Once saved to your computer, you can use the file as many times as needed.
The 2 Santa Sack PDF's are printed in reverse text for use in an iron-on project.
This post contains affiliate links.


Title:
Santa Sack: Special Delivery From Santa Open Dec 25th!
Mentions:
Santa Sack Tradition, Special Delivery From Santa
Keywords:
Santa Sack Printable
Last Updated:
December 3, 2021