This post may contain affiliate links that, at no additional cost to you, I may earn a small commission. Read our Disclosure Policy.
Incorporating repurposed old doors into your decor is an easy way to make a statement with a pretty decoration. I love old vintage/antique doors! It's not too difficult to repurpose an old door into Christmas decor.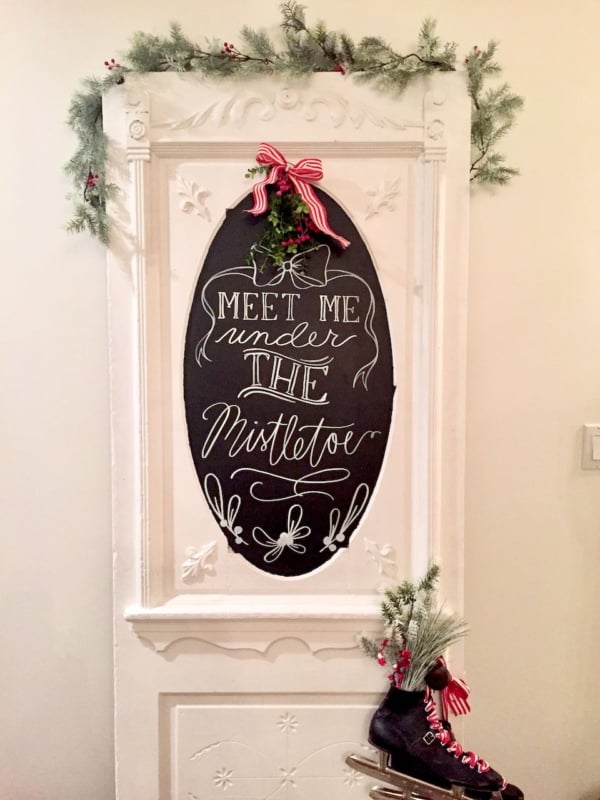 I had a Christmas photo shoot at my home a while back. I borrowed this old door from a friend. She had painted the antique door a creamy white. Black chalk paint was painted onto the wood surface inside the oval inset which was the perfect size to create a Christmas sign that reads: Meet Me Under the Mistletoe.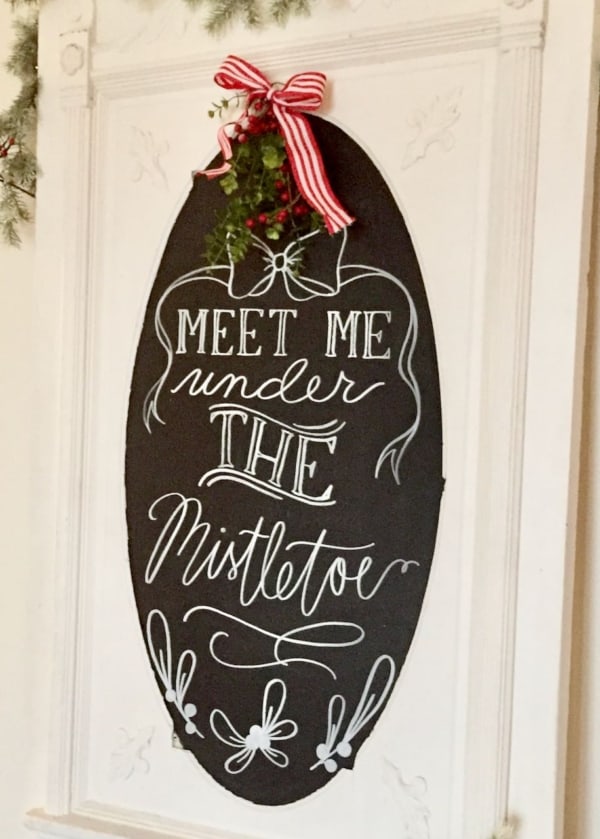 I added some mistletoe greenery and striped red and white ribbon to add a sweet touch to the sign.
I found vintage ice skates at a vintage shop, for about $25, and hung them on the door knob. Then I added the red and white ribbon as the "laces" and placed holiday greenery in the ice skates.
Additionally I added a red holiday wood box filled with logs and a wood/tin heart just added the right touch.
Wood details really make this door pop. I have found old doors on the online classifieds and through Facebook Marketplace.
Clean of grime/grease from the door before painting. Sand lightly and spray or brush with the appropriate paint. You can ask a paint store expert for painting guidance. It is really simple to paint a door that will be used as a decor prop.
I placed old red shutter next to the door to it to see if I liked it with or without. What is your opinion do you like with the shutter or without?
I'm so excited because our 12th annual Christmas Wonderful series starts today! We have amazing bloggers who will be participating and sharing ideas such as crafts, decorating ideas, printables, holiday inspiration and more!
Click on the banner to see hundreds of Christmas Wonderful ideas!