This post may contain affiliate links that, at no additional cost to you, I may earn a small commission. Read our Disclosure Policy.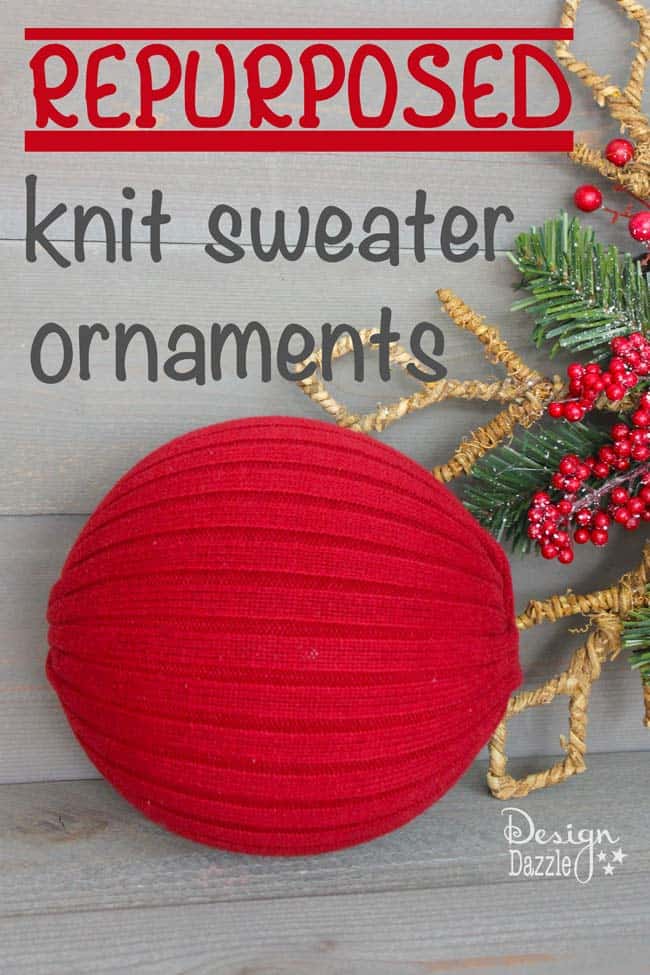 All you need to create oversized, cute sweater ornaments are Styrofoam balls and an old sweater. Another alternative to Styrofoam is to use kids' large bouncy balls. Since I had the balls on hand from another project, I decided to use those. You can purchase the balls at the dollar store during the summer and early fall months. Maybe you'll get lucky and see them in the winter months. An old sweater is the perfect item to craft these knit sweater ornaments. If you don't have one, the thrift store has oodles of them!
How to Make Sweater Ornaments
styrofoam ball or clear plastic ornaments (you can purchase either at Michaels Stores)
old sweater
hot glue gun
scissors
Place the ball in the sweater sleeve and cut the fabric as close to the ball as you can. Pull the ends tight together and hot glue. If you are using a bouncy ball, make sure to only put hot glue on the sweater. If you get hot glue on the bouncy ball it will pop. Don't worry about making it look pretty, you can tuck it away and the branches of the tree will hide any wrinkles or bumps. You can also sew these if you want neater edges.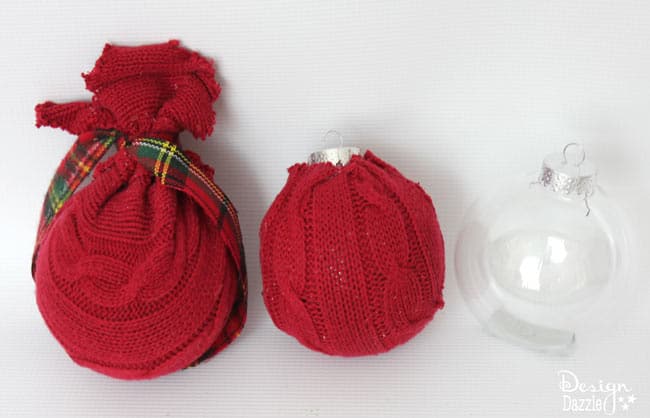 I used the plastic ornaments (not glass) to also cover with the sweater. The plastic ornaments are cheaper than the Styrofoam so I went with the plastic. These sweater ornament balls add great texture and are a beautiful addition to your tree! As you can see, the ornament on the left the sweater was wrapped around the ornament and tied with ribbon. The middle ornament – the sweater was hot glued onto the plastic creating a neater finish. I place these ornaments inside the tree branches – I do not hang mine. So it depends if you are going to hang the ornaments from the tree branch – you might want a more finished look.


Save