This post may contain affiliate links that, at no additional cost to you, I may earn a small commission. Read our Disclosure Policy.
The Reindeer Caramel Apple is a sweet treat to make with the kiddos. It's a super easy gift to make for someone or to make a bunch for a party!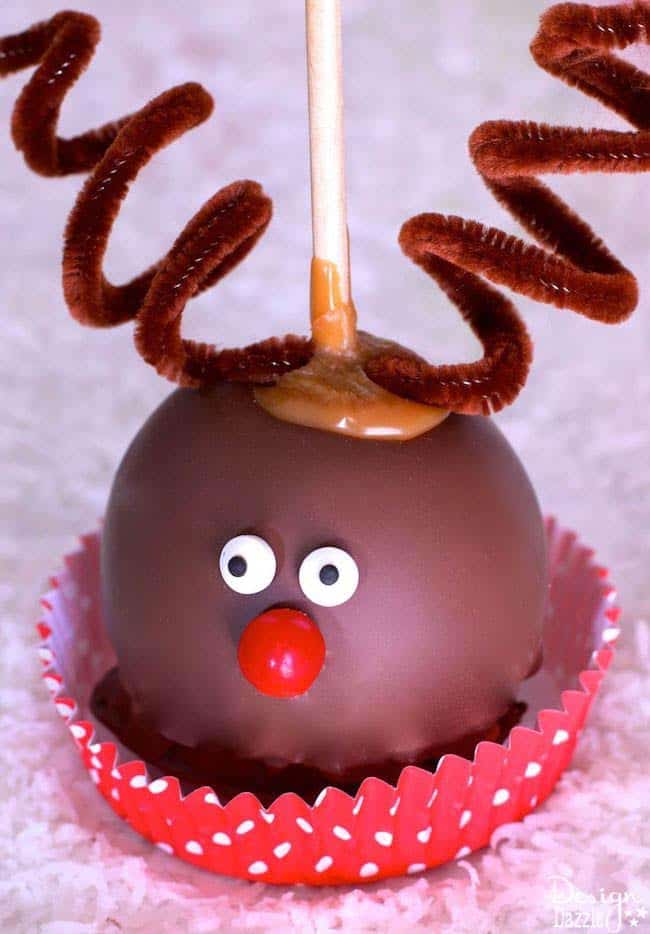 This is what you will need:
● Chocolate covered caramel apple or make your own
● Red ball candy (red cherry sours candy, red hot candy, or something similar)
● Wilton Candy Melts (click here for my no fuss candy melting method)
Make your favorite caramel apple recipe. When the caramel apple has set???? dip each apple into melted chocolate. ????r you can always purchase the caramel or chocolate caramel apples pre-made.
Take one red ball candy and cut it so that it is flat on one side. This will make it easier to attach to the apple for the nose. Melt a tiny bit of melting candy in the microwave. ????se the melted candy to attach the candy eyes and nose to the apple. The melted candy acts like a glue when it hardens. Take two brown pipe cleaners and twist together to make it thicker. Then wrap around your fingers to create spirals. These are to be used for the antlers. ????tick the pipe cleaner spiral into the top of the apple. ????i???? to look like antlers. If you're giving as a gift???? wrap in a cello wrap or place in a cello bag with a cute tie!


Save