This post may contain affiliate links that, at no additional cost to you, I may earn a small commission. Read our Disclosure Policy.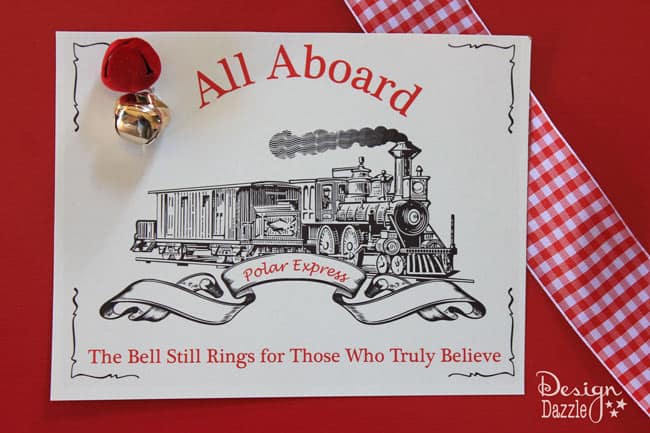 It's Christmas Wonderful! This is our 4th year of sharing awesome ideas to make YOUR Christmas wonderful. I'm sharing the first of our series but keep coming back to see what our amazing blogger friends will be sharing with you.
During the Christmas season, wouldn't it be fun to have a pajama party using our free Polar Express printable? If you haven't seen the movie or read the book The Polar Express, it's about a young boy who boards the Polar Express train for an interesting journey to the North Pole. The kids in the story are wearing their pajamas on the train. Santa gives the young boy a bell and he and his sister can hear the bell ring but his parents are unable to hear the bell ring and exclaim the bell must be broken. The end quote states, "At one time, most of my friends could hear the bell, but as years passed, it fell silent for all of them. … Though I've grown old, the bell still rings for me, as it does for all who truly believe."
So why not have a pajama party for your kids and read the book or watch the movie? Find out if, the bell still rings for those who truly believe.
Fun and simple ideas for a Polar Express Pajama Party:
Print out the train tickets that we provide on ivory colored cardstock. Hide the ticket in your child's room. Let your kids know they are in for a treat and to get their pj's on and there is a "surprise" ticket to find in their room.
Have someone be the train conductor. Check below for a train conductor hat. How fun to put on the hat, dim the lights and blow the train whistle. Call out "All Aboard the Polar Express". Collect the tickets. You might want to have a hole punch to "punch" their ticket.
Read the story or watch the movie.
Make sure to have hot chocolate "as thick and rich as melted chocolate bars" as the book states.
You will definitely need bells to pass out to your kids. Ring the bell and ask your kids if they can hear it!
To make your Polar Express Pajama Party even more special:
The Polar Express Book
The Polar Express Movie
The Polar Express Bell Ornament
Jingle Bells
Train Conductor Hat
The "Polar Express Ticket" printables are FREE and available for immediate download by subscribing to Design Dazzle!
To receive this free printable – enter your email address in the box below and click submit. Make sure to check your inbox for an email from Design Dazzle. You will have access to all of our FREE printables and also will receive an email newsletter filled with lots of great information. Don't worry your email address will never be sold.
Printable files are for personal use only. They are not for commercial use.