This post may contain affiliate links that, at no additional cost to you, I may earn a small commission. Read our Disclosure Policy.
Hello there DD readers! This is Jen from Sweeten Your Day Events sharing with you a fun idea for holiday treats. Are you tired of peppermints, fudge, and oranges around Christmas time? Me neither!!!! I am always up for some chocolaty goodness, but today I wanted to share a fun treat that is lighter and perhaps a nice change.
Mele Kalikimaka is the Hawaiian way to say Merry Christmas, and I don't know about you but when I think of Hawaii… pineapples are one of the first things that come to mind. Now you can give your friends all a pineapple for Christmas but that can add up FAST!
So I am sharing an extremely simple treat that can go along way! Upside down Pineapple Cupcakes, yummy! Not your typical Holiday treat but I am hoping it soon will become a favorite.
All you need is a yellow cake mix (oil and eggs per package instructions), approx 1 cup pineapple juice (reserved from canned pineapple), couple cans of crushed/chunks/pineapple slices (drained), maraschino cherries, 1/2 c butter, and 1 1/2 cup brown sugar:
Preheat your oven to 325 degrees and prep your cupcakes pans with cooking spray. Melt the butter and combine with brown sugar. Press about 1 Tablespoon of butter/sugar mix into the bottom of each cupcake cup. Next place one cherry in the center of each cup and about 1 table spoon of crushed pineapple, 5-6 pineapple tidbits, or 1 pineapple ring (if using pineapple ring you will need to trim edges to fit into the base of each cup) around the cherry. Make batter by following cake mix instructions but substituting the water with the reserved pineapple juice. Add 1/4 cup batter on top of each pineapple and cherry and bake for about 20 minutes.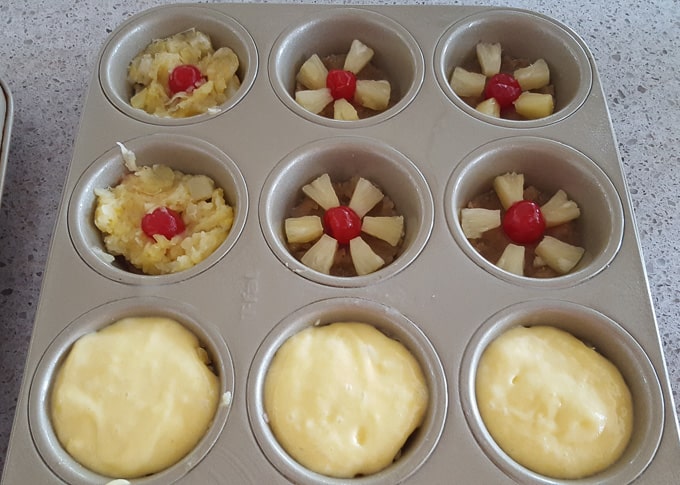 Once cupcakes are done baking, cool for no more than 5 minutes in pan and then invert onto cooling rack. Here is what they should look like with the pineapple rings, crushed pineapple, and pineapple chunks. Sooo pretty!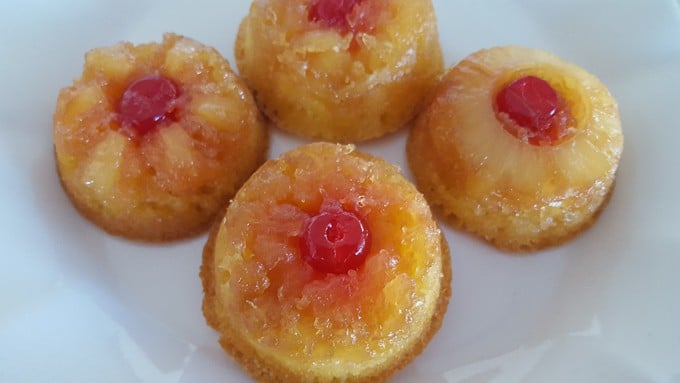 Dust with confectioners sugar (optional), plate as many as desired, wrap with some cellophane and attach these tags I created just for you!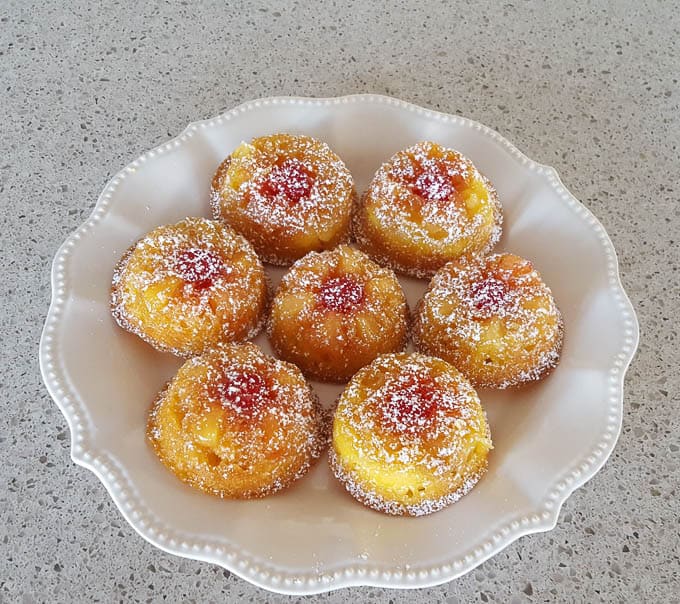 Right click on image to print and tags.
I hope you (and your neighbors) enjoy this post and from our family to yours wishing you a Mele Kalikimaka!
If you like what you see then please feel free to check out some of our Christmas parties from the past over at Sweeten Your Day Events!
________________________________________________________________
Thanks so much to Jen for sharing this delicious and adorable Neighbor gift idea with us! Make sure to check out her
blog
for awesome Christmas party ideas!
_______________________________________________________________