This post may contain affiliate links that, at no additional cost to you, I may earn a small commission. Read our Disclosure Policy.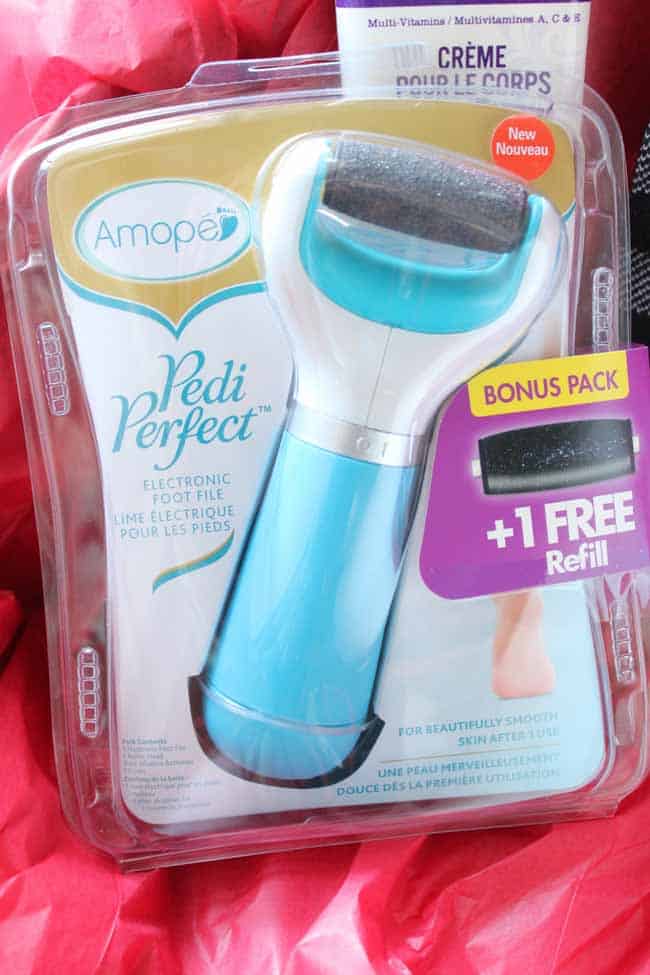 I wear slippers a lot! I'm always wearing slippers. As a matter of fact, when I'm leaving the house I have to double check to make sure I've put on real shoes so I don't go out to run my errands in my leopard print slippers! Thanks to this habit, my feet don't get as dry or cracked as they could – but they still need significant help. And a girl still needs to have pretty feet! This is where Amopé Pedi Perfect™ makes the perfect gift! I went to Walmart to find the Amopé Pedi Perfect™ to give as a gift this holiday season and to keep one myself. I asked a store employee for help in finding it and she was able to lead me right to it. It can easily be found in the Health & Beauty section of your local Walmart store.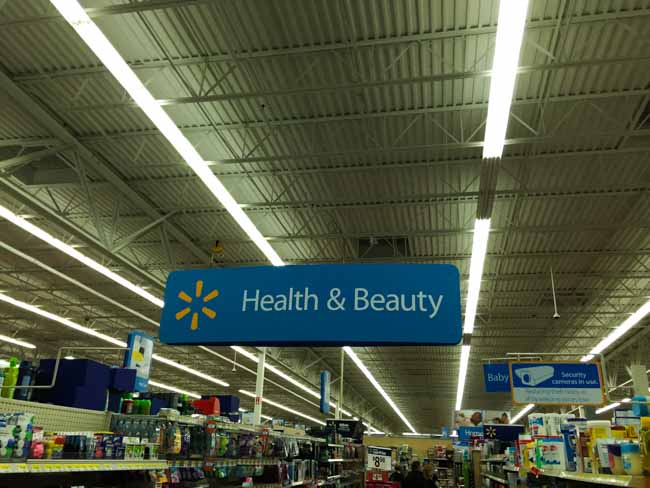 The Amopé Pedi Perfect™ is found specifically in the Foot Care section of the Health & Beauty department.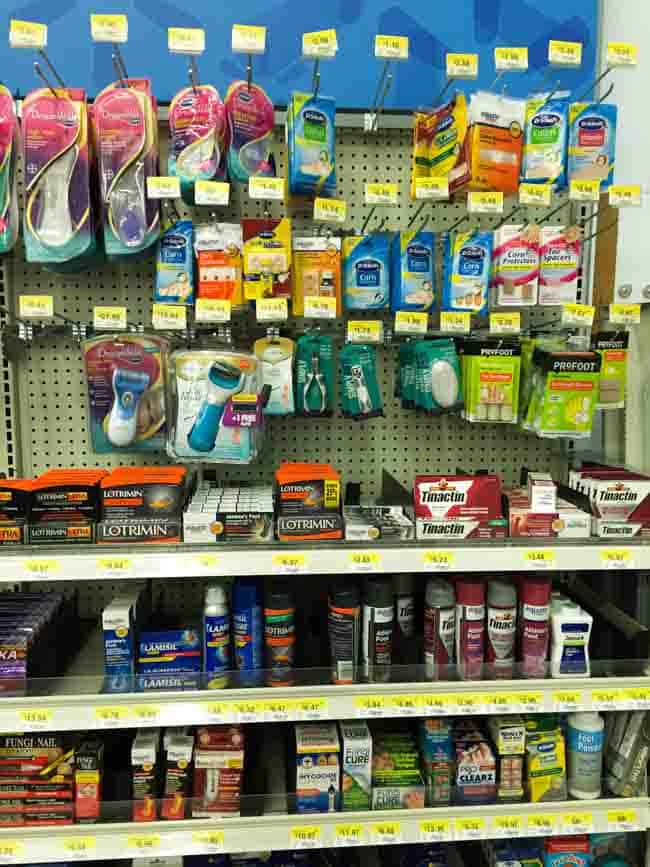 The Amopé Pedi Perfect™ Bonus Pack is exclusive to Walmart. I love that this gift comes with a free refill and the batteries are included! Plus there's a great coupon for $5 off any Amopé Pedi Perfect™ electronic gadget. Just go here to print it and make sure to save yourself some money on a great gift this holiday season!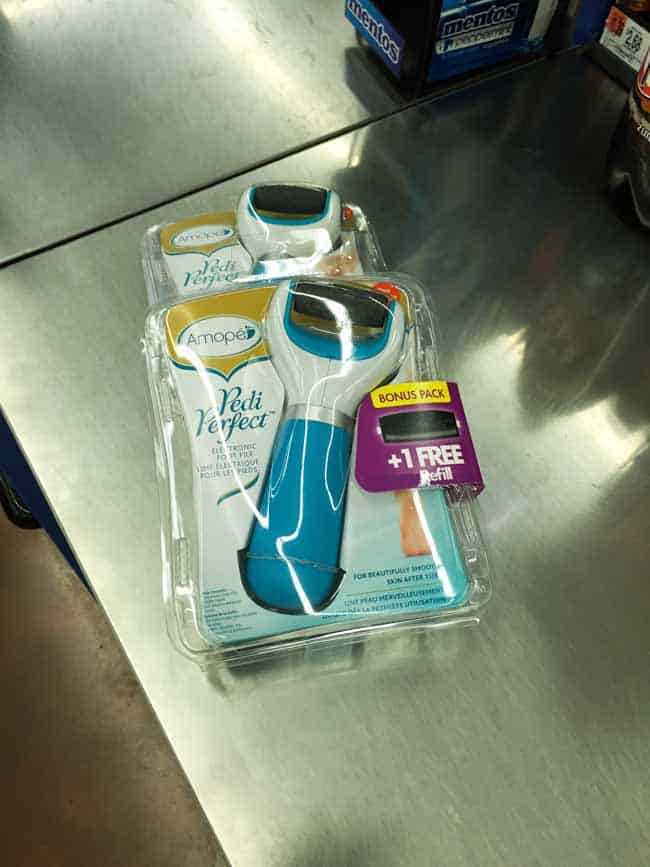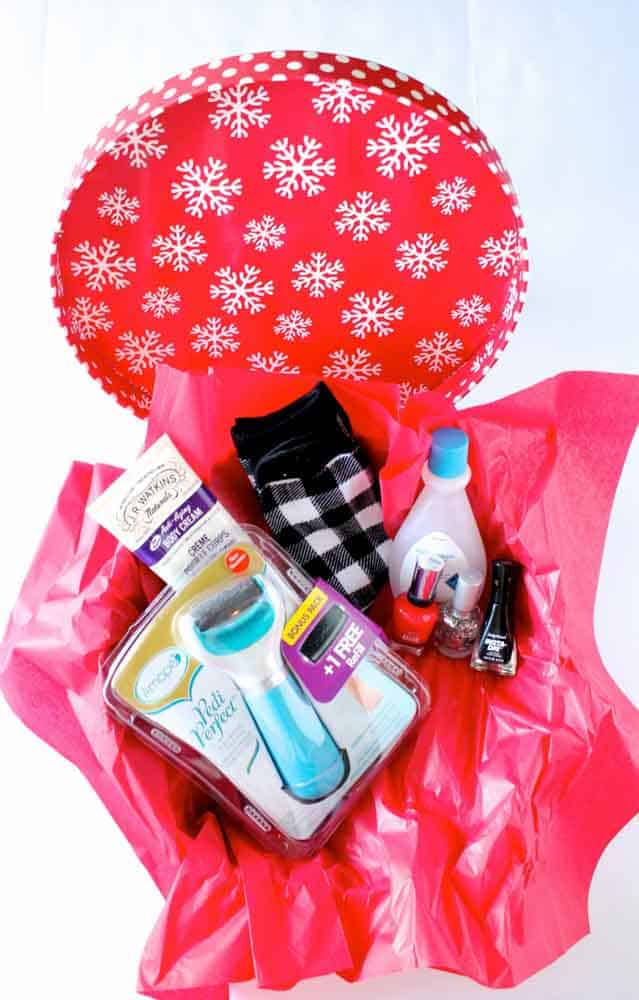 Since I got one for myself and one to give away, I decided to give the electronic foot file to my college aged daughter this Christmas in a fun little spa gift basket. My daughter loves having pretty feet and a fresh pedicure but professional pedicures aren't always realistic. Going to get a pedicure can take a lot of time, can be expensive (especially when living the more frugal college lifestyle) and let's face it….if you have really ticklish feet, a professional pedicure may not be fun! In her gift basket I wanted to include the Amopé Pedi Perfect™(the bonus pack from Walmart makes this even better!), some fun nail polish colors, cute socks and few other spa items. This gift basket will be perfect for a quiet night at home with a movie and a pedicure or for a fun girls night in with her friends!
While I do love getting professional pedicures, I just don't always have the time to go have a pedicure done. I love that this allows me to get rid of all the dry skin and deep cracks on my feet while relaxing at home. And the Amopé Pedi Perfect™ is so great at getting the dead skin off your feet that afterward you will really be able to deeply condition your feet. I had so much dry skin come off after using this. It felt really good! I can't wait to get my husband to try it!
This is a sponsored conversation written by me on behalf of Amopé™. The opinions and text are all mine.


Save
Save
Title:
Pedi Perfect Makes the Perfect Gift!
Mentions:
amope pedi perfect, gift, pedicure, spa gift basket
Keywords:
amope pedi perfect
Last Updated:
February 16, 2018