This post may contain affiliate links that, at no additional cost to you, I may earn a small commission. Read our Disclosure Policy.
Hi, everyone! I'm Brittany from
One Charming Party
and I'm so excited to be part of this Christmas Wonderful party! We're all about celebrating the little people in your life — and during the holidays, what better way to do that than with a gingerbread decorating party?
We've got some tricks and tips to help you build the best gingerbread houses in town! And don't be afraid to use graham crackers instead of gingerbread if you're in a hurry.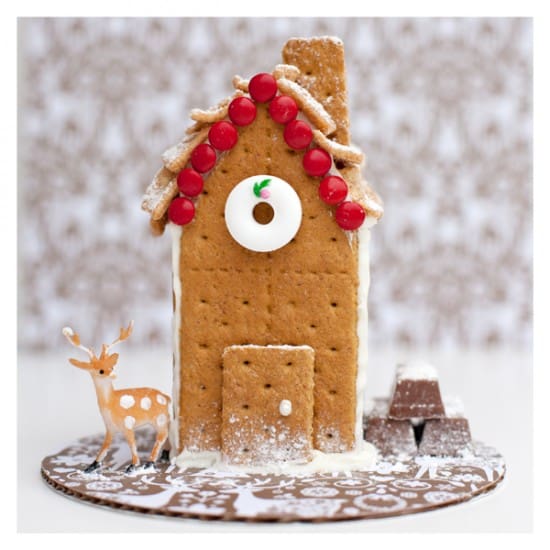 Cutting the crackers: Cut a pattern for the house peak from a 3 x 5 index card or other sturdy paper. To cut the graham cracker into a peak without breaking it, get a paper towel damp through (but not soaking), wrap it around the graham cracker, and microwave for 15 seconds. This will soften the cracker enough to cut it. Using a serrated knife, cut the cracker into a point following the pattern on the card. Don't worry, the graham crackers will re-harden.
Base: Mounting your house onto a piece of cardboard makes it easy for guests to transport their creations home and it also adds an extra bit of cuteness. These houses are on a 6? cardboard cake round (found in the wedding cake supplies aisle) with scrapbooking paper glued to the top. Using spray adhesive, spray the glue on the cardboard cake round, then stick the cardboard to your paper. Trim the paper around the circle.
Royal Icing: Ingredients– 3 Tablespoons meringue powder, 1 pound powdered sugar, 1/2 teaspoon cream of tartar, and 1/4 cup warm water. With a hand mixer beat all ingredients together until the icing holds a stiff peak, about 5 minutes. Add a tiny bit more water if too firm and more powdered sugar if too runny. Keep icing covered with a damp towel to prevent it from drying out.
House frames: If you've made gingerbread houses before, you know that it can be difficult to keep the house together with only frosting. This quick fix is the most amazing trick! Over low heat, melt brown sugar in a sauce pan until it liquifies. This makes the perfect edible glue! *Warning: the melted sugar is very hot, so we advise you do this part ahead of time. This way, your guests can get to work decorating as soon as they arrive and no one will have the bother of their house falling over.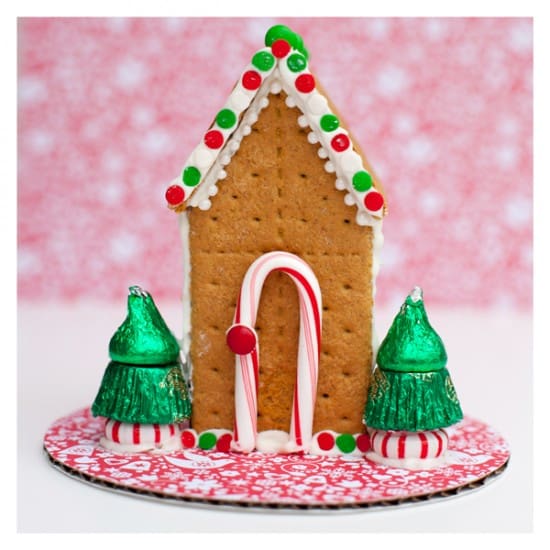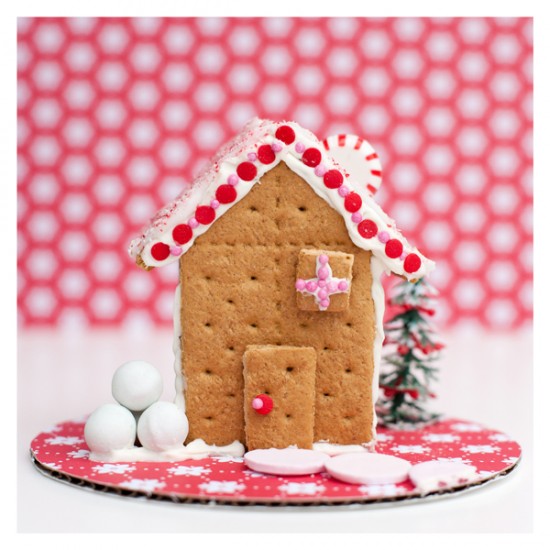 When it comes to decorating, the sky's the limit — use whatever candies you can find to give your house some extra flair. Your little gingerbread architects will have as much fun creating and designing their houses as they do gobbling them up at the end. Happy gingerbread building!
Wilton 6-Inch Cake Circle, 10-Pack