This post may contain affiliate links that, at no additional cost to you, I may earn a small commission. Read our Disclosure Policy.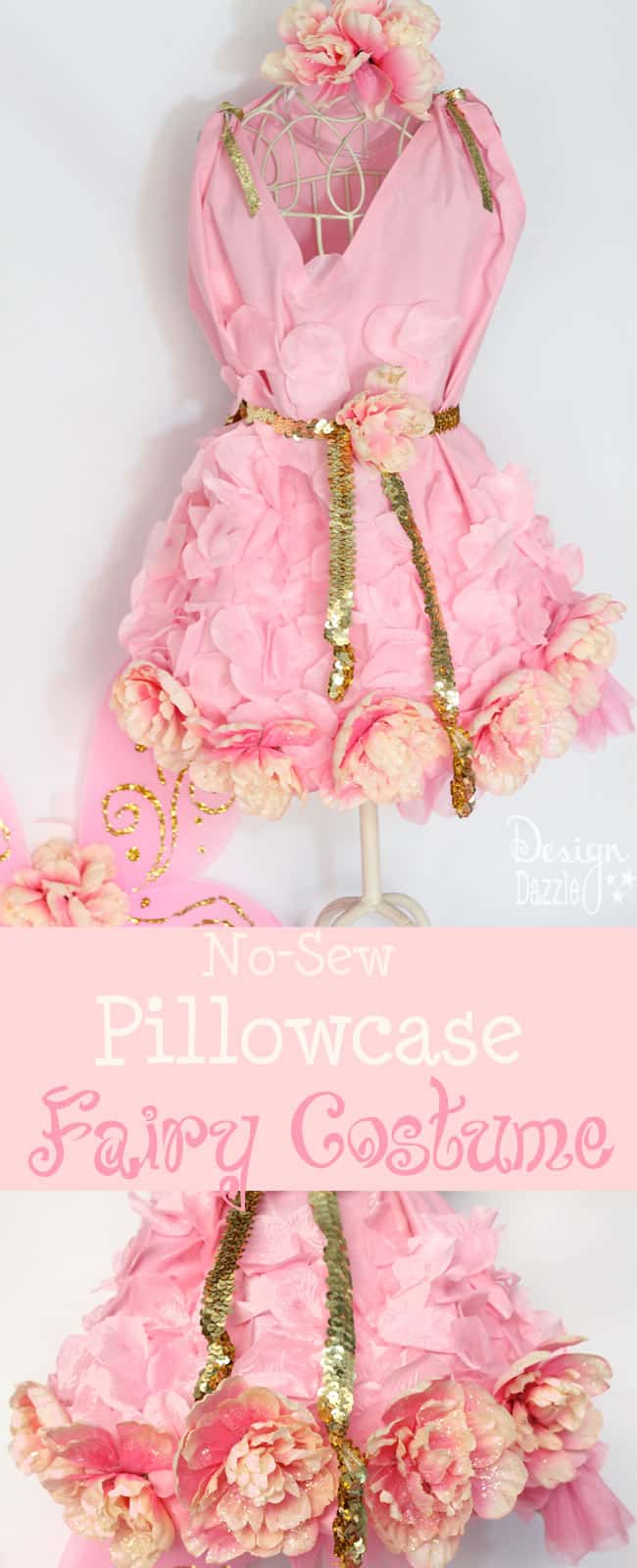 Halloween is absolutely one of my FAVORITE holidays and to celebrate I pulled together the creative minds of some of my talented blogging friends to bring you over 110 fabulous Halloween ideas! From costumes to parties, crafts and home decor, recipes and free printables, we have so many fun ideas to share! I guarantee you'll find a project (or 10!) that you would love to incorporate into your Halloween festivities. All week (Monday through Saturday) myself and my blogging friends will be sharing our fun creations with all of you. Each day will include approximately 20 Halloween projects and you can "hop" from one blog to another to check them all out.
For my project, I'm sharing how to make this darling No-Sew Fairy Halloween Costume. This no-sew fairy costume is made from a pillowcase and perfect for dressing your fairy for your fairy tea party or for the best Halloween fairy costume! This darling, inexpensive fairy dress is NO SEW- as long as you have a hot glue gun, you're set. That's my kind of Halloween costume! It is very simple to make, so your little fairy can even help!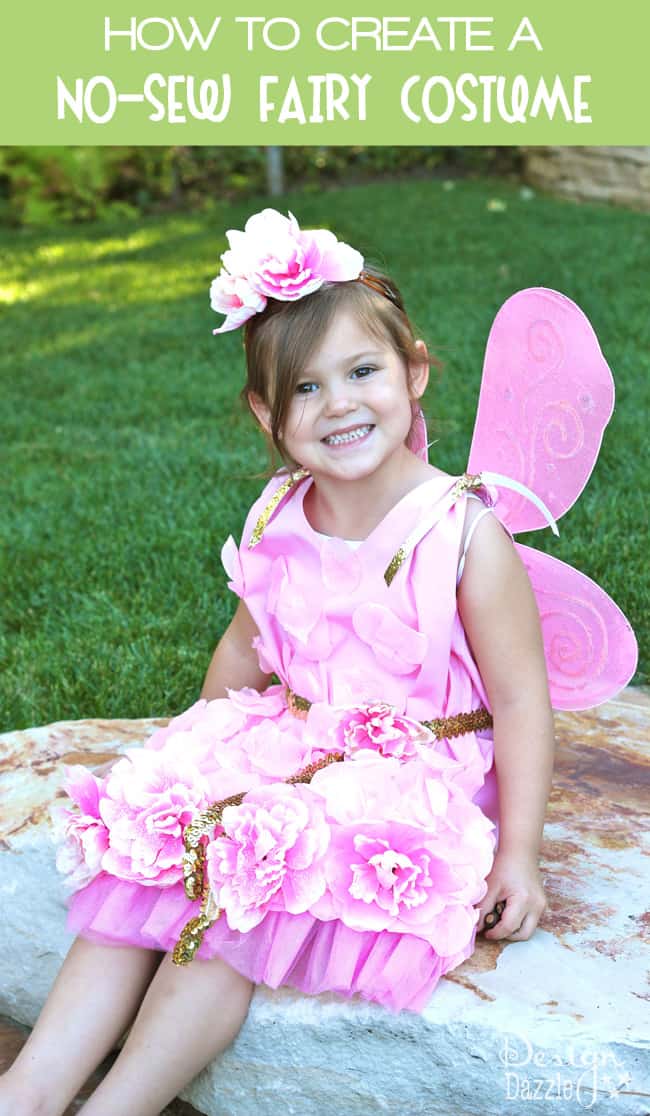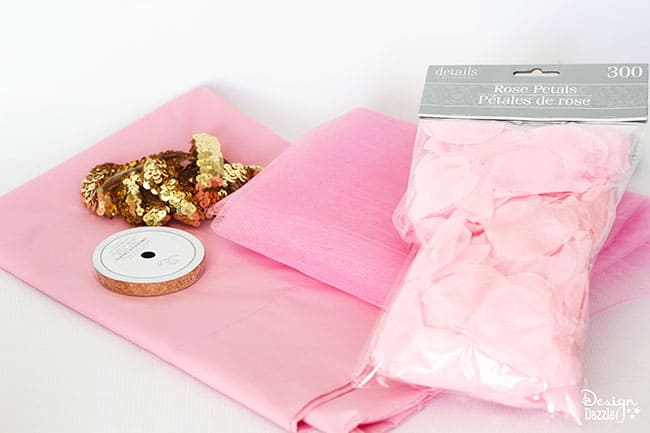 Supplies for a no sew fairy costume:
Step 1: Double the tulle so that when you cut your strips, you will be cutting it twice. Then, fold the tulle in half so you have two pieces halved. Cut about 3 inches (if you unfolded the tulle it would be about 6 inches). I used 4 doubled strips like this to cover the entire edge of the pillowcase. So, repeat the first step 4 times.
***Before this next step, it is a good idea to measure the length of the pillowcase and how long you would like it to be on your fairy. You should trim the pillowcase BEFORE you glue anything on. I didn't measure before and ended up having to trim my pillowcase later in the project, which led to some complications.***
Step 2: After you have cut your three pieces of tulle, take one and gather it, almost into pleats. Hold this gather together, and put a line of hot glue on the inside of the opening of your pillowcase, about one inch up from the bottom. Do this all the way around the opening of the pillowcase, using all 4 doubled strips of the tulle. Pro tip: Use a spoon to press the tulle on the hot glue! I don't want you burning any fingers!
This is what your ruffle along the edge will look like when it is completed: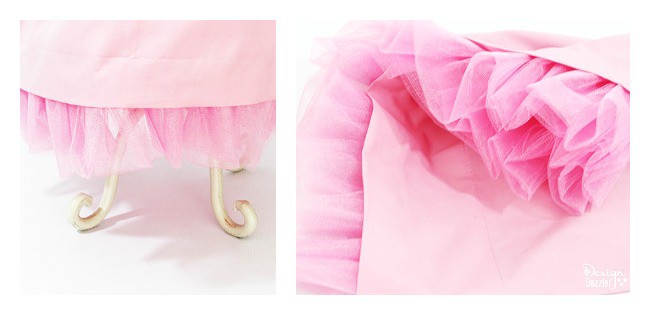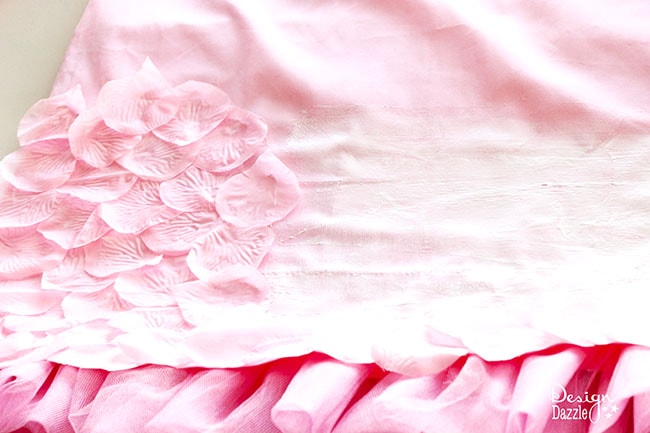 Step 3: Glue on the rose petals. I made a solid layer of rose petals about 8-10 inches wide, and then spread and faded them out across the top. At first, I painted the pillowcase in tacky glue (as pictured above) and evenly spread out the petals. After the first layer had dried, I dabbed glue here and there and stuck on petals sporadically to give it a more whimsical look. Continue onto the back to cover the pillowcase edge. I found that "painting" the pillowcase with tacky glue made the fabric quite stiff. Since I had to cut my pillowcase down, the second time around I decided to do little dots of hot glue and stick the petals on. I still did a few layers to make it look like the petals had just fallen onto the dress. I think this produced more of the look I was going for and made the fabric less stiff.
Step 4: Cut out the neck and arms of your pillowcase. I decided to make mine a v-neck, and cut the neck about 6 inches wide. I cut the arms out at a curve, and about 4 inches wide. Adjust the measurements to what will fit your fairy!
Step 5: Turn your pillowcase inside out, and cut your iron-on hem tape to fit the length of the neck and arms. Follow the directions on the package to make sure you apply the hem tape properly.
Step 6: Accessorize! I hot glued 5 glittered peonies I had leftover from my fairy party onto the bottom edge of my fairy dress. Then, I tied the sleeves at the top with gold glitter ribbon. Finally, I tied gold sequin trim around the waist as a belt. Don't forget your wings and of course a fairy headband! Here is a close-up to see the cute petal and peony details:
This costume is no sew, inexpensive, and overall very simple to make. Your fairy will look absolutely darling as she glitters house to house, trick-or-treating the night away!
Now, are you ready for more fabulous Halloween ideas from my blogging friends??? Have some fun and join in on our blog hop! Simply click on each of the links for the Halloween projects you'd like to see and it'll take you right to that post with details on how to create it. Have fun and pin away!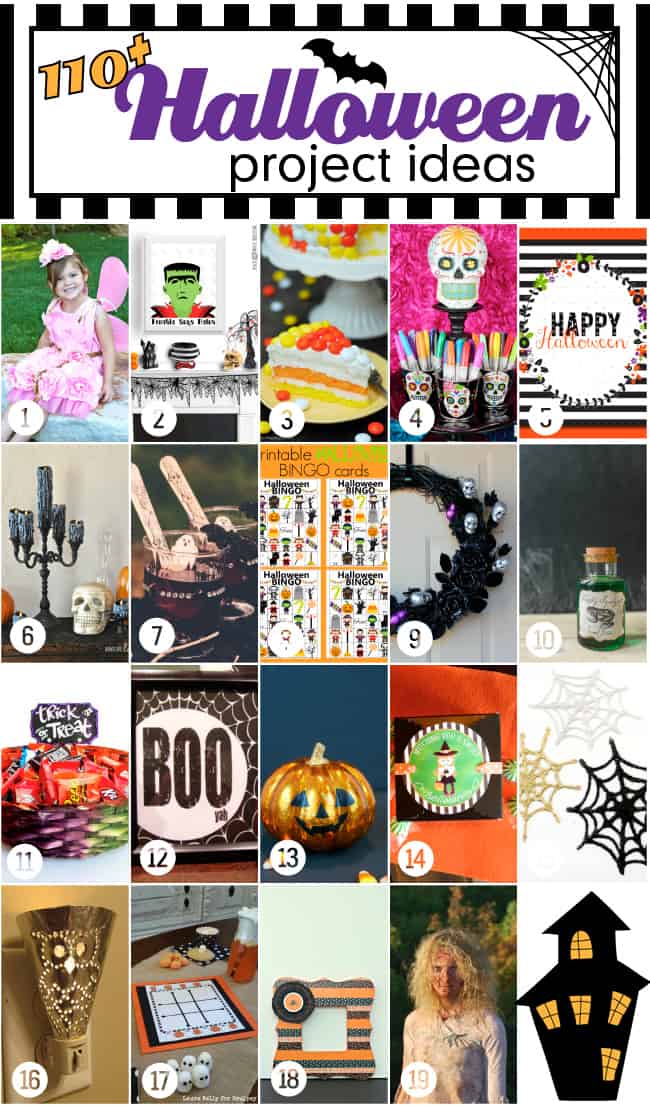 1. No-Sew Fairy Halloween Costume
2. Free Halloween Print: Frankenstein Wall Art
3. Candy Corn Layer Cake
4. Day of the Dead Sugar Skull Party Decorations
5. Free Happy Halloween Print
6. Halloween Toilet Paper Roll Candles
7. It's in the Details Dessert Cups DIY
8. Printable Halloween BINGO cards
9. Ghoulish Glam Halloween Wreath
10. Creepy Potion Bottles (with Free Printable Lables!)
11. Easy Trick or Treat Basket
12. FREEBIE :: Halloween ART PRINT
13. Mercury Jack-O-Lantern
14. FREE Halloween Printables
15. Glittery Glue Spiderwebs
16. Halloween Metal Punch Night Lights
17. BOO, It's Claytime Playtime!
18. Washi Tape Halloween Frame
19. Zombie Facials
Follow our Fabulous Halloween Ideas Pinterest board for even more inspiration!
Follow Design Dazzle's board Fabulous Halloween Ideas on Pinterest.
Be sure to come back tomorrow for another 20 awesome Halloween ideas!
Thanks to all 110+ fabulous bloggers participating! We'd love for you to visit their blogs and see what else they're up to!
If you're looking for other ideas for No-Sew costumes, be sure to check these out!
No-Sew Alice in Wonderland Costumes
Quick and Easy Rain Cloud Costume
DIY Bubble Bath Halloween Costume
Wonder Women Halloween Costume


Save