This post may contain affiliate links that, at no additional cost to you, I may earn a small commission. Read our Disclosure Policy.
I absolutely love making Valentine card holders. It's such a fun, creative, expressive activity for you and your kids! This Monkey Valentine Card Holder is so simple to make, and it is extremely adorable! What I really love about this is that it can be used for a boy or girl. If it's for a girl, simply add a cute bow! For a boy, add a bowtie. This monkey was inspired by my Puppy Valentine Card Holder from last year- it's amazing what you can do with a brown paper gift bag and foam sheets!
Supplies for Monkey Valentine Holder:
Paper Craft Gift Bag 8″ x 10″
light brown sheet of craft foam or felt (monkey head)
dark brown sheet of craft foam or felt (monkey face)
red sheet of craft foam or felt (nose)
hot glue gun and glue sticks
bubblegum pink craft paint and paint brush
brown craft marker
scissors
free Monkey printable
optional: ribbon for bow
This craft is as simple as printing out the template, tracing it onto the foam sheets, cutting it out and gluing it on! The free printable template is available at the bottom of this post. The pictures below show you how to assemble the monkey's face. I love the simplicity of this craft! Your kids will love helping.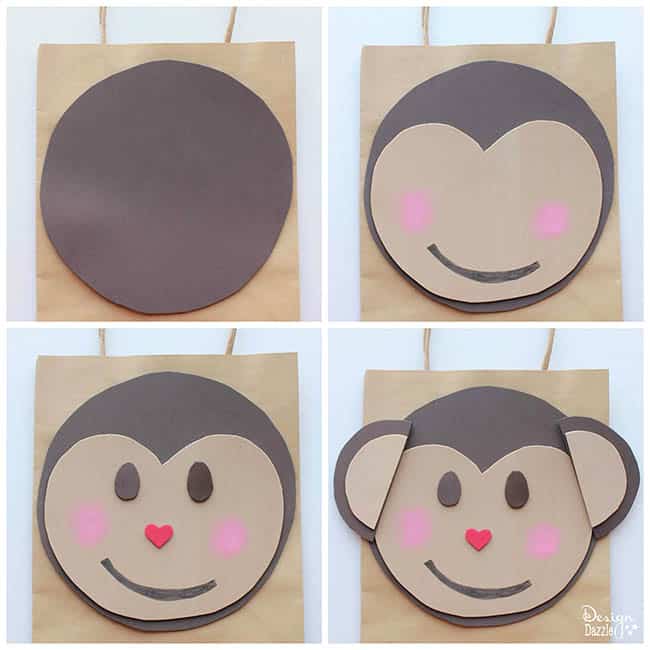 First, print out the free template.
Cut the template out and trace it onto the foam sheets.
Begin assembling the monkey's face on the paper bag. As you can see, we start building the monkey's face from the bottom to the top, starting with the head and ending with the cute heart nose.
It helps if you draw the mouth with the brown craft marker and lightly paint on the cheeks first. Place the eyes, nose and ears on next. Make sure you know where you want to put everything before you use the hot glue gun to place it!
The last step is adding a cute bow or bowtie. Now your kids are ready to fill it with yummy Valentine treats!
This monkey is so cute for your little girl or little boy!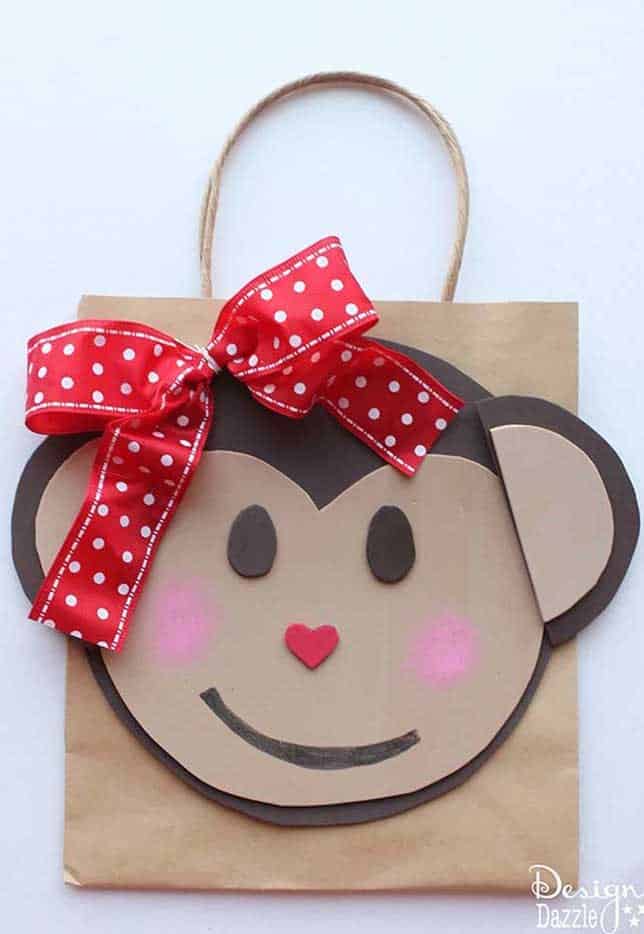 Your kids will love helping make this super cute Valentine holder for their class parties. I hope you love this simple, fun Valentine craft as much as I do!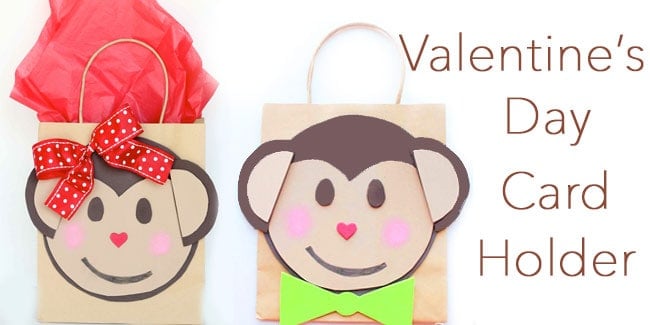 Both the girl and boy version are darling! Not sure which one is my favorite!
The Monkey Template is FREE and available for immediate download by subscribing to Design Dazzle!
To receive this free printable – enter your email address in the box below and click submit. Make sure to check your inbox for an email from Design Dazzle. You will have access to all of our FREE printables and also will receive an email newsletters filled with lots of great information. Don't worry your email address will never be sold
Printable files are for personal use only. They are not for commercial use.


Title:
Monkey Valentine Card Holder
Mentions:
monkey, Valentine Crafts, Valentine holder
Keywords:
Monkey Valentine Holder
Last Updated:
August 13, 2020