This post may contain affiliate links that, at no additional cost to you, I may earn a small commission. Read our Disclosure Policy.
Today is a good day to make some christmas treats like these mini christmas tree marshmallow brownie bites!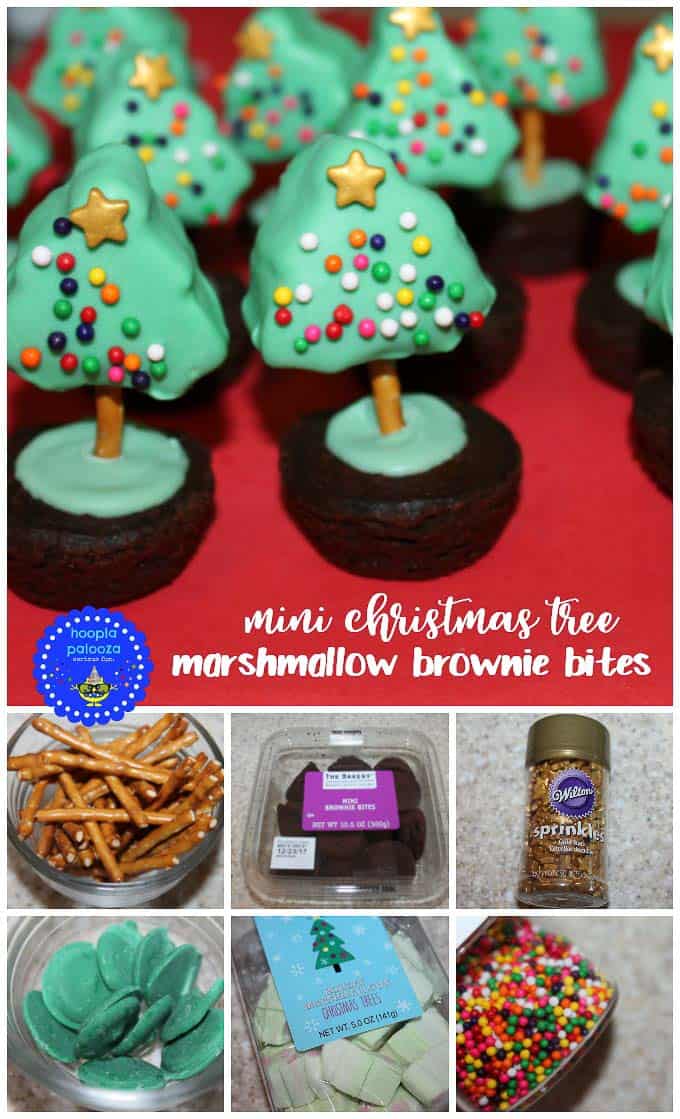 Hello holiday peeps! it's Lisa from hoopla palooza, a blog jammed packed with holiday tutorials and serious fun! hope you put this on your list of things to do for tons more fun but for now, it's all wonderful as I join Toni and her team for another Christmas Wonderful post 🙂
let's say we get down to business ok? first I spotted these babies at Target:

they were in the christmas section with the food craft supplies. some of the marshmallows look like santa's sleigh ran them over so you 'll have to go through the package to get the ones that aren't squished! anyway, once you have them sorted out, grab the rest of the supplies:

i got the brownie bites at walmart but i've seen them around target and publix. you can always make your own but goodness there is already sooo much to do isn't there? so we are going for EASY PEASY.
anyway, here's the first step. just poke a minipretzel stick in the marshmallows. they will stick quite easily.


then melt your green candy melt and follow the next steps:
once the trees have dried, grab those brownies and add the tree like so:

take your time when you push the tree in so the brownie doesn't crack!

and there you have it. a million christmas trees (give or take a few) all decorated and ready to give out to all your holiday sweeties.

now if only our real christmas trees were as easy to decorate…

thanks SOO much to Toni and the Design Dazzle team for having me again! if you like this, you'll find more fun tutes over at hoopla palooza. and be sure to follow me on pinterest, facebook, google+ and instagram too!
and here's to the happiest of holidays to all!!!
________________________________________________________________
Thanks so much to Lisa for sharing these cute and delicious Christmas brownie bites! Make sure to check out her
blog
 for more delicious recipes and fun ideas!
_______________________________________________________________