This post may contain affiliate links that, at no additional cost to you, I may earn a small commission. Read our Disclosure Policy.
hello holiday people!
did you get any cool weather yet? cuz if you did, a warm hot cup of cocoa would not be the same once you made a fun holiday treat like marshmallow hot cocoa santas!
heehee! these may look complicated but it's just a matter of gluing and drawing.
first of all, lemme introduce myself. it's lisa from hoopla palooza, back again for another Christmas Wonderful post. my blog's all about fun tutes and i'm sooo lucky to be back here!
but enough about me, let's go on with the how-to's for these holly jolly hot cocoa treats.
you will need the following:
regular size marshmallows, mini marshmallows, mini marshmallow bits, santa candy hats, melted white and milk chocolate (from chips, candy melts or almond bark), various sprinkles, christmas straws, black food marker
ok let's get to it.
first poke a straw thru each regular size marshmallow. put these aside along with your santa hats you can get from target.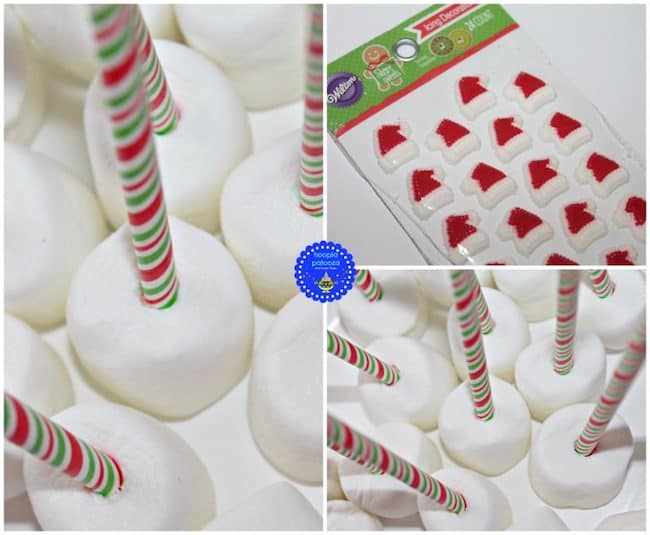 next up:
hey hey hey you just made a mini mug!
so let's fill 'em up!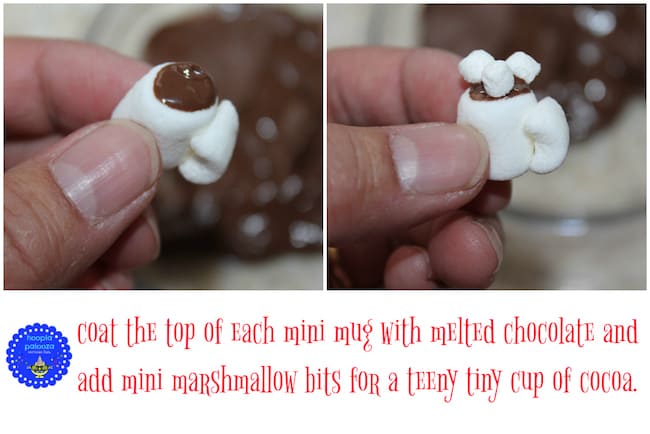 use a toothpick to add the chocolate-i melted some almond bark but a few chocolate chips melted in the microwave will do too-you don't need much at all, as you are just using the chocolate to top the mini mugs. and then before you know it, you'll get a whole city of mini hot cocoa mugs!
ok so you can do this:
or go the fun way and do this:
coat the top of each marshmallow with white almond bark, add sprinkles, candy glue the mug as shown, and add the santa hat to the top (you'll need to hold the hat in place til the candy dries a little-it only takes a minute or 2).
then you can do the following to finish the santas off.
oh but one more thing!
you can see the whole effect of your little santa man below:
so there you have it.
cups of christmas cheer for everyone.
merry merry christmas everyone!
and many merry thanks to toni and her team for having me 🙂
if you like this, come see more over at my blog world, hoopla palooza
and be sure to follow me on facebook, google+, instagram, and pinterest!