This post may contain affiliate links that, at no additional cost to you, I may earn a small commission. Read our Disclosure Policy.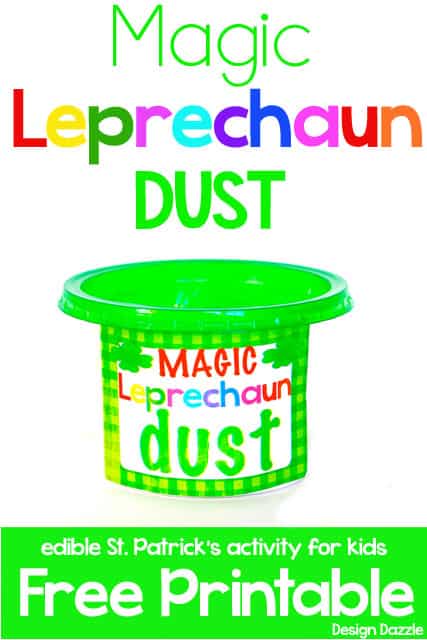 Years ago I did this cool St Patrick's Day activity with my kids. As we know, Leprechauns love a little mischief. For your kids to find this cute little container with magic dust left by the Leprechauns will cause many giggles and much fun! Magic Leprechaun dust with a free printable is the perfect activity for the month of March!
So what is inside the container? It is actually white pistachio pudding that turns green when you add milk. The brand you do not want to use is Jell-O Pudding (their pudding is already green). I used an off-brand called Kroger's.
Supplies:
Plastic containers with green lid purchased at the Dollar Store (4 in a pack)
Kroger's Pistachio Pudding 3.5 oz
milk
Free printable (see bottom of post)
Instructions:
I divided the pudding between 3 containers (slightly less than 1/4 pudding powder cup per container) and attached the green lid.
Download, print (on regular printer paper), cut out and attach the free printable label to the front of the container.
Hide the Magic Leprechaun Dust somewhere fun for the kids to find.
Add 1/2 cup + 2 Tablespoons of milk to the container.
Place the lid tightly on the container!
Have the kids to the Irish Dance Jig while shaking the container hard (about 30-40 seconds will do). This is a two-handed activity. You can always place the container in a ziploc bag (while they shake) so no container opens while the shaking is going on. No one wants green floors or walls : )
Place in the fridge for 6-8 minutes until set.
The kids will see the pudding color is now green! Thanks to the mischief and magic of the Leprechaun! Our Magic Elf Pudding is just like the Magic Leprechaun Dust except with an elf! Unfortunately for those with a nut allergy – there are nuts in this pudding.
The "Magic Leprechaun Dust" printables are FREE and available for immediate download by subscribing to Design Dazzle!
To receive this free printable – enter your email address in the box below and click submit. Make sure to check your inbox for an email from Design Dazzle. You will have access to all of our FREE printables and also will receive an email newsletter filled with lots of great information. Don't worry your email address will never be sold.
Printable files are for personal use only. They are not for commercial use.