This post may contain affiliate links that, at no additional cost to you, I may earn a small commission. Read our Disclosure Policy.
One of my very favorite activities to participate in every Christmas is Light The World from the Church of Jesus Christ of Latter-Day Saints!
What is Light The World? It's a wonderful way to help others in a new way each week of December and to hopefully become more like Jesus Christ. He spent much of His ministry caring for individuals, one by one. So join me and thousands of others this Christmas as we follow His example and find ways to share our time, love, and resources with those in need. Read more about Light The World here.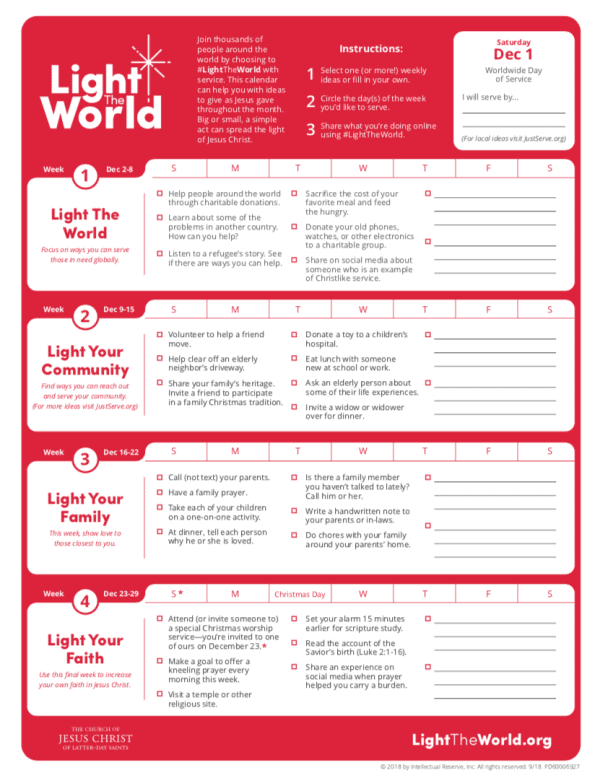 They have organized Light The World so wonderfully! They even made a very simple calendar that you can download here.
You can even head to social media to get some great ideas for how you can serve others by searching the hashtag #LightTheWorld. What are some ways that you are planning to #LightTheWorld this holiday season?
I love the idea of sharing my heritage with others and inviting a friend to participate in one of my families Christmas traditions. Christmas can be such a lonely time for others, I'm sure that so many people would love to feel included!
I would love to hear your favorite #LightTheWorld ideas below!

Title:
Light The World With Me!
Mentions:
christmas activity, christmas service, light the world, lighttheworld, serve others, service activity, spread joy, spreadlight
Keywords:
Light The World
Last Updated:
December 13, 2018