It is a rite of passage at Christmas time for kids…creating handcrafted ornaments to give as gifts to their parents on the big day. Parents really do cherish these little works of art and keep them for years. I know this first-hand; a box full of  my husband's kid-made ornaments was handed to me when we got married. We had quite an interesting Christmas tree that first year because of a tree full of those treasured childhood ornaments.
In the spirit of creating memories for years to come and helping your kids explore their creativity, encourage your little artists, and maybe throw your kids an ornament making "party." Dress up in your favorite Christmas shirt  (like ours from Rockets and Rainbows) Have a few friends over, get messy and have fun with glitter and glue. Serve up some steaming hot mugs of cocoa garnished with a peppermint stick, add some creative cookies to finish the party atmosphere, and you'll have treasures and treats by party's end.
Materials 
Clothespin
2 White 8-12 cup coffee filters
6 inch doilies
6 inches 3/8 inch ribbon
6 inches Cording
1 inch wired gold ribbon
Glue (white glue or hot glue)
Method
Step 1. Cut a circle out of the bottom of the coffee filters.
Step 2. Wrap the filters around the clothespin, adhering the first end with a touch of glue creating a few folds in the filters as you wrap to create fullness in the skirt. Use a touch of glue to adhere the end to the clothespin
Step 3. Wrap the gold ribbon around your finger to create the halo. Glue the halo to the top of the clothespin.
Step 4. Fold your cording in half and tie a knot in the end, then glue the knot to the back of the Angel's head to hang.
Step 5. Wrap the sash around the angel's waist, covering the top of the coffee filter, and glue in place.
Step 6. Accordion fold the doily and pinch in the middle to make the angel's wings. Glue to the back of the clothespin.
Once the glue dries, you're ready to hang it up or give as a gift!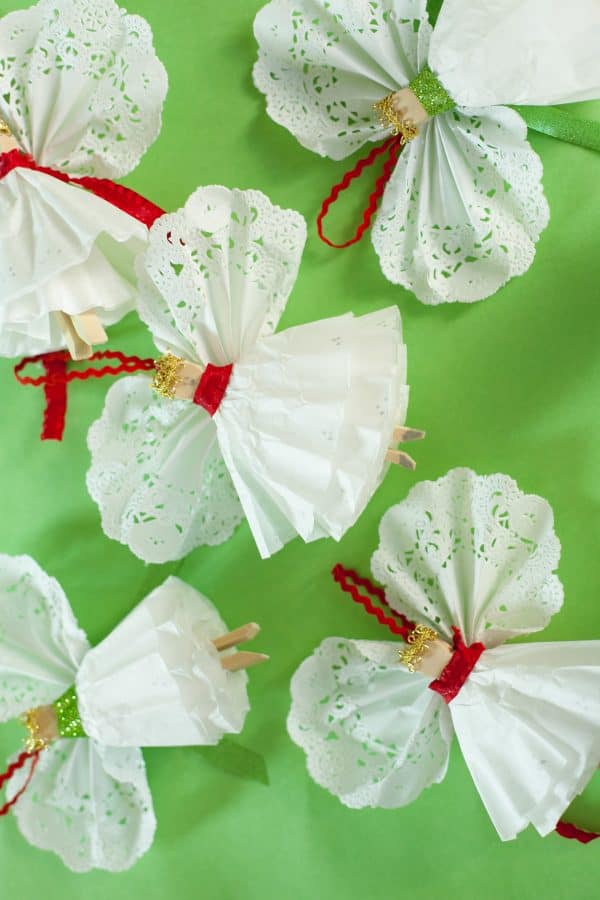 Frog Prince Paperie
Paula Biggs is a party-loving mom of two terrific kids living on the sunny beaches of Melbourne, Florida. She is the woman behind the frog at Frog Prince Paperie, a printable party shop and blog dedicated to making parties magical!