This post may contain affiliate links that, at no additional cost to you, I may earn a small commission. Read our Disclosure Policy.
Thanksgiving is one of my all time favorite holidays. It's the perfect combination of fall, food, family, and pumpkin pie- can't beat that! It's a perfect time to remember all of our blessings and share our gratitude with our family and friends. Of course, I'm all about the fall decor! This Thanksgiving table is really natural and neutral with just a little bit of glitz! To make your holiday a little smoother, I am sharing an elegant table setting that you can create! My suggestion is to start early and get the Thanksgiving table set a few days before Thanksgiving. It's such a nice way to get into the spirit of Thanksgiving.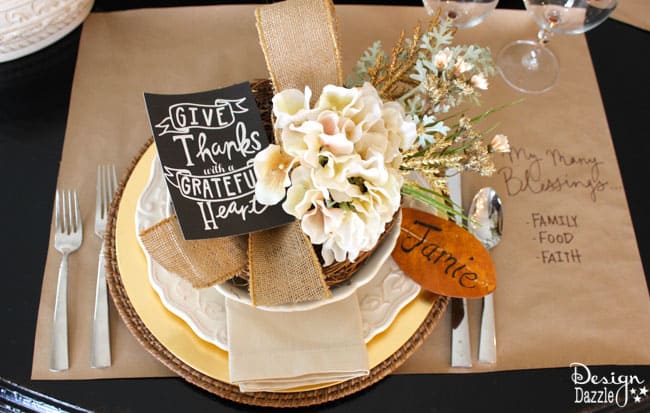 I'm sharing the steps of how-to decorate a thanksgiving tablescape….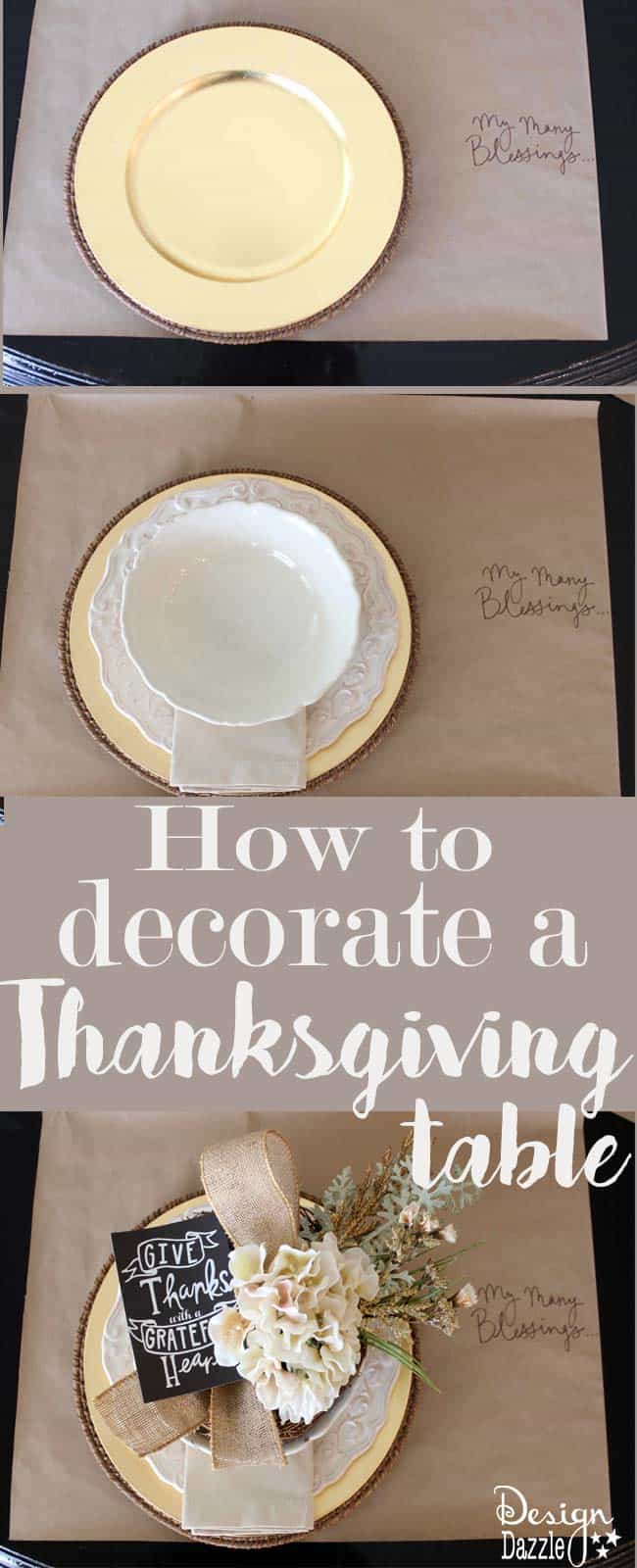 Supplies Needed
Placemats: brown craft paper, scissors, double sided tape, brown sharpie
Plate Setting: wicker charger, gold charger, decorative ceramic plate, "Give Thanks with a Grateful Heart" FREE printable
Bouquet Bunches: hydrangeas, greenery, wire, wire cutters, burlap ribbon, and of course- a little sparkly gold floral pick!
Centerpiece: large basket, cabbage, succulents, hydrangeas, small chalkboard, craft pumpkin, gourds, etc.
Name place cards – a dried magnolia leaf was used for the name place card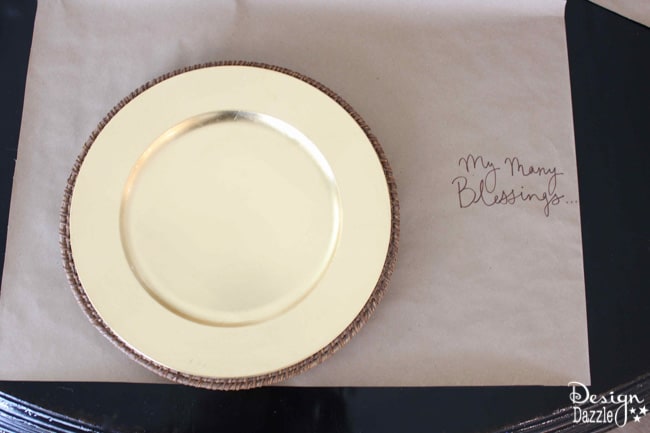 Step 1: Cut craft paper to make a placemat. The easiest way to do this would be to trace a placemat you already have. Then, stack the wicker and gold chargers. Leave extra space on the right side to write "My Many Blessings". This is such a fun way for your family and friends to write down what they are thankful for! Leave sharpies or pens on the table so they can count their blessings while they enjoy your delicious meal! I layered the rattan charger with a gold charger on top.
Step 2: Add your favorite plate. Layer a cloth napkin in the center of the plate. Then place a soup bowl on top. I love how elegant these layers look!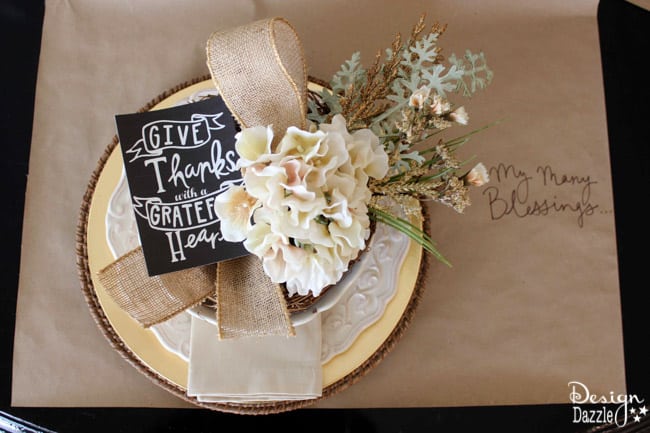 Step 3: I placed a twig birds nest in the bowl. This added a little special touch but isn't completely necessary. Set your simple bouquet bunch (tutorial below) and the "Give Thanks" printable inside the bowl. The "give thanks" printable is free and can be found by subscribing at the bottom of the post.
How To: Simple Bouquet Bunches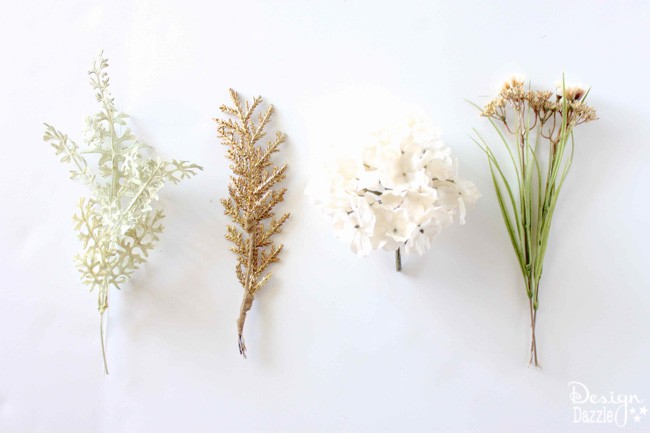 Step 1: Buy hydrangeas, greenery, accessories, etc. Most artificial flowers and foliage come in bunches, so trim the bunches down with wire cutters. Be careful with the sharp wires!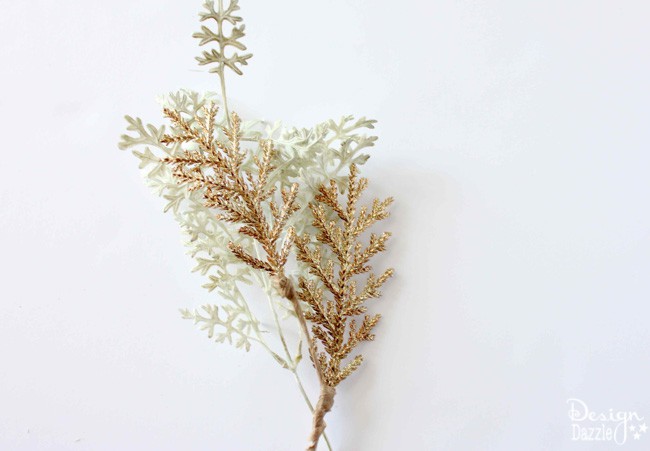 Step 2: Layer your greenery and accessories. One of the benefits of artificial flowers and foliage is that their stems are all adjustable- so play around with the stems and branches until it looks just right.
Step 3: Finally, add the hydrangeas on top. Secure all the flowers and foliage together in your hands. Then, wrap the stems together with wire to hold them in place.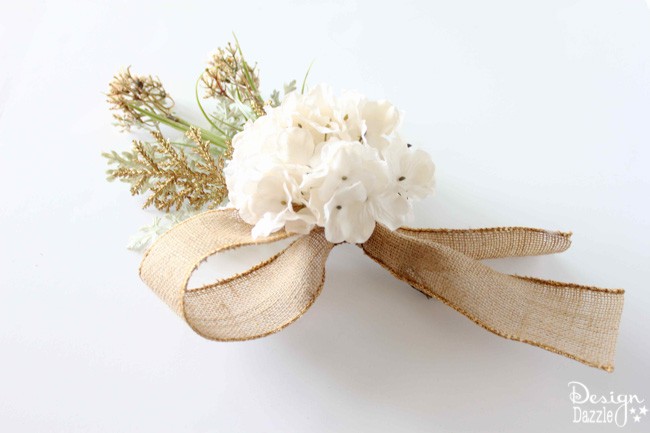 Step 4: Cut a strip of burlap ribbon about 14 -24 inches long (depending on your preference). Make a loop and position it off to the side. Then, secure the ribbon on with wire. Yep, that's it! It is that simple, yet turned out so beautifully!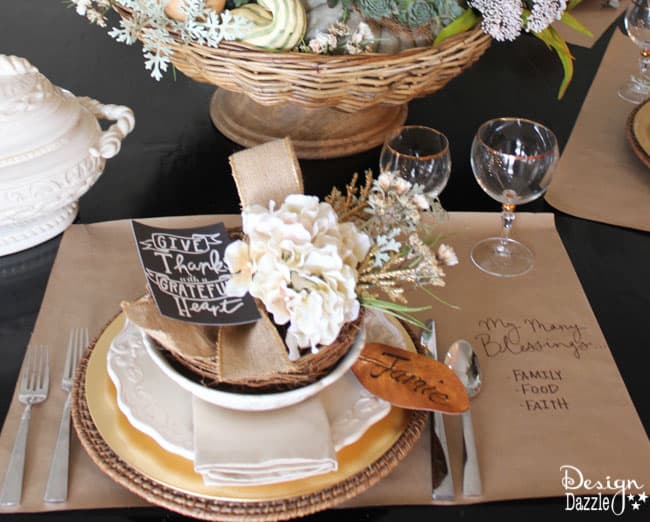 So here's a sneak peek at tomorrow's post. You'll see the entire Thanksgiving tablescape with the succulent centerpiece!
Each person needs a plate, and at least a fork, knife and spoon, a water glass and another type of glass depending on what you are drinking. And of course, don't forget the napkin (cloth preferred)
Do's & Don'ts of setting a Thanksgiving Table:
Do try your best to set a pretty table for Thanksgiving
Do use cloth napkins
Do use name place cards or in this case a name place leaf
Do make sure salt and pepper are on the table
Do have a place where family and friends can write what they are thankful for
Don't use scented candles
Don't wait til the last minute to set your table
Don't serve too many appetizers
A couple of other thoughts.
Do make a playlist of fun and grateful songs that set the mood for Thanksgiving
Do make plenty of desserts
Do have food boxes ready for guests to take home leftovers
You might want to check out my fall tablescape from last year! I love how that turned out, but I think this year's Thanksgiving table is maybe my favorite. If you're looking for a simple way to let your friends know you're thankful for them, check out this easy "Happy Fall!" gift idea with a free printable.
This post contains affiliate links. For more information, please see our disclosure policy.
Here's a shopping list of items I used in this post:
I have so much to be grateful for… my family, my friends, my home, my faith, and of course- all of you! I am filled with gratitude to have such loving, supportive readers. I hope you all have a very happy Thanksgiving!
What are you grateful for this year?
The "Give Thanks with a Grateful Heart" printable is FREE and available for immediate download by subscribing to Design Dazzle!
To receive this free printable – enter your email address in the box below and click submit. Make sure to check your inbox for an email from Design Dazzle. You will have access to all of our FREE printables and also will receive a weekly newsletter filled with lots of great information. Don't worry your email address will never be sold. Printable files are for personal use only. They are not for commercial use.
Printable files are for personal use only. They are not for commercial use.


Save
Title:
How to Decorate a Thanksgiving Table + Free Printable
Mentions:
DIY, grateful table, holiday, Thanksgiving decor, Thanksgiving table
Keywords:
Thanksgiving table
Last Updated:
November 28, 2020