This post may contain affiliate links that, at no additional cost to you, I may earn a small commission. Read our Disclosure Policy.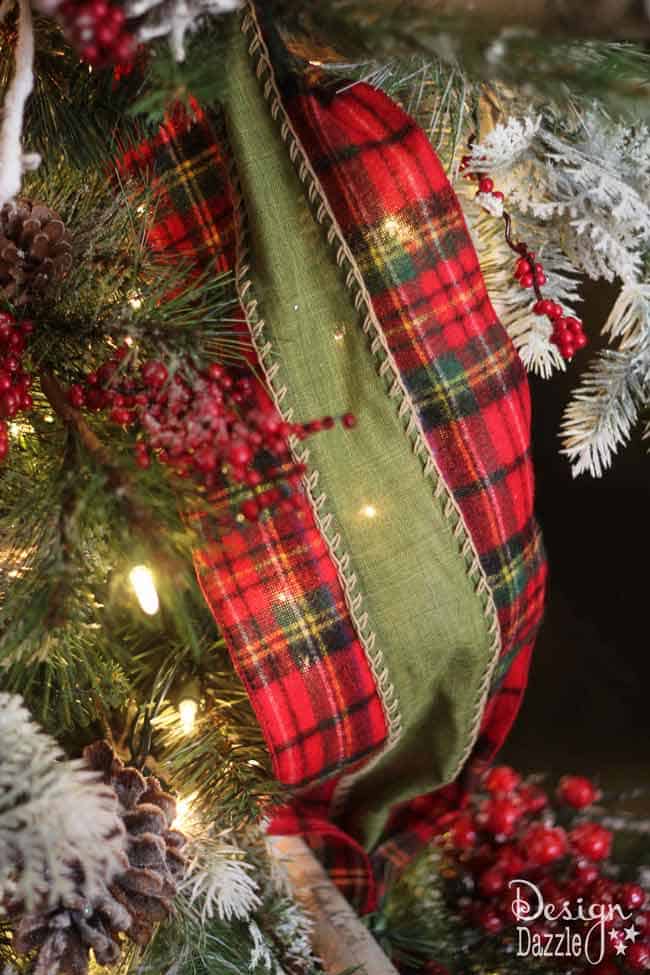 When I decorate a Christmas tree, one of my greatest and favorite tricks is to use ribbon! You can make bows, loops, wrap it around, and find so many more uses for ribbon on your Christmas tree. Ribbon adds a flowy texture and seamlessly ties the rest of the decor together. This beautiful ribbon looks high-end, but can be easily made for a fraction of the cost! One of the biggest perks of making your own high-end designer ribbon is that you can use whatever combination of ribbon that you like. You get to make it your own! You won't believe how easy it is and all I used was a GLUE GUN! Yep, it's easy peasy!

How to Create "High-End" Designer Ribbon
3 rolls of ribbon purchased at Michaels
hot glue gun
metal spoon
All three rolls of ribbon are from Michaels.I purchased the ribbon at their Labor Day Sale for 60% off. So each roll cost $4. The total price for this roll of designer ribbon was $12 for 25 feet. The ribbon ends up being about 6.5 inches wide after gluing.
I used two identical rolls of plaid for the outside and the one simple green ribbon with a pretty trim to use for the center. All you have to do to make your ribbon look high end is to hot glue the edges of the of ribbon together. It is that simple! When I made this ribbon, I laid the sides I wanted showing facing up, side by side. I made thin lines of hot glue on the inner edge of the plaid ribbon and then quickly laid the edge of the green ribbon on the glue before it dried. I repeated this to add both sides of the plaid ribbon. Glue until you get to the end of the rolls.TIP: Use a metal spoon to smooth down the ribbon where the hot glue is. This helps prevent burned fingers.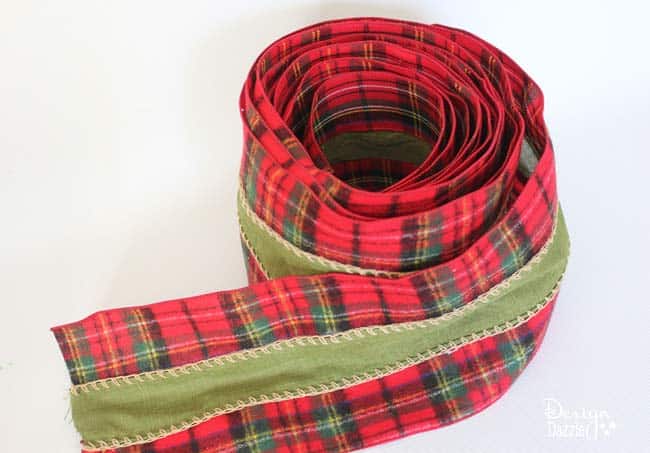 Yes- It is that simple to get your own custom, high-end designer ribbon for a fraction of the cost! This is the perfect, quick and easy way to complete your Christmas tree.