This post may contain affiliate links that, at no additional cost to you, I may earn a small commission. Read our Disclosure Policy.
Hello, Design Dazzle readers! My name is Dawn of Revel and Glitter, a creative lifestyle and entertaining blog. I'm thrilled to be back for my 10th Christmas Wonderful, sharing tips and tricks on creating an easy holiday cookie box with store-bought treats.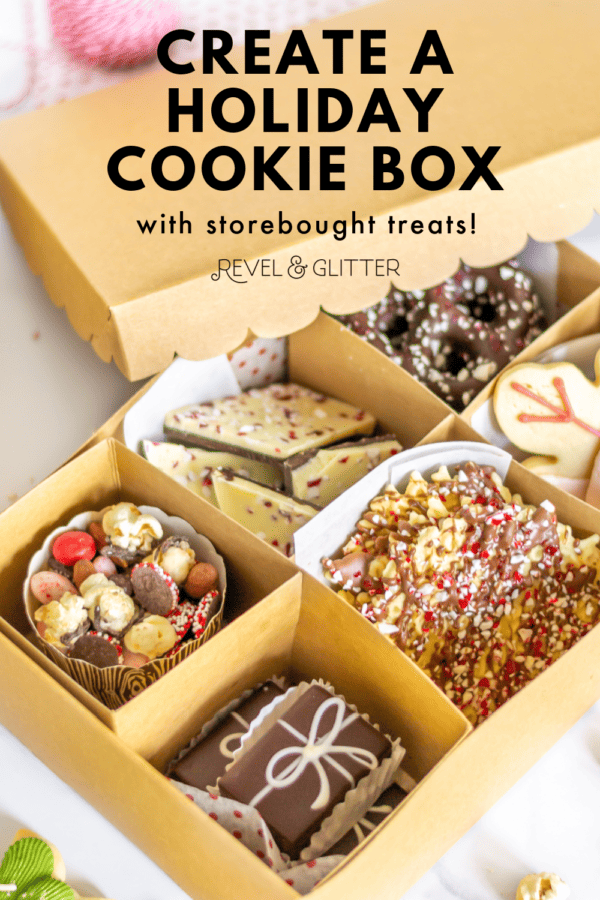 I know, I can hear the groans from the holiday cookie purists. But bear with me, we are all not as fortunate to have mad cookie baking skills. A holiday cookie box is always a hit! From gifting to cookie swaps! But, they can be intimidating if you believe you have to be an amazing baker to create one. I have limited baked good skills, but that has never stopped me from making store-bought goods special.
Regardless of where your cookies and treats come from, it should be about the holiday spirit. From your neighbors and delivery drivers to friends, and family, a little box of Christmas cheer is the sweetest way to let them know you're thinking of them this season.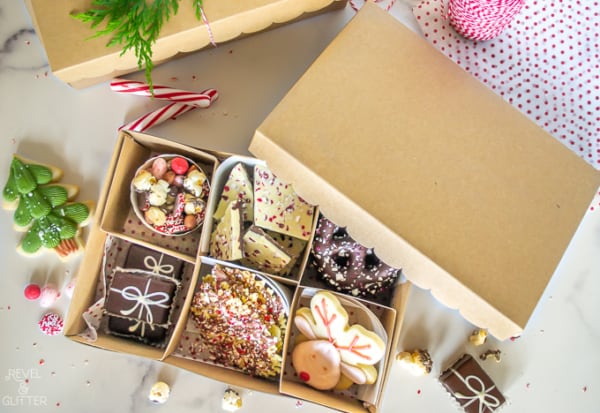 Building Starts With A Good Foundation
Before you even start thinking about your treats, start with a good foundation. What are you going to use? This will help you focus on how many different items you will need (see below) and how they are getting there. Shipping cookies are a whole different ballgame versus local gifting.
For the cookie boxes, choose something that is shallow with a lid. It can be eco-friendly like these recyclable boxes with biodegradable film. I purchased my box last year, a limited collab from Half-Baked Harvest X Etsy with alamodo (at the time of print, there is a limited number for purchase). Or, perhaps a keepsake cookie tin or wood box is more your speed. Whatever you use, have fun with your presentation. Line your container with waxed paper or cupcake liners. Use cardstock to divide into sections and baker's twine or ribbon to tie stacks of treats together.
Variety is The Cookie of Life
The key to a great holiday cookie box is variety! Whether you are including homemade cookies, storebought, or both, choose an assortment of cookies in different shapes, sizes, and flavors. This will give your cookie box visual interest. Start with at least 4 different types of cookies, and have enough types to fill your spaces.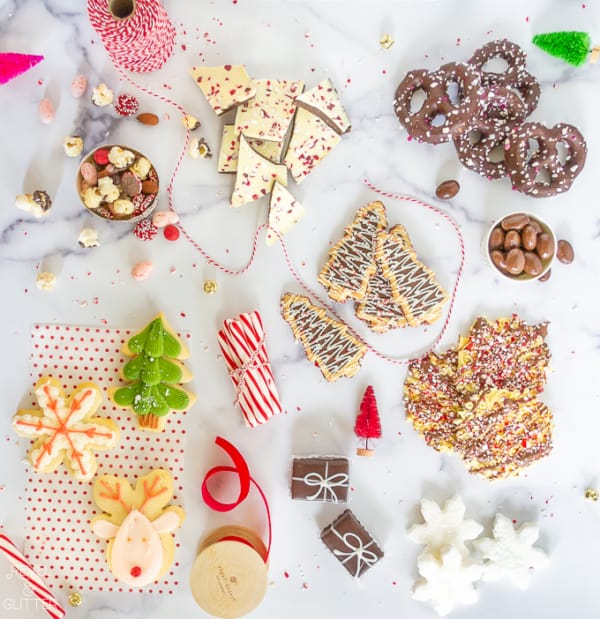 Do you have an awesome local bakery? Support a small business and add some of their delights to your box! For example, the super cute sugar cookies you see are courtesy of Jenny Cookies Bakeshop. Plus, when I'm feeling froggy and have the time to make cookies, I use her no-fail recipe. Seriously, no-fail.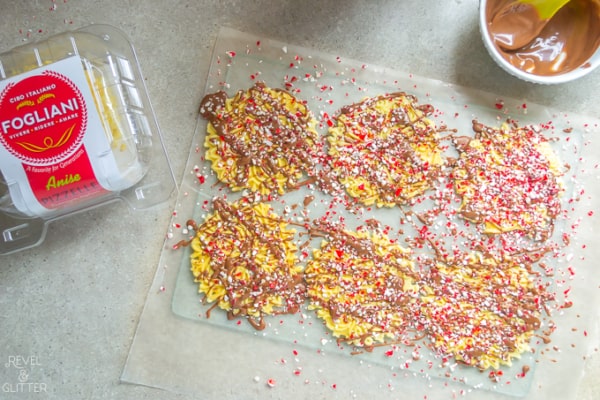 Remember how I mentioned dressing up store-bought treats? I love to dip and drizzle cookies like pizzelles, with chocolate and cover them with sprinkles or crushed candy canes.
I have a super simple truffle recipe (just three ingredients!) for local cookie box deliveries.
Another fun option is creating a themed cookie box. It could be a box of different flavors of biscotti to serve with coffee for a simple holiday breakfast. Or perhaps an all-chocolate box, from classic chocolate chip cookies to chocolate bark and my aforementioned truffles. My box has a peppermint theme.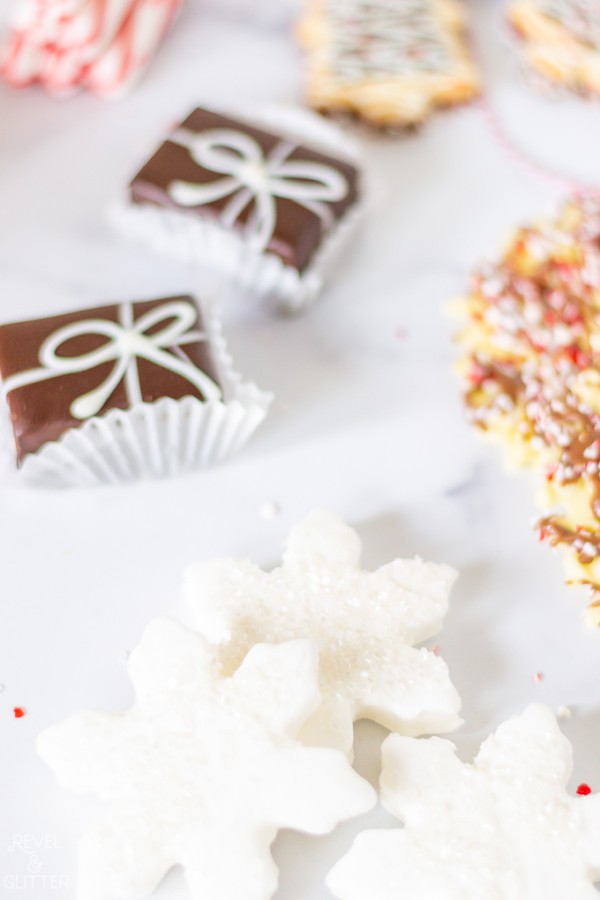 Other festive treats like candy canes, seasonal candies like candy bark, and marshmallows make tasty placeholders and cheerful accents.
Location, location, location
Now that you have your container and your various treats laid out, it's time to arrange everyone in the container. Your layout will vary depending on the size of your cookie box and what you are adding in. From stacks and piles, to turned on their sides, it's all about breaking up any cookie patterns. Place the most different cookies and treats next to each other to create contrast. You don't want similar cookies to blend into each other.
Don't forget the finishing touches; from ribbon and twine to fresh sprigs and mini ornaments, it is the icing on the proverbial cake!
I hope you have been inspired to create your own holiday cookie boxes. Need more cookie inspiration? Check out my Holiday Treat Board with Chocolate Brownie Cheesecake Ball, and even more Christmas ideas from parties and crafts to recipes and gift guides on my blog.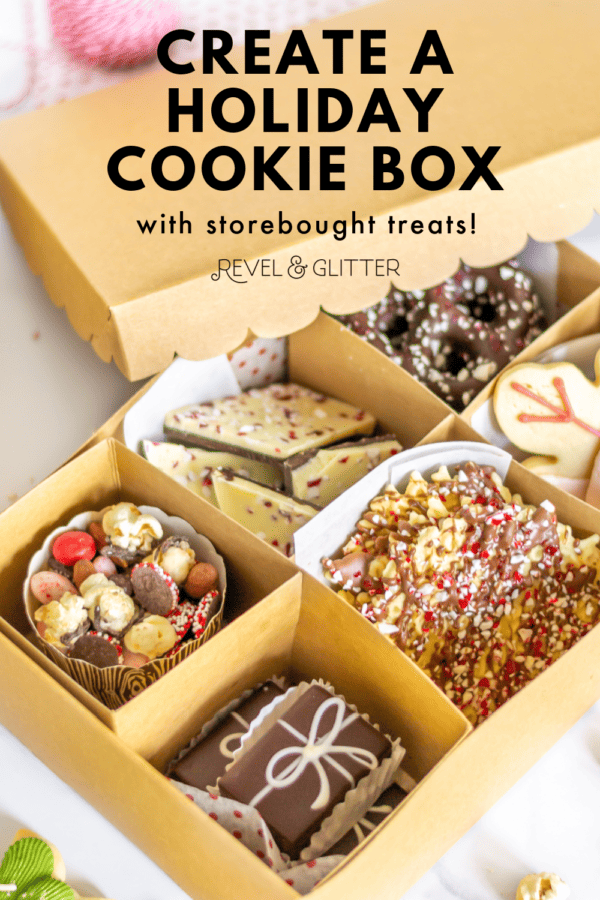 Like what you just read? There's more where that came from…follow Revel and Glitter on Facebook, Twitter, Pinterest, and Instagram.