This post may contain affiliate links that, at no additional cost to you, I may earn a small commission. Read our Disclosure Policy.
There are so many delicious things out there right now. All those yummy holiday treats have the potential of getting the better of us and pulling us down that road of temptation and away from our goals of healthy living.
Luckily there are so many great options for dishes that are on the healthier side using things that are in season right now. And I'm not just talking about pumpkin. I'm actually a huge fan of pumpkin. I love it in all it's forms, but you'd be surprised how many other options are out there as well.
Sweet Success has some great ideas for using leftover cranberry sauce, including this Turkey Cranberry Salad made with greek yogurt. Yum!
This Cranberry Orange Quinoa Salad from Family Spice is so unique and packs a punch full of nutrients.
This Creamy Cauliflower Chowder from Damn Delicious is a family favorite on those cold winter nights. Plus you're packing in those veggies. I've been known to skip the bacon to cut back on the calories.
Cooking Classy's Kale, White Bean and Sausage Soup is so delicious and filling without a lot of guilt.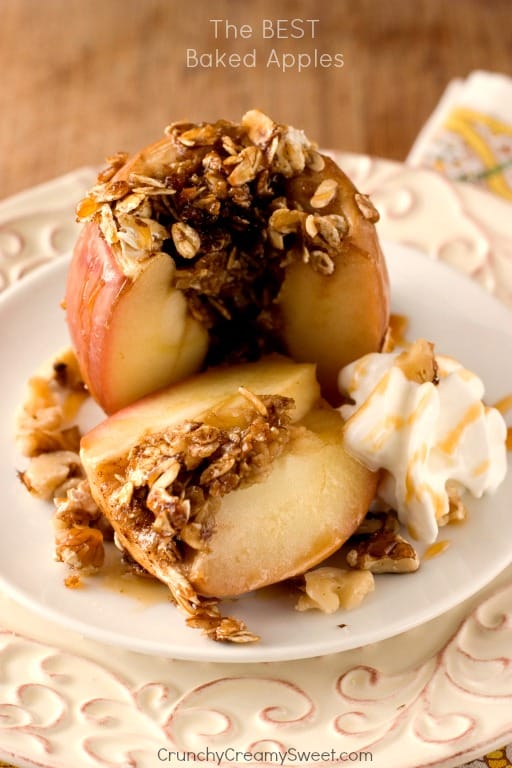 When you're in the mood for a little treat, Crunchy Creamy Sweet's Baked Apples hits the spot.
Who doesn't love a good spinach dip? This healthier option from Amuse Your Bouche is perfect for any holiday party. Your guests will thank you!
We couldn't totally neglect the pumpkin recipes. These Roasted Cinnamon Pumpkin Seeds from Simply Taralynn is perfect when you're in the mood for a little snack.
When you're on the go and need a quick snack (or even breakfast as you're running out the door), these Cranberry Almond Energy Bites by the Creative Bite hits the spot.
Peanut Butter and Peppers' Gingerbread Smoothie is full of all sorts of goodness like coconut milk, ginger, cinnamon, cloves and molasses. You can't go wrong with this one!
Happy and healthy eating!