This shop has been compensated by Collective Bias, Inc. and its advertiser. All opinions are mine alone. #PBandG #CollectiveBias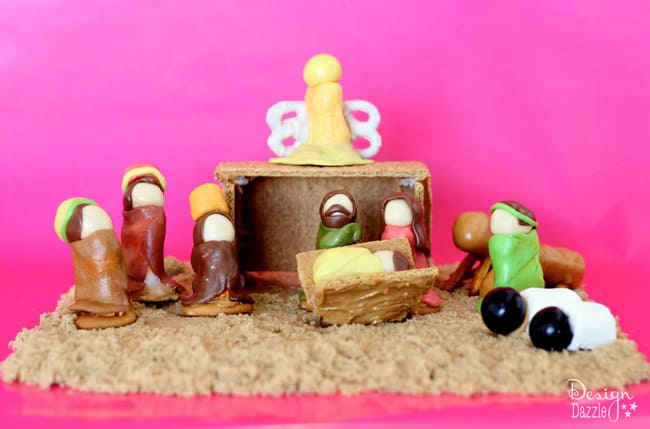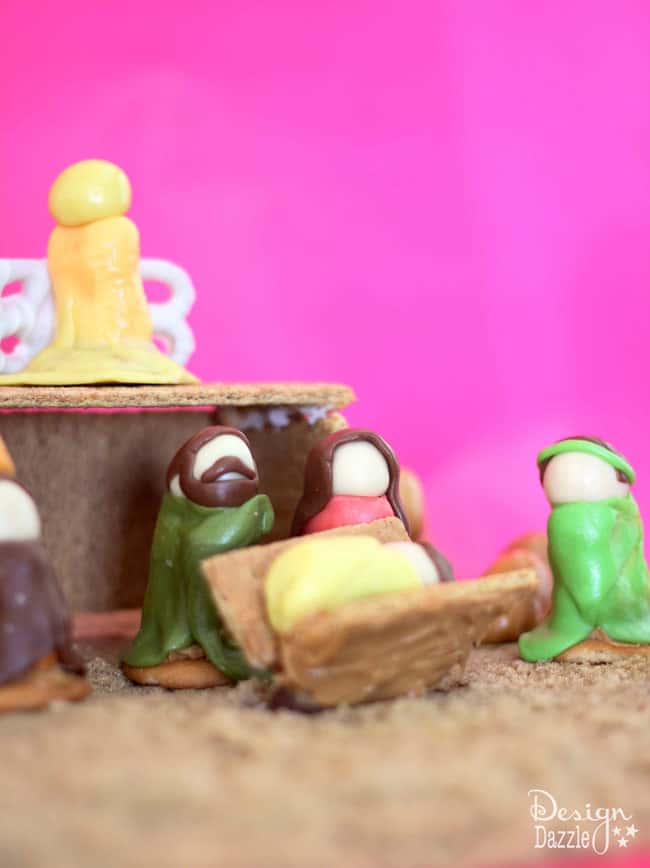 This Christmas, I decided to make a nativity graham cracker house! It is so simple, cute, and yummy! Creating Ginger Bread Houses is such a fun family holiday idea- for your whole family! You can teach your children about the first Christmas while having a great time working together and snacking on yummy treats. There is no better way to get into the holiday spirit than revisiting the story of Christ's birth and celebrating with family! It is so fun to be creative with typical graham cracker houses, and this one is a real winner!
Get your family in the kitchen or invite another family over to get together to create a fun graham cracker house or nativity with you and your family!!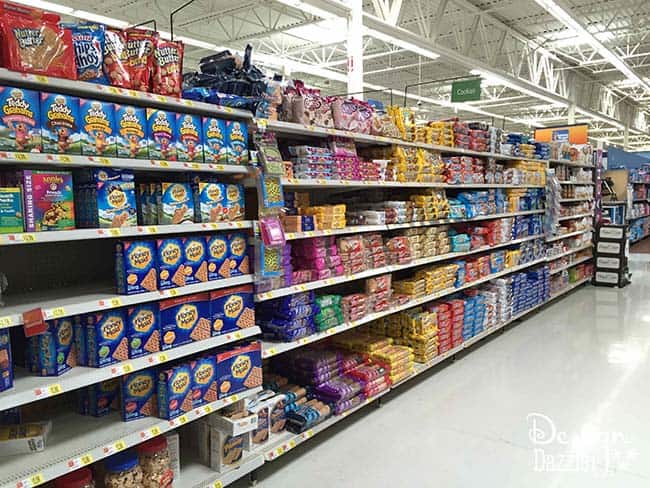 I got all of my supplies at Walmart. This is the aisle where I got Honey Maid graham crackers. They are so easy to find! I also picked up a jar of Skippy Peanut Butter. I love that Walmart has so many different items to choose from. If you need a simple craft product, movie on DVD, fresh produce or in the mood for ice cream, they've got you covered in most areas.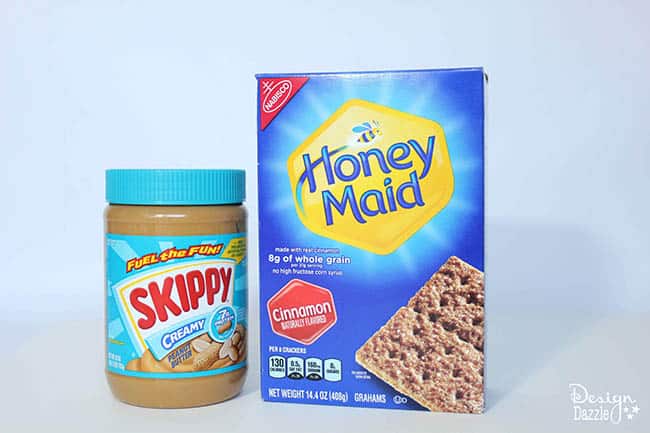 Graham Cracker Nativity Supplies
peanut butter
vanilla wafers
frosting (to use as glue- homemade or store-bought!)
various candies- I used: circus peanuts, chocolate covered pretzels, large marshmallows, tootsie rolls (1 pack of flavored, 1 pack of regular), black gumballs, pretzel sticks
brown sugar
cake board or platter to build nativity on
raw Fettucini noodle (spaghetti noodle might work also)
butter knife & scissors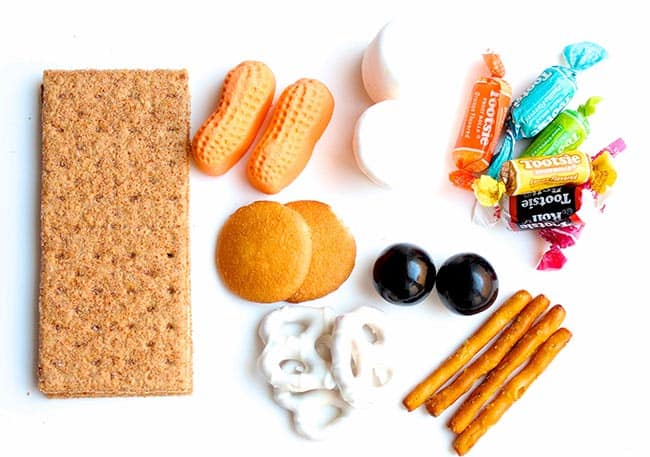 Step 1: First, build your stable structure. To create a stronger "glue", I mixed frosting and peanut butter together. I spread peanut butter to the bottom of a graham cracker and secured it to my cake board. I then spread my peanut butter/frosting mixture on the top and bottom edges of 2 Honey Maid graham crackers. These would be the walls. I then placed the last graham cracker on top as the roof. I then placed another graham cracker in the back, this photo doesn't show it. **While my "glue" hardened, I stacked two cans on either side of the stable to make sure it didn't fall down and dried properly.***
Step 2: Cover the ground with "sand". Doesn't brown sugar make the perfect sand for a nativity scene?!
Nativity People Supplies
vanilla wafer
peanut butter/frosting "glue" mixture
2 inch piece of a Fetuccini noodle (uncooked noodle)
circus peanut
vanilla tootsie roll
Step 1: Using the vanilla wafer as a base, use your peanut butter/frosting mixture to "glue" a circus peanut on securely. If you squish the circus peanut just a little bit, it really helps! Then, stick the noodle in the top of the circus peanut. This will hold the head on.  To make the head, use one vanilla tootsie roll. Heat it in a cup in the microwave for about 7-9 seconds. You want the tootsie roll to be soft, but not to melt. Once it is warm and soft, roll it into a ball in your hands. Once the tootsie roll cools down and feels firmer, push it onto the noodle. This doesn't look like much yet, but it is the perfect skeleton for your nativity covers!
Step 2: To make the hair and robe, follow the same steps and heat different colored tootsie rolls for 7-9 seconds. For shorter hair, pinch off only a little bit of tootsie roll. Mold it in your fingers and stick it on the head. For the robe, I found it easiest to roll the tootsie roll into a ball and then stretch it out. Once it is equal thickness all around, wrap it around the circus peanut. You can make headbands or hats out of tootsie rolls, as well! I put a hershey's kiss on this wiseman originally, but decided it didn't fit with the rest of the nativity. I made a hat out of tootsie roll to replace it. Repeat this process to make all of your nativity characters, changing colors for robes, hair, hats, etc.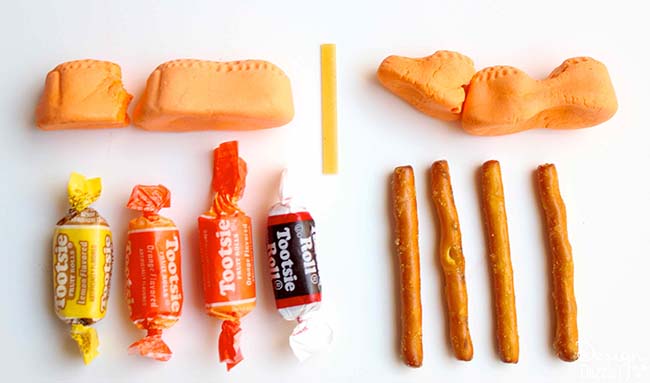 Camel Supplies
1 1/2 circus peanuts
1 inch piece fehttucini noodle
2 orange tootsie rolls, 1 lemon tootsie roll, 1/2 regular tootsie roll
4 pretzel sticks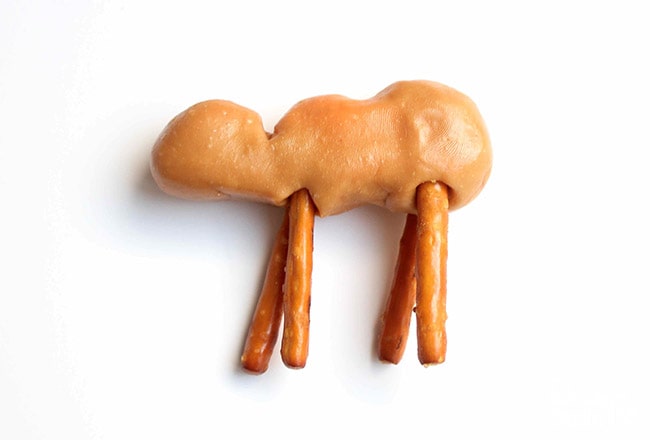 To make a camel, first tear one circus peanut in half to make the head. Use a noodle to stick the head onto the body, just like with the people. Mold the peanuts to look more prominent. The head of the camel should have a longer nose and the body should have 2 humps. Then, melt 2 orange tootsie rolls, 1 lemon tootsie roll, 1/2 regular tootsie roll all together at once (it may take more than 7-9 seconds, maybe closer to 11-13). Mix the tootsie rolls together in your hands. Stretch the warm tootsie roll and wrap it around the circus peanut body. Let it cool and harden, and then stick the pretzels in for legs. I broke off about 1/2 inch the top of the pretzels so that the camel wouldn't be too tall. After, placing the camel at the Nativity, I decided to make the camel look like it was kneeling instead. So don't make the legs as long – otherwise the camel will keep falling over.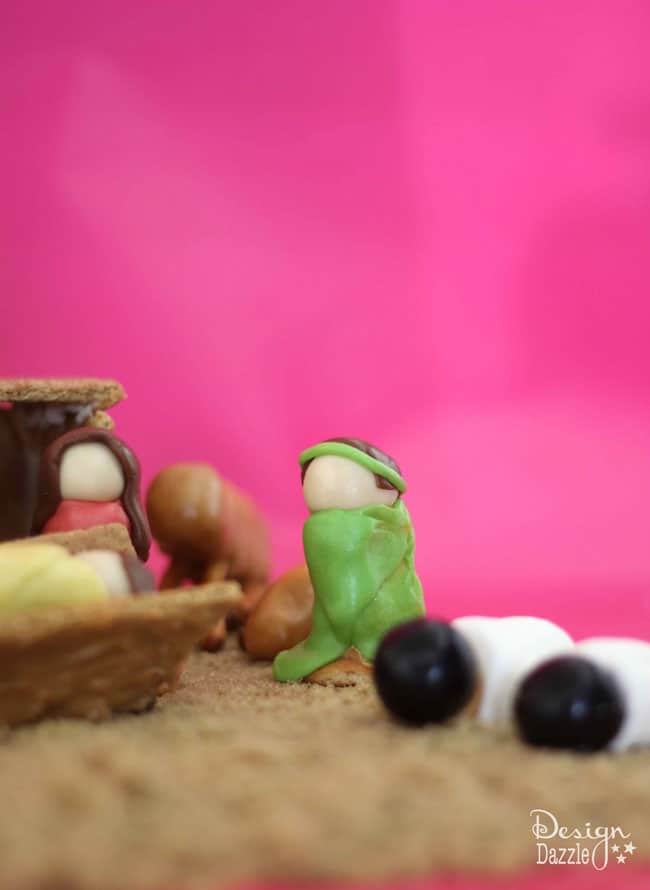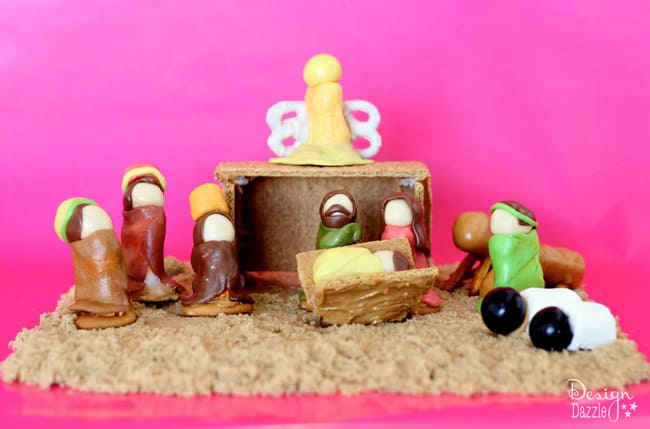 To make a sheep, cut a large marshmallow in half with scissors. Use frosting to "glue" a black gum ball on for a head. Let this dry. I also cut one in half the other way, as well, to make it look like a smaller baby lamb.
I think this is such a sweet idea! It is so fun to get creative with graham cracker houses, and it was so easy to make this darling nativity! You'll love making this adorable, yummy activity with your kids and having a treat to snack on later!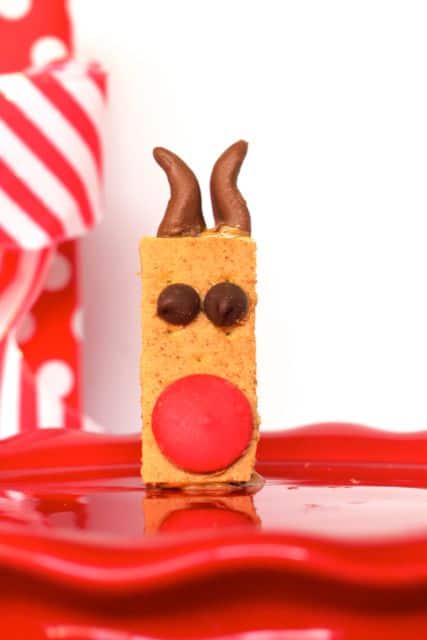 A darling and SUPER EASY recipe I created using Honey Maid Graham Crackers and Skippy Peanut Butter is this adorable reindeer. It's one of the easiest edible craft you can make and it tastes yummy!
RUDOLPH Graham Crackers
Ingredients:
Honey Maid Graham Crackers
Skippy Peanut Butter
Tootsie Rolls
Red Chocolate Candy Melt
Chocolate Chips
Step 1:
Cut the graham crackers with a butter knife – scoring along the cut lines. This will help to create rectangle pieces.
Step 2:
Heat the brown Tootsie Rolls for 5-10 seconds depending on how powerful your microwave is. Divide the roll in half and make an antler. So each Tootsie Roll should make 1 pair of antlers.
Step 3:
Using a butter knife spread peanut butter on top of the graham cracker. Place the antlers on the cracker and place another graham cracker on top of the second one. So basically you are making a graham cracker sandwich.
Place a dab of peanut butter on the back of the chocolate chips and the red candy melt. Place those on the cracker as the eyes and nose. There you have it a cute Rudolph the Red-Nosed Reindeer.
Your kids will LOVE helping you make and EAT these!
Follow Honey Maid on Instagram for more great recipes using Honey Maid graham crakers!


Save
Title:
Honey Maid Graham Cracker Nativity
Mentions:
Family Holiday Ideas, Gingerbread Houses, Graham Cracker Houses
Keywords:
Honey Maid Graham Cracker Nativity
Last Updated:
July 31, 2020