This post may contain affiliate links that, at no additional cost to you, I may earn a small commission. Read our Disclosure Policy.
Gnome for the Holidays Party Idea is the hottest trend this year! You can find gnomes just about everywhere and they are super easy to make!
This is Bri Adams from Parties With A Cause. I'm a sucker for gnome puns and so happy to be your host for today's Christmas Wonderful inspiration.
Today I'll walk you through how to host a "Gnome for the Holidays" party for your friends and family this year. I promise it'll be one they remember for years to come!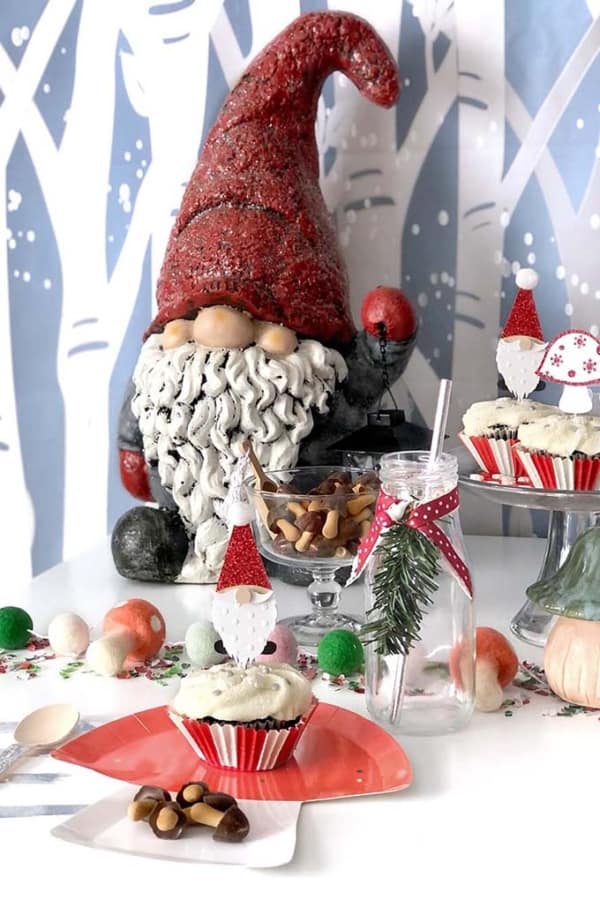 How to Get the Gnome Party Look
If you're staying Gnome for the Holidays, first shop your house and gather any and all woodland themed items you might already have. These make the perfect backdrop for any gnome themed soiree. We had a large ceramic gnome holding a lantern for our front porch that I brought inside. I found him in the gardening aisle of my local Smith's grocery store.
Gnome Mushroom Plates
Next, You'll want to gather up some darling toadstool paper plates. Sadly these have been discontinued but Meri Meri has an updated pink version that I think might even be cuter!
Paper plates add so much color, pattern, and texture to your party design. If you need something more sturdy to actually eat from, simply layer your paper goods over the top and save these pretties for dessert.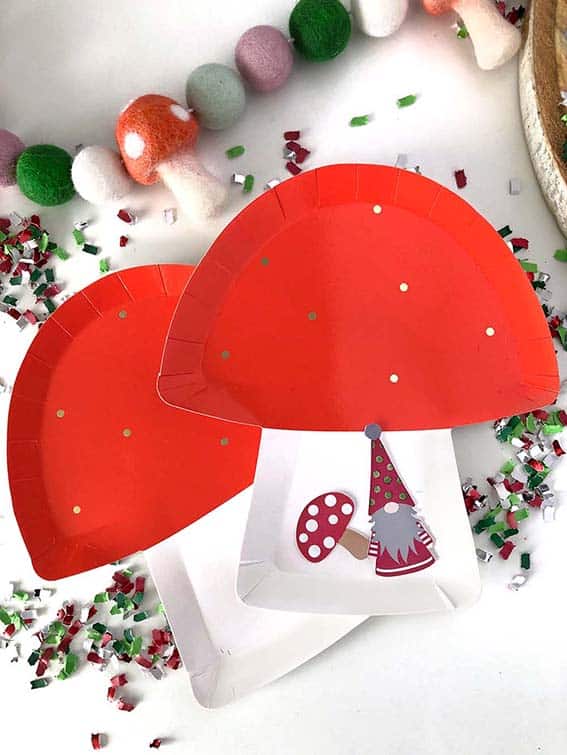 Some additional details that'll make your party pop include:
Confetti: This gnome confetti with the cutest little cut gnomes and mushrooms! If red and green aren't your party colors you can ask Brenda at Festive Fetti to find a color mix just right for you!
Decorated Glasses: Serve up your drinks in glass milk bottles adorned with wired pine garland ties, ribbon, and mini mushrooms for an extra touch of gnome magic!
Woodland Gnome Holiday Placemats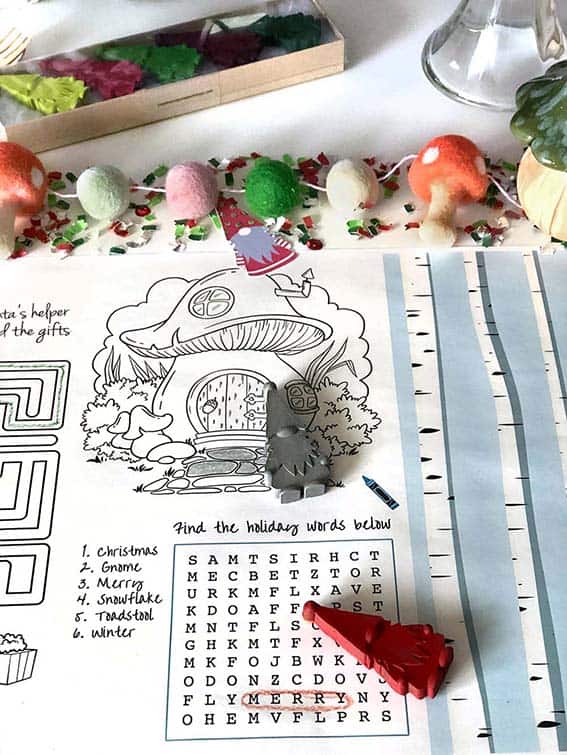 Keep your "gnome" clean over the holidays with these 11×17 woodland gnome holiday placemats! They'll protect your table AND keep the kids busy. So cute and festive and are available to all my new Design Dazzle friends as a free download from the Parties With A Cause Resource Library.
My kids LOVED these placemats, but the gnome shaped crayons made coloring them even more special.
Gnome for Holidays Party Food
Gnome Party Cupcakes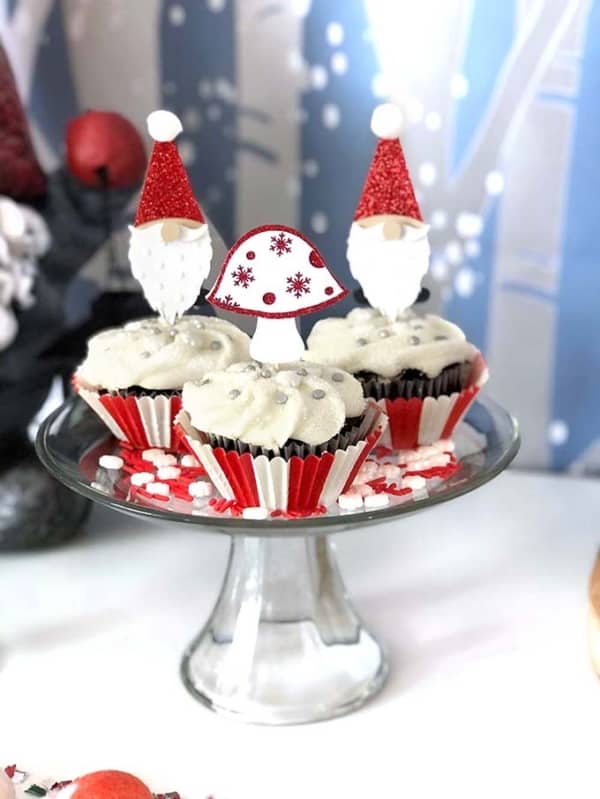 The easiest way to dress up your food for any theme is cupcake toppers! These winter gnome and mushroom toppers from Susan at Sugar Parties LA couldn't be any cuter!
Pop your plain store bought cupcakes into a clean festive liner, add some holiday sprinkles, top with your gnomes and you are golden. How easy was that?
Gnome Holiday Party Cake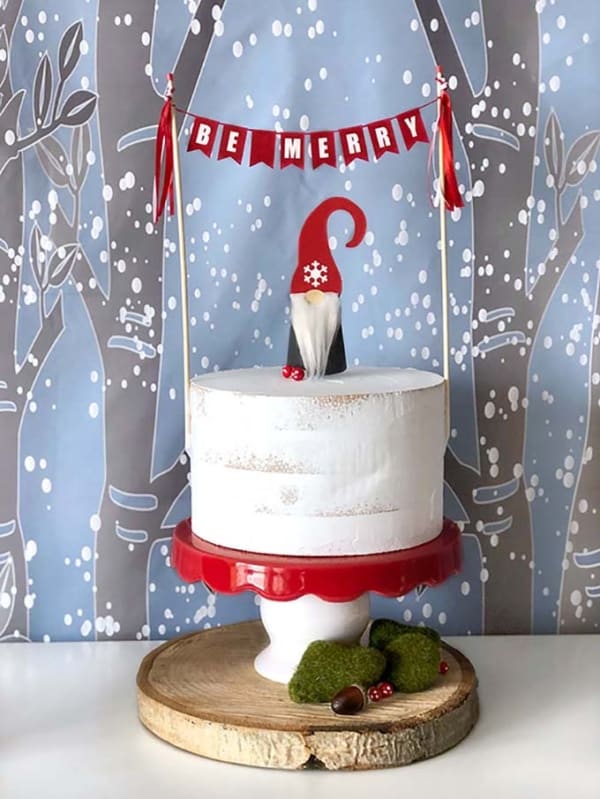 If cake is more your style I've got you too! This "Be Merry" snowflake gnome cake topper from Avalon Sunshine is the best! It's so easy to make that grocery store bakery cake look amazing and saves YOU a ton of money on a custom cake!
Woodland Themed Food
Anything woodsy will work for a gnome party. Look around for fun pinecone cheeseballs, acorn treats, and of course more mushrooms!
You can make these amazing strawberry mushrooms for a healthier take on the woodland party food.
Enjoy Your Gnomies for the Holidays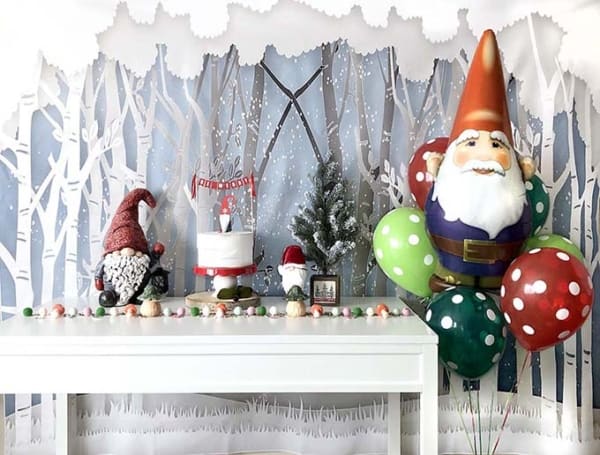 Add some fun balloons from for an extra festive touch and you are ready to party! You can snag a free pattern to make your very own No Sew Sock gnomes at Parties With A Cause! They are SO easy and fun, after making a dozen or so you just might become as gnome obsessed as I am!
Either way, going "Gnome for the Holidays" sounds pretty nice to me.
I hope you have a wonderful holiday season full of magic and cheer. Thank you for letting me share with you today. I'm always on the lookout for ways to make our celebrations more intentional.
You can find kids birthday party ideas, holiday decor, as well as cultural food and activities as we virtually travel the world together at Parties With A Cause! We believe you can do GOOD and have FUN. Come learn and play with me.
If you host a gnome party I'd love to hear about it, and if you share photos, I want to see it too! Please tag us @partieswithacause on Facebook, Instagram, and Pinterest. Then please follow along to see the latest and greatest holiday ideas.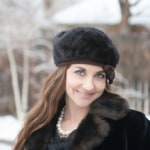 Happy Holidays my new friends!
Bri Adams, Party Maven & Chief Change Maker