This post may contain affiliate links that, at no additional cost to you, I may earn a small commission. Read our Disclosure Policy.
Hello, friends, it's Christie Troxell from Ritzy Parties, bringing you a darling craft for this Christmas Wonderful. An honored tradition in my family is Holiday crafting. This year I was feeling nostalgic for the crafts of Christmas past.
Glittery painted putz style Christmas houses are easy to make from scratch. Starting with some chipboard and a small house die cut. Then, these darling little abodes are decorated to to your delight!
First, I painted the base of the structure with Apple Barrel Kelly Green paint. One coat was just enough to give it the washed look I was going for.
Next, I painted the Christmas houses in a bright and cheerful shade of Apple Barrel Red Apple paint. I was careful to get the edges for a nice tidy look.
The house die had additional components like a roof, shutters and an awning. I painted all of these and set them out to dry.
How adorable! I think it can use something more. Wouldn't you agree? The answer, as always, is glitter. Glitterific in Clear Hologram is the perfect addition for this little holiday cottage.
Embellishments are my favorite. I added some tiny candy canes, a snowflake and a small bottle brush tree to complete the look of this cute Putz style Christmas house.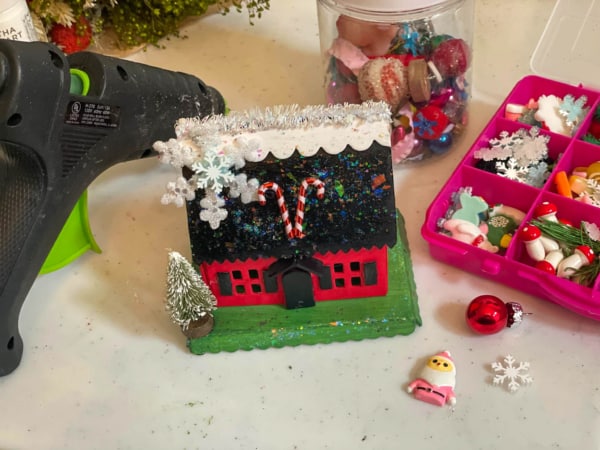 Add a battery operated tea light, a flickering, ambient glow to create from within the tiny house.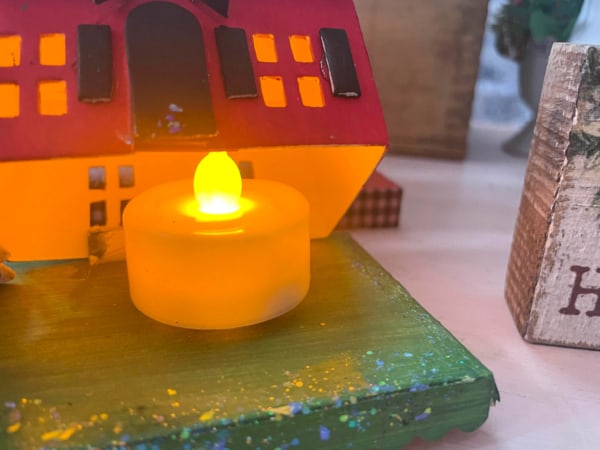 I created several of these cute Glittery Painted Putz Style Christmas Houses to give out at my annual holiday party, and my guests absolutely loved them! These are a great item to make for craft boutiques or gifts. As they can be customized in a wide variety of colors and themes.
This concludes my "house tour". Thank you for stopping by to take a look at another amazing year of Christmas Wonderfu!