This post may contain affiliate links that, at no additional cost to you, I may earn a small commission. Read our Disclosure Policy.
The holidays can be a wonderful time of year but they can also be stressful! We all want ways to simplify our holidays without giving up our fun family traditions. One of our favorite family traditions is using Santa Sacks. Not only will it save Santa's sanity on Christmas Eve, the Santa Sacks can be used year after year, for generations to come! Even if you don't want to use Santa Sacks the way I use them. They are the perfect gift sack to wrap large, bulky presents.
By the way, if you haven't seen my Home Depot Gift Style Challenge post all the gift wrapped items under the tree were made using Home Depot items. Yep, every present wrapped under the tree. The vinyl used for the Santa and Reindeer heads was vinyl contact adhesive paper (located in the same aisle as the curtains at HD). This is not a long term solution. So, I would definitely use iron-on vinyl to create something long lasting.
This post contains affiliate links at no extra cost to you. For additional information, please see our disclosure policy.
These adorable Santa Sacks are so easy to put together and require just a few items.
These were the red tab top curtains I purchased at Home Depot. The curtain size is 50″ wide and 63″ long.
Step 1- The curtains we used had fabric tabs on the top so first we cut those off right at the seam.
Step 2- We folded the curtain panel in half so the bottom was even with the top and the right side of the fabric was inside. The fold is on the bottom.
Step 3- Stitch a straight seam up each side of the panel. The top was already sewn since it was a curtain. So no need to worry about sewing a hem into the opening.
Step 4- Turn the bag right side out and decorate with iron on vinyl, ribbon and any other craft embellishment that you want! Close the bag with a large piece of ribbon tied around the top.
You could also make your Santa Sack with white curtains and use our adorable Santa Sack printable found in this post.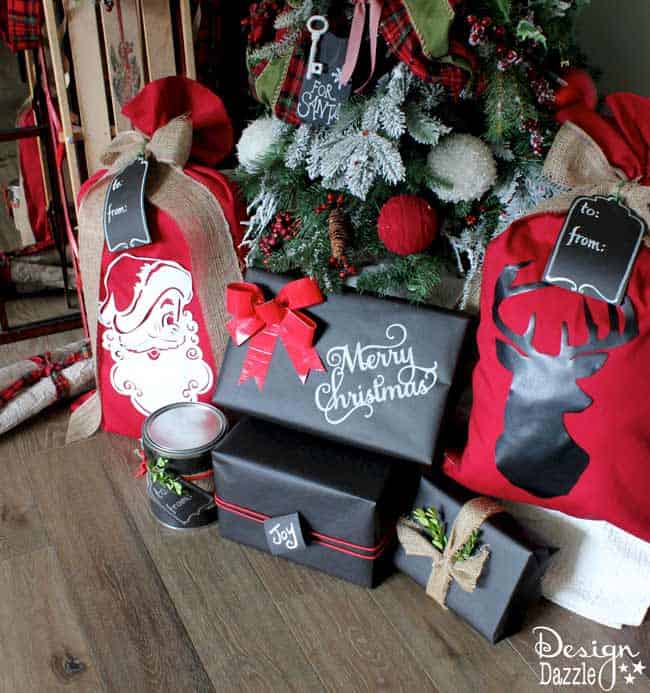 When Christmas Eve comes this year, fast as always, Santa will be able to quickly stow his presents in your Santa Sack and be able to relax and enjoy those cookies you left him!