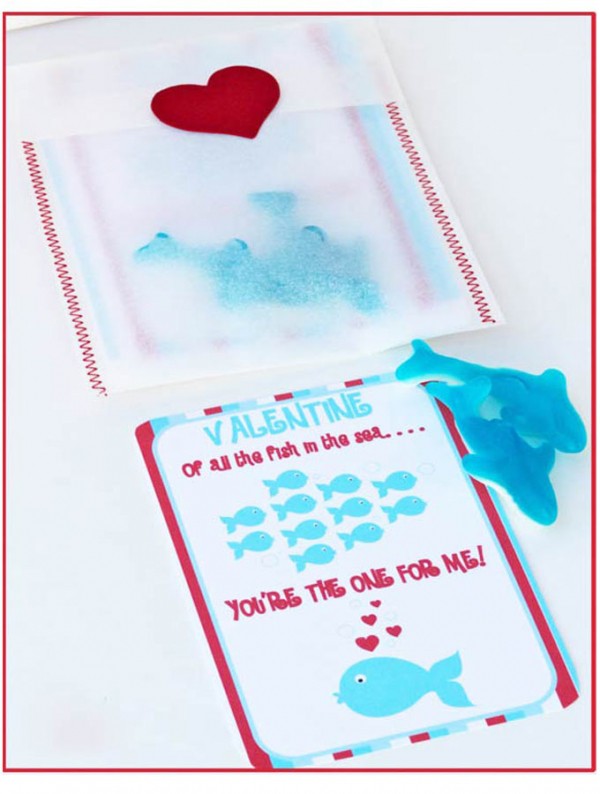 Dear friends, I appreciate all of you who follow, read and comment on Design Dazzle!! In gratitude – I've included two adorable red and aqua colored valentines you can download and print for free. The quotes read…
Valentine
of all the fish in the sea… you're the one for me!
Valentine
of all the fish in the sea…you're most important to me!
Parchment paper envelopes were made by sewing with red thread (zig zag stitch) and folding the top over to created an envelope. I used the Cricut to cut out the red heart. The heart makes a cute envelope seal. Gummy Blue Sharks were purchased (at the local gas station) to include inside the valentine.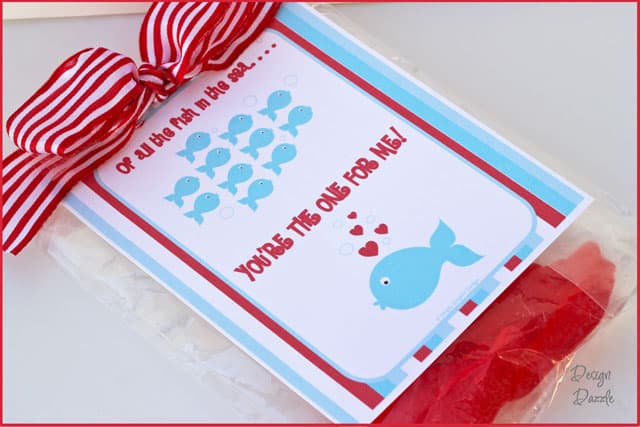 A good place to buy Swedish Fish
is Target! I knew that red gummy fish would look cute in a cello bag with color coordinated ribbon. Scroll down to the bottom of the blog post for instructions on how to seal a cello bag to keep candy and baked goods fresh.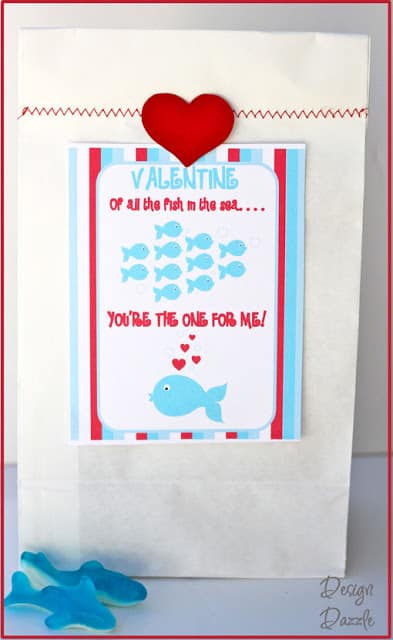 Fill a white lunch bag with goodies. Fold the top over and sew.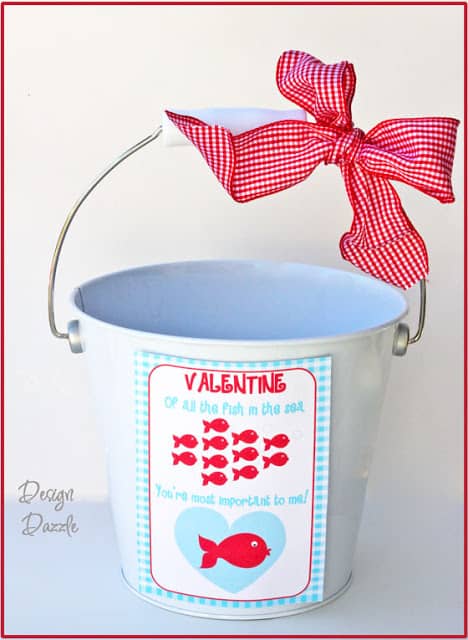 Bucket love! I love buckets!!
How easy is this?? Attach the valentine to a small individual size bag of Goldfish Crackers. Kids would have fun attaching valentine labels to bags of Goldfish Crackers for their friends. So simple!!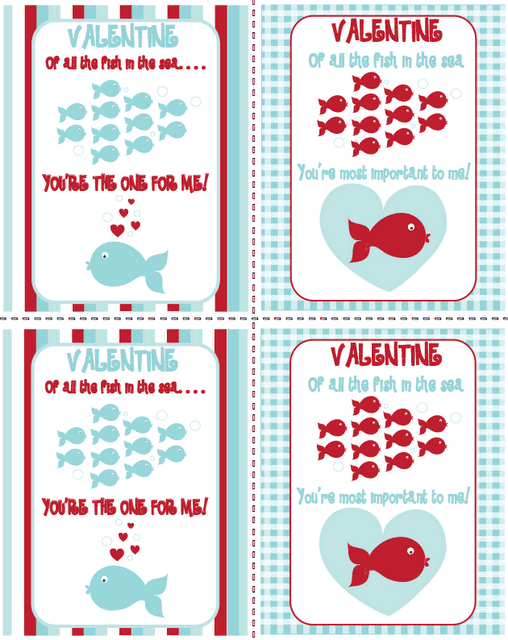 Printable files are for personal use only. They are not for commercial use.
Need to seal a cellophane bag without purchasing an expensive sealer? Use an old curling iron or flat iron. The bags need to be  Cello or Cellophane to work. Cookies, candies, favor items and anything needing to be kept fresh -work well in a sealed bag. Place the items in the cello bag and place the bag between the heated curling iron hold in place 5 – 15 seconds (depending on the temperature). You might need to seal it again if your curling iron isn't hot enough. Beware – flat irons are extremely hot. I turn my flat iron on and then unplug it to let it cool enough that it doesn't melt the cello. The cello bags seem to do better with a flat iron that isn't sizzling hot. Sealing a cello bag with a curling iron is the same premise as using an industrial impulse sealer.
Check out our other free valentine printables: strawberry theme and mustache valentine
This "of all the fish in the sea" Valentine printable is FREE and available for immediate download by subscribing to Design Dazzle!
To receive this free printable – enter your email address in the box below and click submit. Make sure to check your inbox for an email from Design Dazzle. You will have access to all of our FREE printables and also will receive a monthly newsletter filled with lots of great information. Don't worry your email address will never be sold
Printable files are for personal use only. They are not for commercial use.


This post contains affiliate links.