This post may contain affiliate links that, at no additional cost to you, I may earn a small commission. Read our Disclosure Policy.
Hi! I'm Annette from Tips From a Typical Mom and I'm so happy to be a part of  this years Christmas Wonderful right here on Design Dazzle! What's better than a bunch of inexpensive, cute ideas for kids during Christmas time? Nothing, right? Today I'm sharing a FREE printable with you. Four different Candy Sleighs with matching gift tags. My kids had a lot of fun helping me make these, and they would make perfect friend gifts, neighbor gifts or teacher gifts. And what's even better? They are really inexpensive!
All you need is:
white card stock
a printer
ribbon
full sized candy canes
candy
scissors
tape
hot glue gun and glue
small hole punch
2″ circle punch (or use your scissors to cut out the gift tags)
Choose which sleigh you are going to print or print them all because they are all so stinkin' cute! Print the gift tags and get to work
 CLICK HERE to download the sleighs and tags. When you get to the download page you will need to download the folder, which contains all the sleighs and gift tags, to your computer . Then you will need to extract the folder. Don't know how to extract a folder, click here to watch a video about it.
Print everything on white Card Stock. This is important because you want the sleighs to stand up and be durable. Cut out the sleighs with scissors and use a 2″ circle cutter for the gift tags.
Add your name to the gift tags.
Now fold up all the lines towards the white side of the paper like so:
Use clear tape to tape the tabs to the inside of the sleigh. Then turn the sleigh over and add two strips of glue where the candy canes will go.
Add the candy canes with the hook towards the front of the sleigh.
Repeat for all the sleighs. I used blue candy canes for the Snowflake Sleigh.
Now punch a small hole in the side back of the sleigh and a small hole to the top of the gift tag.
Using ribbon, attach the gift tags to the sleighs.
Now fill the sleighs with candy and you're done!
These are so simple and cute! I'm excited to give them to everyone I know this Christmas!
Here is what they each look like finished:
Multi colored chevron:
Snowflake:
Green:
Red chevron:
I hope you enjoy making these with your family as much as we did!
Visit Annette's Blog, Tips From a Typical Mom,  for more awesome printables, parenting tips and family friendly recipes.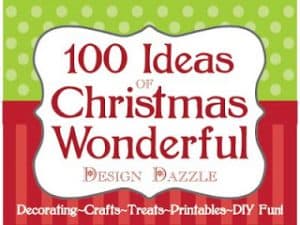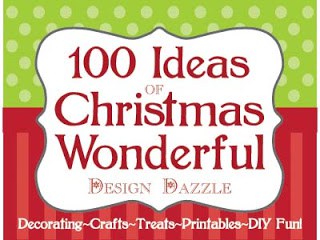 Christmas Wonderful runs until mid-December.