This post may contain affiliate links that, at no additional cost to you, I may earn a small commission. Read our Disclosure Policy.
This cute little mummy is an easy no-bake Halloween mummy treat made using snack cakes (e.g. Twinkies, Little Debbies). It's also a great food craft for kids to create with no baking required. Need a classroom ideas for a Halloween party that kids can make? This no-bake mummy treat would be very easy for kids to decorate on their own. Check below for the tutorial…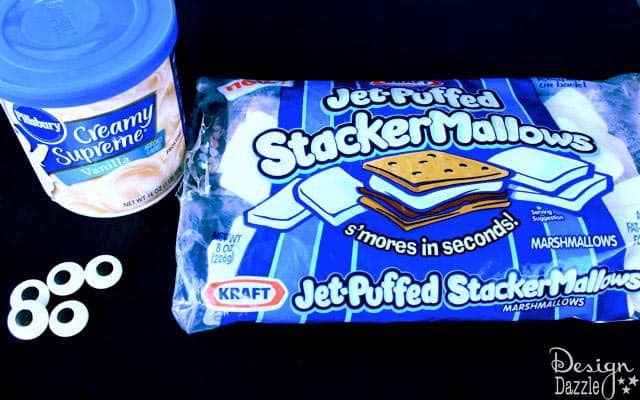 No Bake Mummy Treat
Ingredients
snack cakes

Twinkies or Little Debbies

canned frosting

white color

StackerMallows

the kind you use for smores

candy eyes

purchased at Michaels Stores

wooden popsicle/craft sticks
Instructions
Place the snack cakes in the freezer for 30 minutes or as long as needed so the snack cake is firm.

Stick the wooden craft stick in the the snack cake at the bottom. So the snack cake will be vertical on the stick.

Frost the Twinkie by covering the front and sides of the snack cake in icing. If you are doing this for a class activity, give each child a paper plate and plastic knife. Have them cover their own snack cake in frosting. No need to cover the back. Just a light coat of frosting is needed.

We used a rolling pin to flatten the stackermallows. If need be, use powdered sugar to prevent sticking. Using kitchen scissors cut the flattened marshmallow into strips (three strips per marshmallow). If kids will be making these, cut the strips for them. The marshmallow strips will be used as the "rags" of the mummy.

Overlap the marshmallow strips on the frosted snack cake at different angles for a wrapped look. If need be, use the icing to "glue" the marshmallows that overlap each other onto the snack cakes. Place the eyes directly on with the icing. Cover the eyes slightly with the marshmallow strips.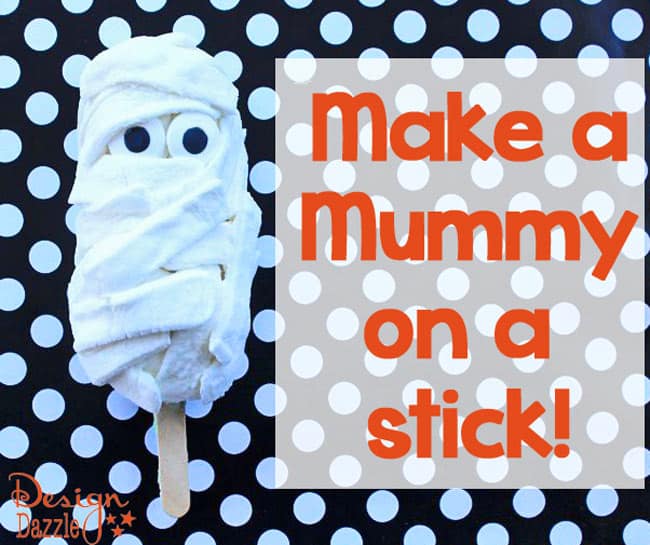 That's about it! These mummy treats are really easy and a great way to bring the family together to make a Halloween goodie that is easy peasy. Have fun!
This post has affiliate links.


Title:
Easy No-Bake Halloween Mummy Treat (Using Snack Cakes!)
Mentions:
edible halloween treats, make a easy no bake halloween treat
Keywords:
no-bake halloween mummy treat
Last Updated:
October 28, 2020