This post may contain affiliate links that, at no additional cost to you, I may earn a small commission. Read our Disclosure Policy.
An easy way to dress up simple, basic packaging can be done with colorful, bright, glittery, simple or festive ribbon. I'm sharing easy holiday decorating with ribbon! Ribbon can be used so many different ways. Whether you are tying big bows, simple bows, layering ribbons, or even just adding a single knot around your gift, ribbon is a great tool of enhancement. Adding embellishments faux floral picks – such as holly berries, pine greenery, pine cones,  frosted leaves, etc make Christmas presents even more beautiful and festive. It's all about adding a little Christmas magic into every detail.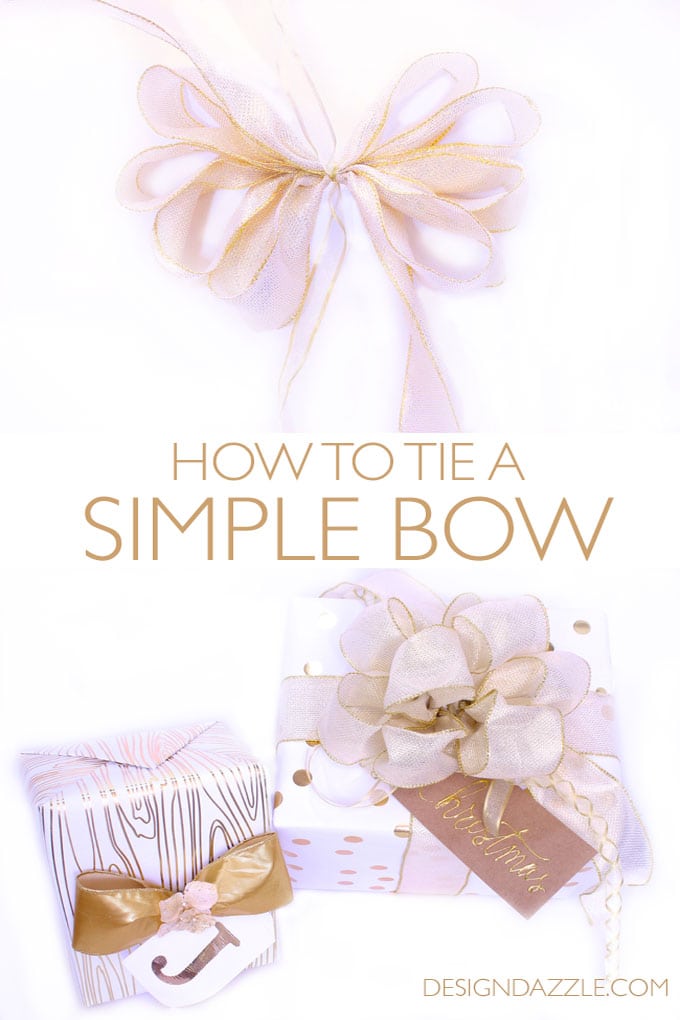 I am a RIBBON LOVER!!! Do you have a hard time finding that perfect ribbon? The ribbon I have been purchasing for a very, very long time is from a company May Arts. Their ribbon selection and quality is outstanding! You can find their ribbon at Ribbon Resource  for retail or if you need to purchase wholesale go to their website May Arts.
Sometimes tying bows can be a little tricky and frustrating. There are many ways to use ribbon. I'm sharing a few ideas on how to tie bows that will make your crafting a great deal easier.
One way to make a ribbon bow…
Step 1: Pick out your favorite ribbon and cut it to your desired length. Lay your ribbon flat, and loop each end over itself as depicted in the photo below. The back of the bow will be flat, with two loops and two tails that cross over each other.
Step 2: If you would like to make a layered bow, cut another strand of ribbon and loop it over the same way as the first ribbon. Make sure to make the second ribbon larger or smaller than the first, depending on which ribbon you would like to place in front. Place the smaller bow in front of the larger bow. Three bows are used in the pictures. The green bow in the back is the largest, which makes the plaid bow the medium size, and the black bow the smallest. You can use one, two, three or four loops of ribbon. It just depends on the look you are going for.
Step 3: Use a thin strand of ribbon, thread, string, wire, or something similar to tie a tight knot around the center of the bows. Double knot this strand of ribbon, and trim the tails or curl the ribbon tails (depending on the ribbon used) .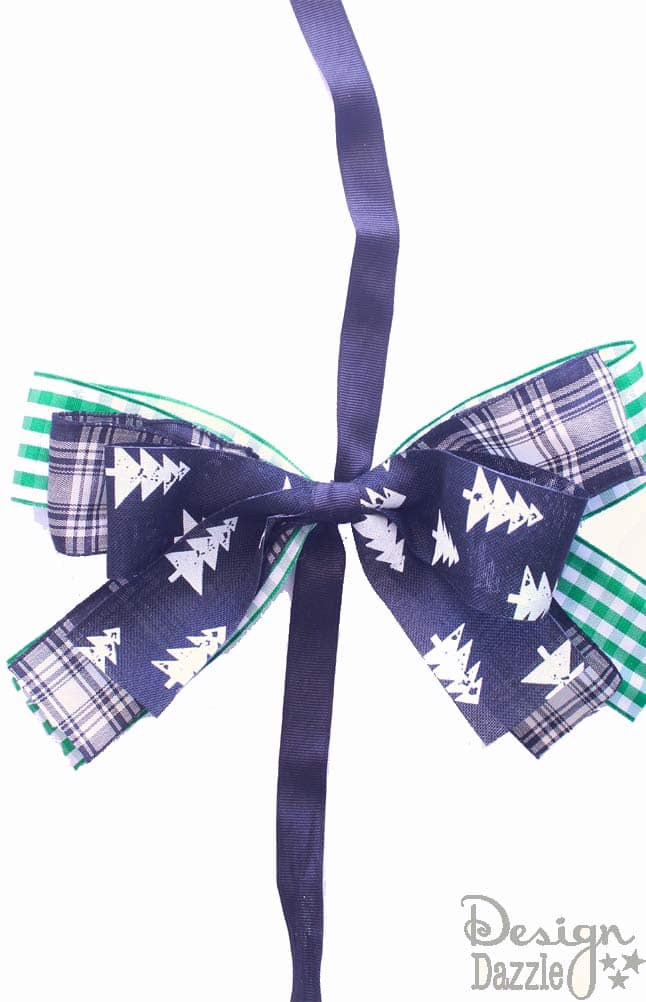 That's all it takes! Simply attach your bows with the thin ribbon to whatever craft, project, or item of decor it might be. I love how easy it is to put them up and take them down, and that this can be done without ruining the bow! You will like this way of tying bows for certain projects.
Now that you have a set of bows, you are ready to add it to your gift for that special someone! These bows are great to re-use over and over again. I have bows I made years ago that I'm still decorating the tree with or using on our family presents. They don't go in the garbage on Christmas morning. They are saved and reused the following year. Here are some examples of what you can add to your presents!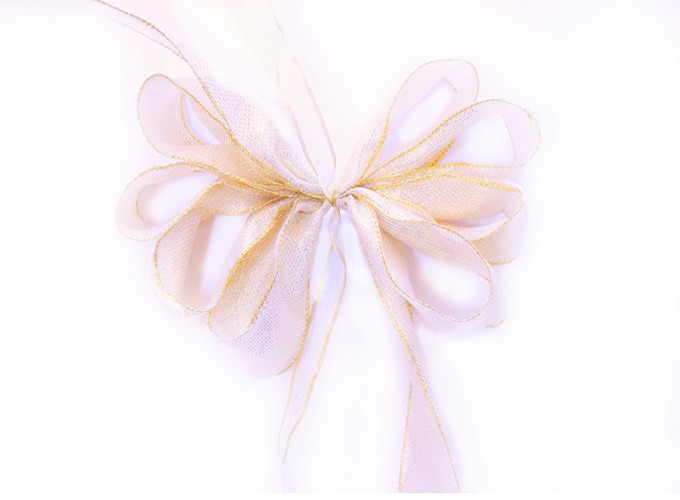 This present has a large, full bow– which is a great example of how simple wrapping paper and ribbon can make a great combination. With this bow – take a long piece of ribbon and make loops back and forth. Pinch the middle of the loops with your finger and tie another piece of thin ribbon around the middle tightly. Fluff the loops to make a large bow!
Below is an example of how pom-poms make for a fun, playful gift. In the middle is a gift showing how traditional holly berries make for a beautiful, elegant addition. On the right, a simple bow with a bold pattern makes for a simple solution to embellishing gifts.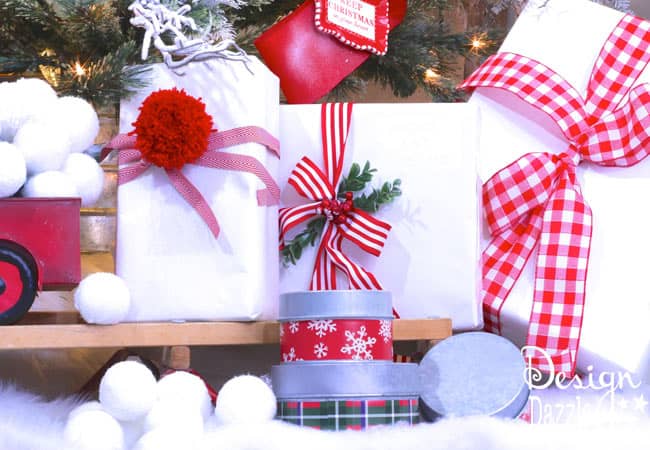 I just love the red and white ribbon look. You can find more May Arts ribbon here.
I used May Arts ribbon a few years ago for pretty details shown on this "For Santa" present.
Monogrammed tags add a personal touch, which is always appreciated.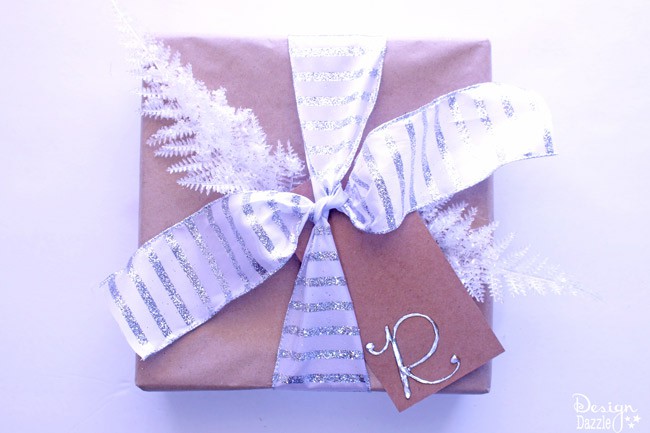 Faux flowers are a great go-to for decorating, and they look absolutely perfect on this gift!
Besides gift wrapping, there are other great ways to use ribbon in your decorating! Ribbon is a great enhancer for place settings and centerpieces. Ribbon can add the finishing touch on place setting for any holiday! Another example of using ribbon in place settings can be found here during the Thanksgiving season.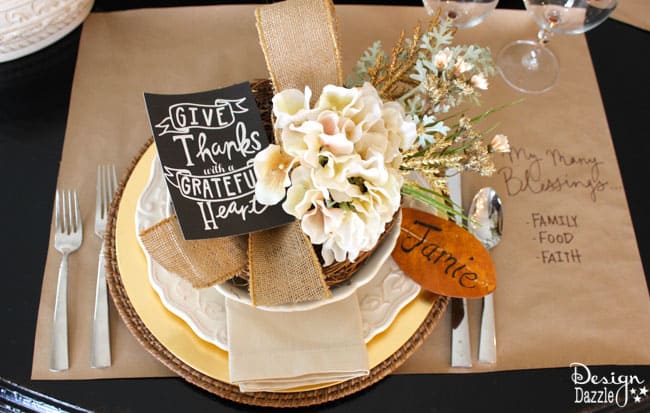 I share how to decorate your dining room with simple bows and pretty Christmas settings. This project includes layered bows as well.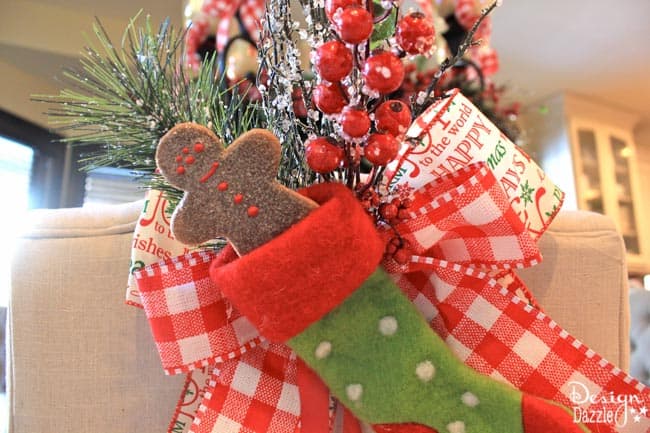 Of course, the Christmas tree is another great place to use ribbon. Ribbon ties everything together on the tree. Ribbon in decorating can create simple yet beautiful detail.
This is a sponsored post by May Arts. All projects and opinions are mine.


Save
Save
Save
Save
Save
Save
Save