This post may contain affiliate links that, at no additional cost to you, I may earn a small commission. Read our Disclosure Policy.
Merry merry everyone! Yes, it is a merry time of year full of cheer and lots of parties. so these dollar tree snowmen centerpieces are just the thing for all your merriment!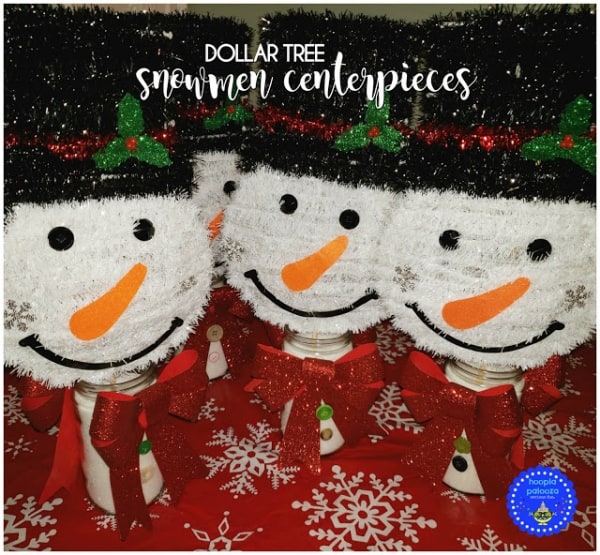 that's right these wintry cuties are made from dollar tree products! I'll show you how easy they come together but first, let me introduce myself. my name is Lisa and I have a blog called hoopla palooza. There you find 99% tutorials about all things crafty with an occasional randomness but it's 100% serious fun! I'm super excited that I get to be apart of Design Dazzle's Christmas Wonderful once again!
So let's face it, parties can be expensive to put together and flowers or any party table centerpiece can also be crazy expensive especially when you have to buy 6-8 table centerpieces. With these, at about $7 a piece to make, you can have a whole snowmen crew that can cost you less than one floral centerpiece.
so without further adieu, let's get to these snowmen, shall we? You will need the following supplies:
2 snowmen faces per centerpiece, mason jar, buttons, 2 glittery bows (they come in packages of 2), white sand, wooden rod, hot glue gun
First up, hot glue the snowmen face back to back. You can apply the hot glue to areas here and there on the border but just leave a small gap at the very bottom of the face below the middle of the snowman's smile to fit the wooden rod.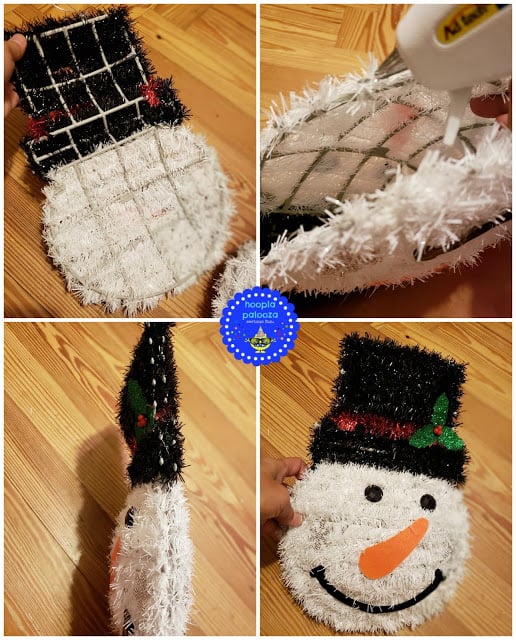 I used these roasting sticks that I happened to have already and trimmed them to about 12 inches.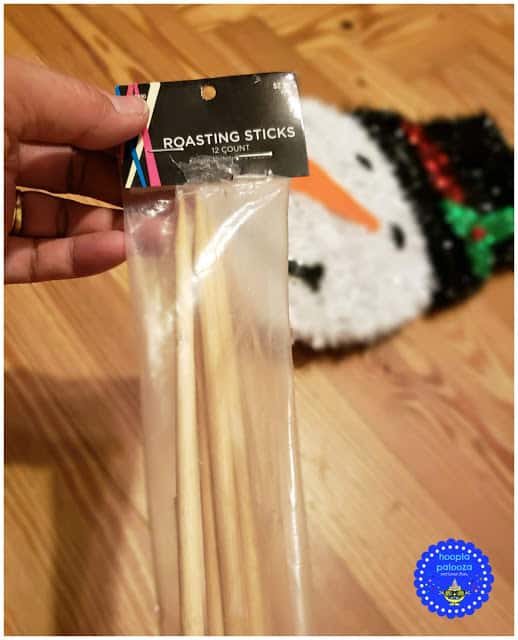 Insert the rod in between the snowmen heads and leave about 6 inches out.
Then put the heads aside and grab your jar and buttons. Hot glue a couple buttons to one side of the jar and then again to the other side directly opposite as shown.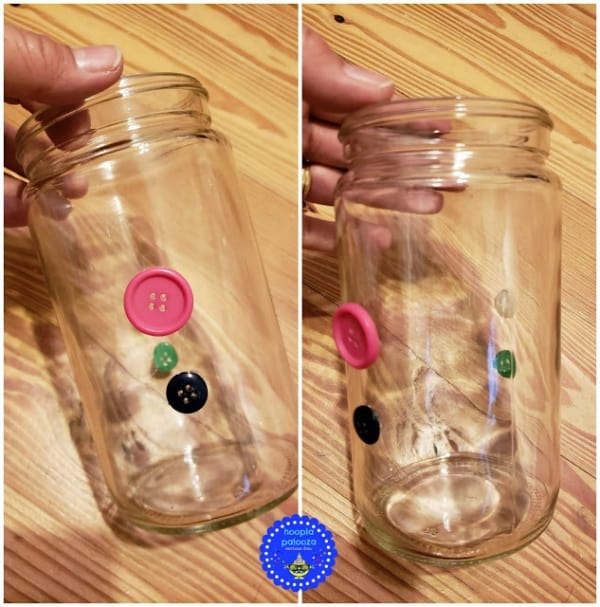 Once the buttons are on, hot glue a bow right above the buttons on each side of the jar.
Then fill your jar with white sand.
Grab those snowmen heads and insert in the middle of the sand.
Push the rod all the way down into the jar to anchor the snowmen heads.
Here you will see what it looks like on the side.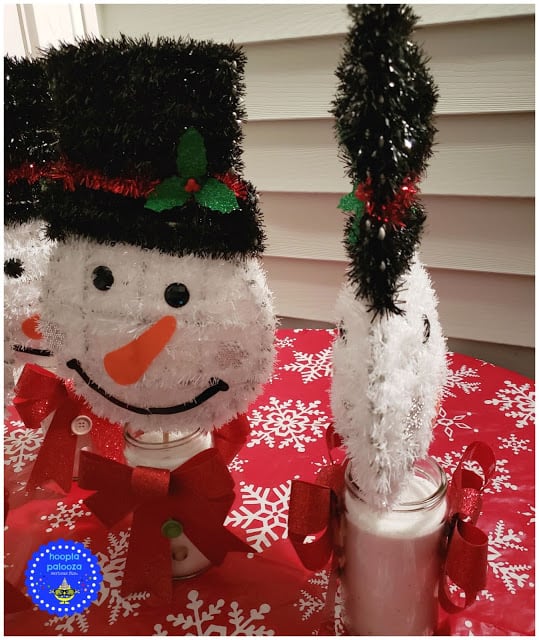 when you place these on the table people can see their cute little faces on either side of the table,
Which will surely make them feel even more merry! These centerpieces can be used for all your holiday parties and even winter parties after Christmas is over!

Like this craft? I have a ton more just like it so come on over to my blog hoopla palooza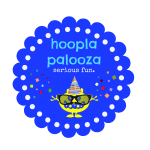 be sure to follow me on facebook, google+, Instagram, and Pinterest!
THANK YOU SOOO MUCH TO TONI AND HER TEAM FOR HAVING ME! 🙂 🙂 🙂
have a wonderful blessed joyous and of course, MERRY CHRISTMAS everyone!
________________________________________________________________
Thanks so much to Lisa for sharing this great, budget friendly, Christmas decor with us! Be sure to check out her
blog
for more crafts and plenty of fun!
_______________________________________________________________