This post may contain affiliate links that, at no additional cost to you, I may earn a small commission. Read our Disclosure Policy.
Hello everyone! It's day 4 of our fabulous Halloween Bash blog hop and we couldn't be more happy that you're here with us today! Thanks for joining us in this fun Halloween project adventure.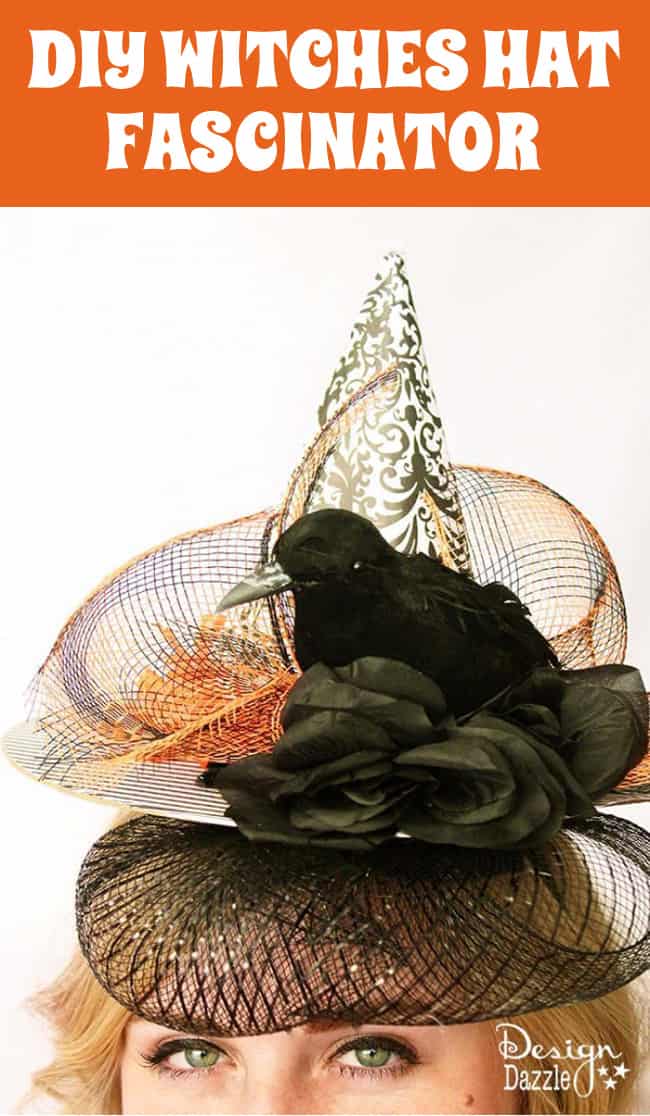 Are you looking for the perfect "no stress" Halloween costume that will look fabulous, yet require minimal time/money/materials? Does that costume seem too good to be true? Well I have the most magical solution brewing in my cauldron of ideas for you! This witches hat fascinator is the perfect touch for mom's easy costume, a teen's cool costume, or a little girl's fabulous costume!

Witches Hat Fascinator Supplies:
paper mache hat
2 sheets of cute black and white scrapbook paper
orange tissue paper fringe
mesh ribbon
crow, black flowers, other embellishments
hot glue gun
tacky glue
2 pipe cleaners
plastic headband
Step 1: Cover the paper mache hat in the scrapbook paper and glue it with the tacky glue or hot glue gun. (You will need to measure, trace, and cut out the paper.)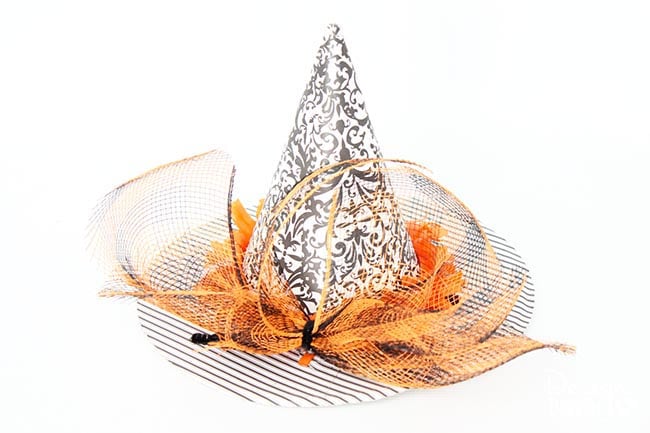 Step 2: Now that you have the base ready, it's time to accessorize! Once the paper has dried, wrap the base of the hat with the orange tissue fringe and hot glue. Gather the wide mesh fabric and tie in the middle with a pipe cleaner. Hot glue the "bow" to the front of the hat.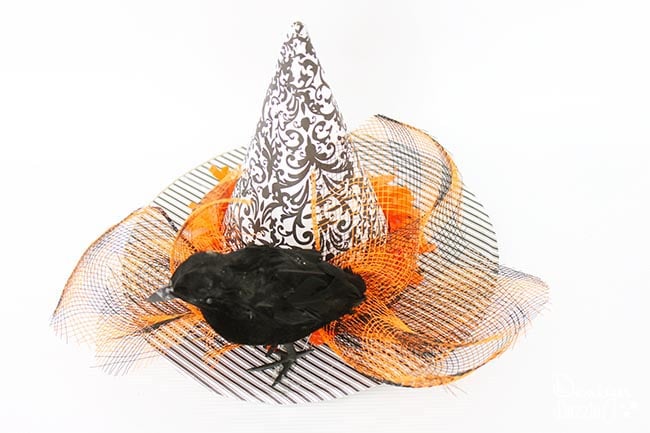 Step 3: Hot glue your big accessories on- I used a crow and black roses from the dollar store.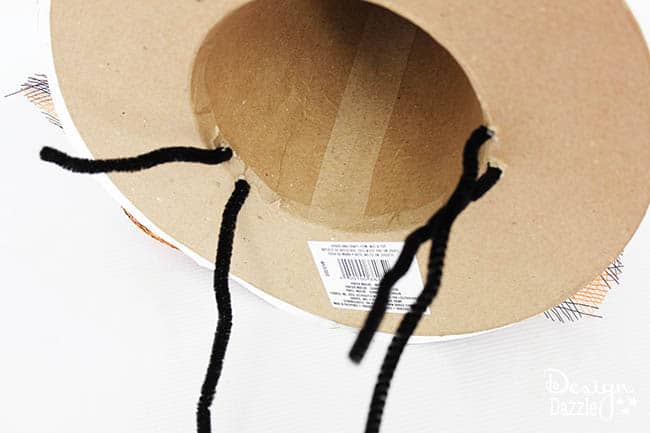 Step 4: Using scissors, make two holes near the inner edge on either side of the hat. Make them just big enough to fit the pipe cleaner through as pictured above. **You could also do this step after you glue on the paper and before you add the fringe, so that the holes are more easily hidden.**
Step 5: Tie the pipe cleaners onto your headband. A plastic headband with holes like the one I used works best because it is very easy to attach and will stay secure.
Step 6: Using the wide mesh, make a "veil" by gathering and making loops. Hot glue this under the brim of the hat. Cover the ends with felt or some material, so that it doesn't itch your face. Your witch hat fascinator is complete!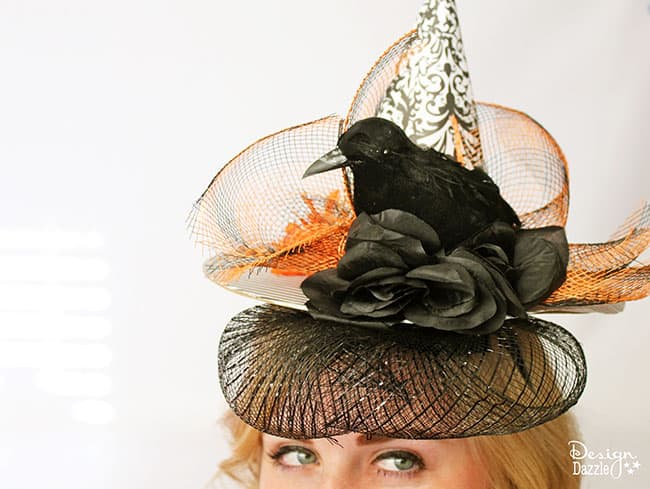 This witches hat fascinator is the perfect finishing touch for your "no stress" witch costume! Happy Haunting!
 Be prepared for a ton of awesome Halloween goodness as seen in the projects below…join our blog hop!
Simply click on each of the links below, for the Halloween projects you'd like to see in more detail and it'll take you right to that post with additional information and photos on how to create it. Have fun and pin away!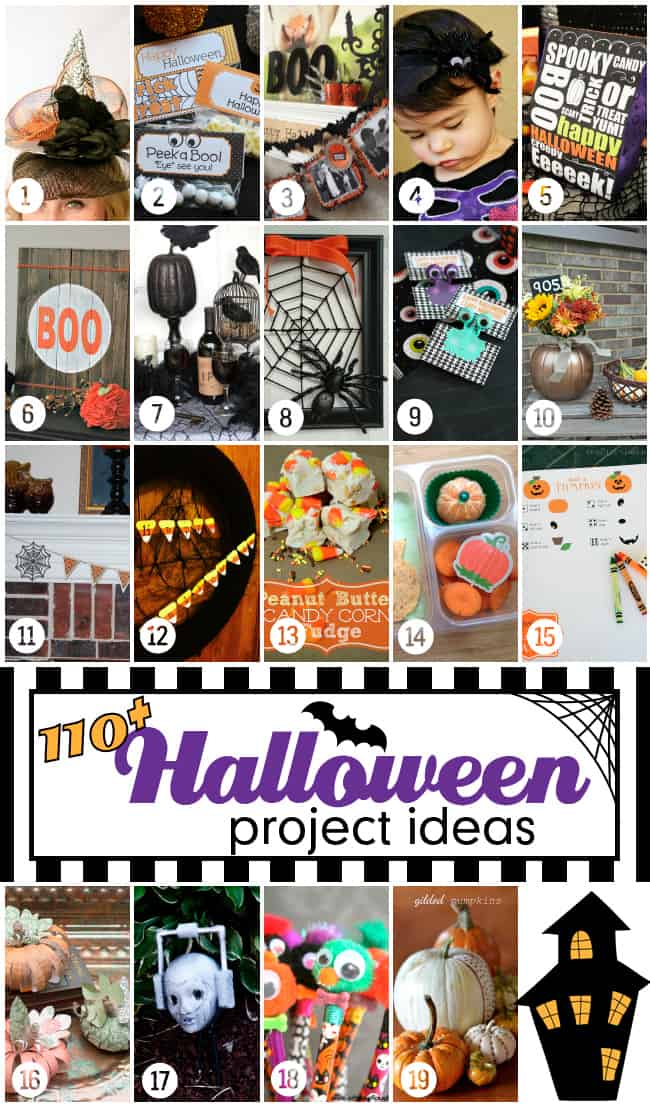 1. DIY Witches Hat Fascinator
2. Free Halloween Printable Bag Toppers
3. Hollywood Halloween Trivia Banner
4. Spooky Spider Headband
5. Halloween Candy Printables
6. Wooden Halloween Sign
7. Easy Hallowen Bottle Label DIY
8. Spider Web Wreath
9. Non-Candy Halloween Treat with Free Printable
10. Halloween Address Planter
11. DIY Halloween Spider Fireplace Wood Pennant Banner
12. Halloween Wreath
13. Peanut Butter Candy Corn Fudge
14. Halloween Food Ideas for Kids' School Lunch
15. Roll a Pumpkin Halloween Game
16. Scrapbook Paper Pumpkins
17. Cyberman Head
18. Halloween Monster Pencils
19. Gilded Pumpkins
Follow our Fabulous Halloween Ideas Pinterest board for even more inspiration!
Follow Design Dazzle's board Fabulous Halloween Ideas on Pinterest.
Be sure to come back tomorrow for another 20 awesome Halloween ideas!
Thanks to all 110+ fabulous bloggers participating! We'd love for you to visit their blogs and see what else they're up to!


Save