This post may contain affiliate links that, at no additional cost to you, I may earn a small commission. Read our Disclosure Policy.
These are some of the most creative DIY Valentine Ideas I have seen! Lots of classroom ideas that are perfect for kids classroom parties; including valentines and some great kid table decor. Great tutorials that give easy step by step directions AND PRINTABLES!! Your kid will be a classroom favorite when he brings one of these DIY Valentine Ideas to class!
Valentine Kids Table for a Classroom by Sweetly Chic Events. This will put any classroom party over the top and make it a day to remember!
My Heart Pops For You from Bella Grey Designs. Who doesn't love popcorn!?? Easy to prep, delicious to eat, and a printable included!
Gumball Machine Valentine from Michelle's Party Plan It. Great step by step tutorial. Easy to make and so darling!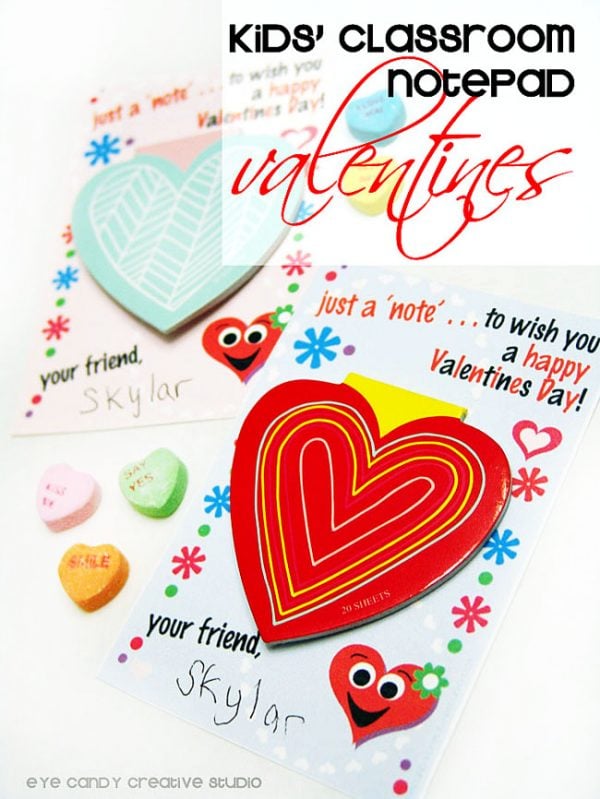 Valentine Notepad from Eye Candy Creative Studio. Great non-candy alternative with a FREE PRINTABLE! Other parents will be so grateful!
Valentine Kisses from Bella Grey Designs. Super cute love stickers to put on Hershey Kisses!
I'm CEREAL-sly Glad You Are In My Class from J At Your Service. Great Valentine for Kids! Personal cereal boxes were my favorite as a child.
Awesome Sauce from Painting Paris Pink. Applesauce for kids Valentines! This is perfect for a classroom party snack!
Chocolate Dipped Marshmallow Valentine from Bella Grey Designs. Perfect project for you and your kid to do together. Also what kid doesn't like marshmallows?
You Are Just WRITE For Me from Bella Grey Designs. Genius. Great alternative to more candy… so much candy.