This post may contain affiliate links that, at no additional cost to you, I may earn a small commission. Read our Disclosure Policy.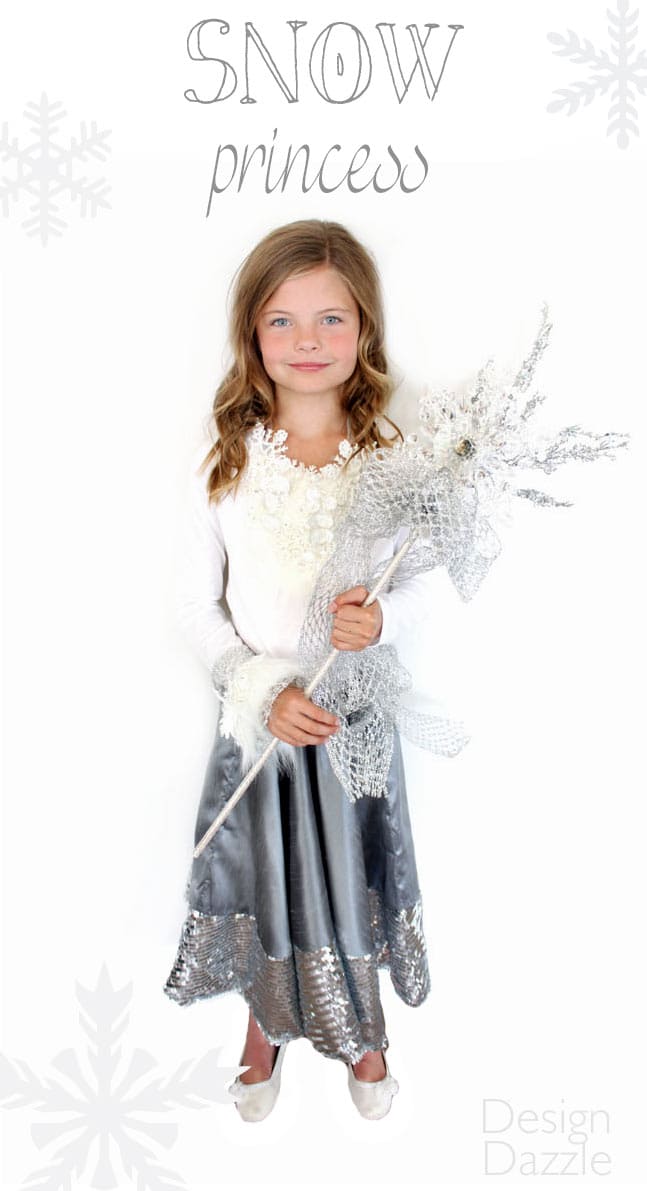 It's the monthly Michaels Makers post. Our challenge for this month is to create a DIY  Halloween Costume using Michaels products. I made a Snow Princess for my daughter about 13 years ago. And I might add she did win the Halloween Costume contest. When I saw a tree skirt in the Christmas section – I thought I need to make another Snow Princess costume. Did I mention this is a no-sew project using a Christmas Tree skirt as the Snow Princess skirt? A white leotard and tights are perfect to wear underneath. The neck of the skirt isn't quite large enough to go around a tiny waist. So I used large safety pins to help hold the skirt to the white shirt. The large silver mesh bow helped hide the safety pins, etc. This is a simple solution and will keep the Christmas tree skirt good as new- it can still be used this holiday season under your tree! Overall, this darling costume is extremely easy to make. Your daughter can even help bedazzle with you! You can make your own no-sew, inexpensive, glam snow princess costume in no time.
How to Make a Snow Princess Costume:
Snow Princess Wand supplies:
Christmas snowflake ornament
wire
E-6000
wood dowel
thin silver ribbon
wide silver ribbon mesh
glitter ornament pick
A small hole was drilled in the wood dowel for wire to be threaded through and around the snowflake ornament. You need to make sure it is secured really well. E-600 was used to also adhere the ornament to the dowel. Ribbon was wrapped around the dowel to cover the stick. A large bow ribbon was used at the base of the snowflake to hide any wire or glue. Christmas picks were glued to the back of the ornament to make it more "wand" like.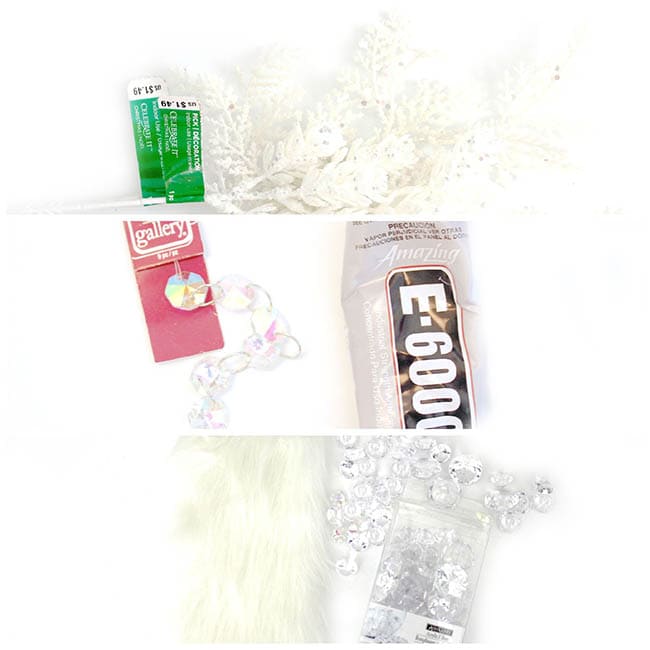 How to Make a Snow Princess Statement Necklace:
Supplies:
Craft fur
ribbon
Christmas picks
Snowflakes
e-6000
jewels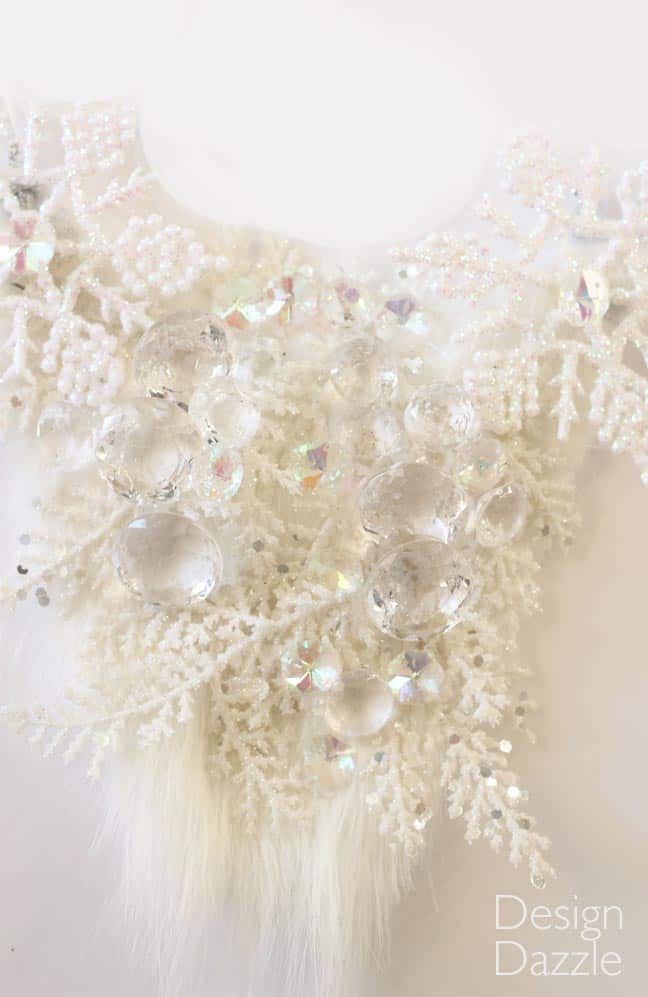 I used a dollar store cookie sheet as my crafting tray. I keep all the mess and glitter in the tray while working. Cut the craft fur into a triangle and start layering the decor onto the fur. E-6000 was used to adhere all the snowflakes, Christmas picks and jewels. It dries clear and strong. The fumes are pretty stinky so use in a well-ventilated area.
When everything is dry cut two holes in the fur at the top. Thread ribbon through the holes and double knot the ribbon so it won't go through the holes. The pretty statement necklace is just like a necklace and gets tied around the neck.
Use a white long sleeve shirt for the top. I made cuffs for the wrists using odd and ends from the statement necklace, wand and crown. The cuffs certainly tied the entire costume together.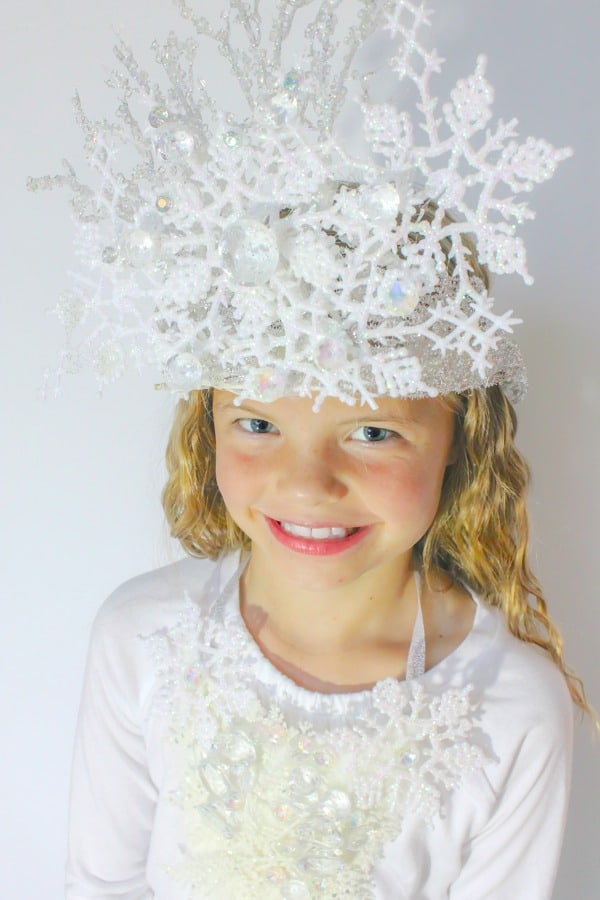 For the crown I used an inexpensive plastic crown and added snowflakes and Christmas ice branches from floral department. Wire can help hold everything together.
Great way to make the tree skirt double duty for your tree skirt at Christmas and a Snow Princess skirt for Halloween! Don't you just love that you can make this costume with Michaels products?
Whether you're into spooky sights, playful pumpkins or giggling ghouls, the Michaels.com Halloween project page has tons of ideas for DIY Halloween costumes and décor.
Still haven't decided what you're going to be? Check out the other 49 DIY costumes from the Michaels Makers and you might just find the perfect one for you, your kiddos or your beloved pet this Halloween– they're to die for! 🙂


Save
Title:
DIY Snow Princess Costume
Mentions:
#MichaelsMakers, diy halloween costume, snow princess
Last Updated:
February 16, 2018