This post may contain affiliate links that, at no additional cost to you, I may earn a small commission. Read our Disclosure Policy.
Okay so who knew that you could make such an easy costume out of 2 liter soda bottles?
I am always so tickled when I find a simple way to make something SO cute!
This DIY: scuba diver halloween costume took 1.5 – 2 hours at the most to make which includes drying time.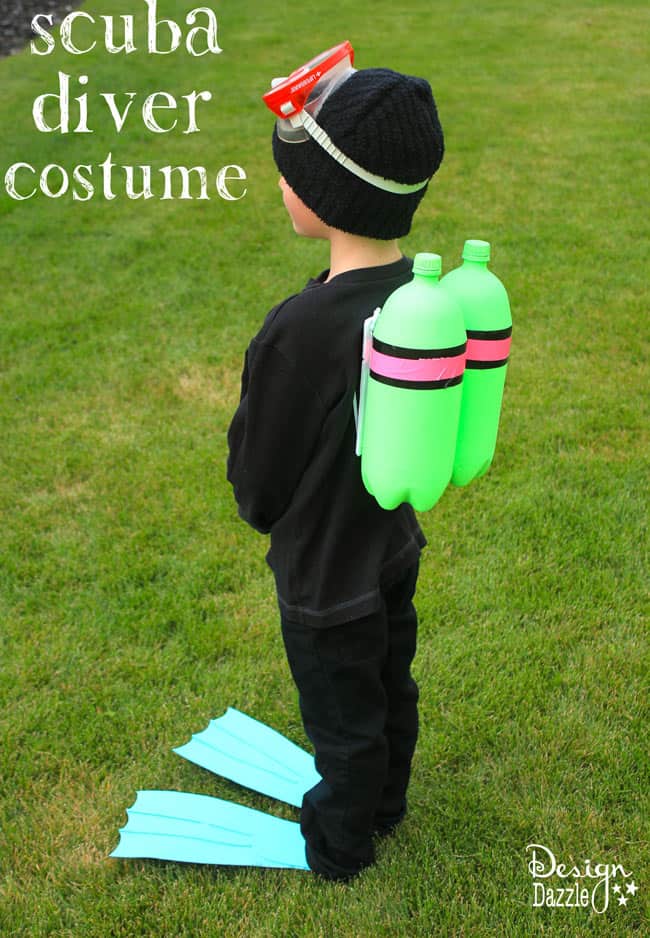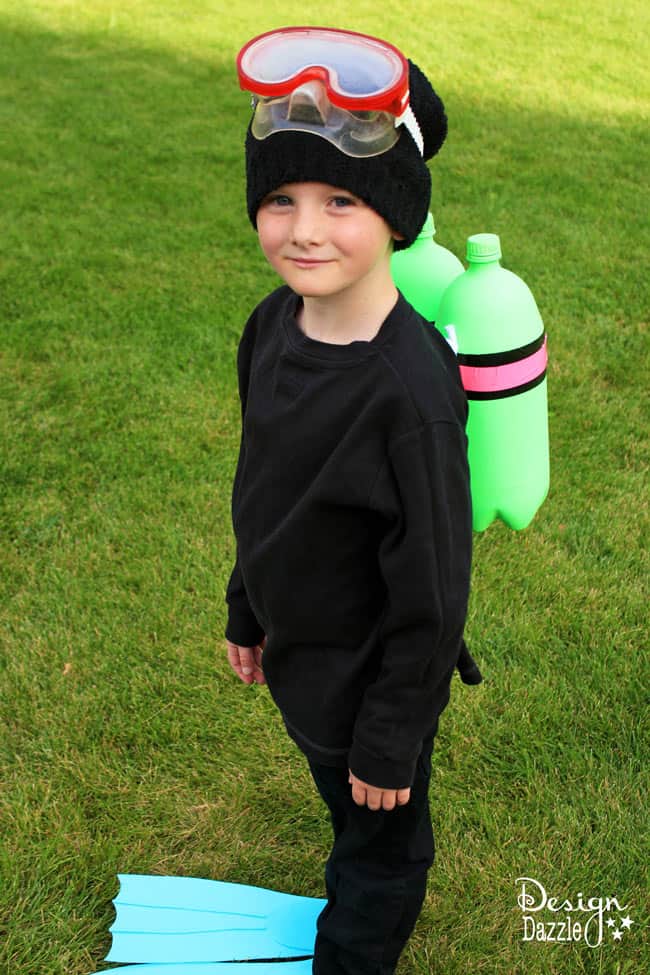 Little Phoenix is our scuba diver. Isn't he a cutie?
Materials:
– Two 2 Liter Soda Bottles
– Primer Spray Paint
– Neon Acrylic Paint
– Neon Duct Tape
– Foam Core
(we used white but preferably black)
– Elastic String
– Foam craft sheets
(Bright or Neon in Color)
– Swimming Goggles
– Black Shirt, Pants, and Beanie
Tools:
– Scissors
– Paint Brush
– Hot Glue Gun
Steps: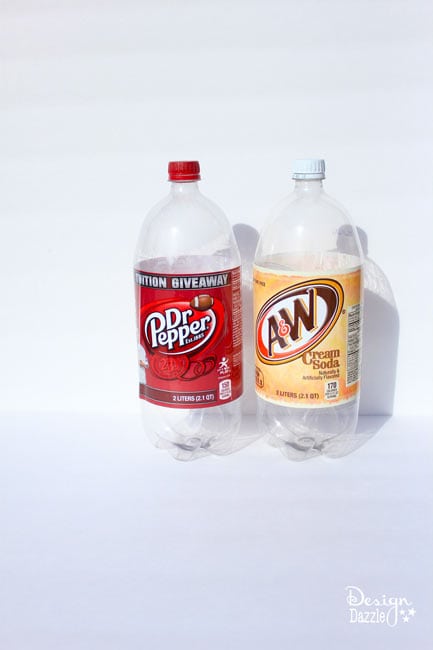 1. Start with the oxygen tanks. Clean out soda bottles and spray them with white primer and let dry for 15-30 minutes.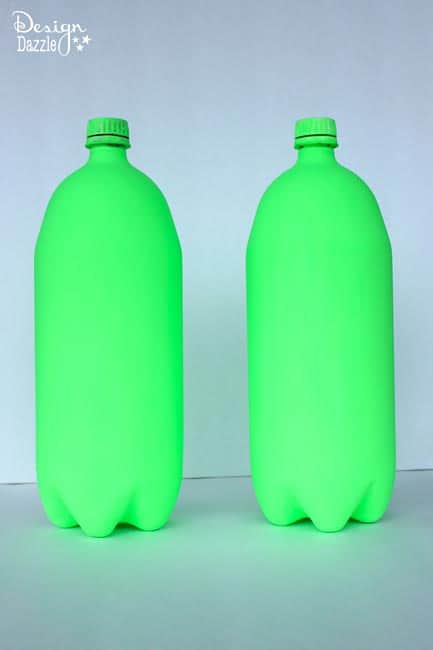 2. Using a paint brush, paint the neon acrylic paint onto the soda bottles. It takes 3 coats.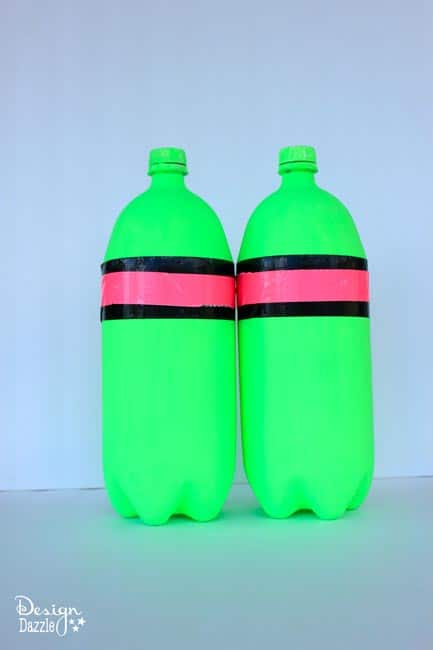 3. Tape evenly around the upper third of the bottle using the neon duct tape. This will make the bottles look like oxygen tanks.
(We did a second layer of black tape for a little more pop.)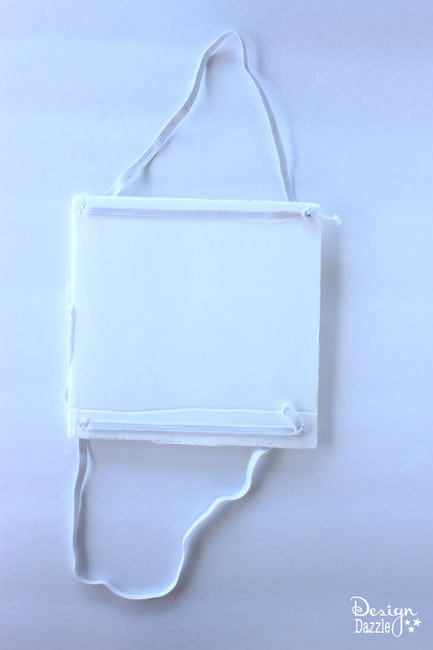 4. Cut out a piece of foam board that will show minimally behind the tanks.
5. Tie elastic string to the top and bottom of the foam board for arm loops.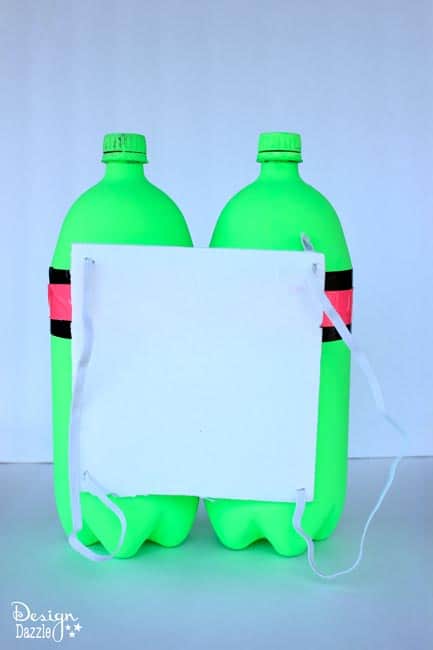 6. Glue the foam board to the tanks and you are finished with the oxygen tanks!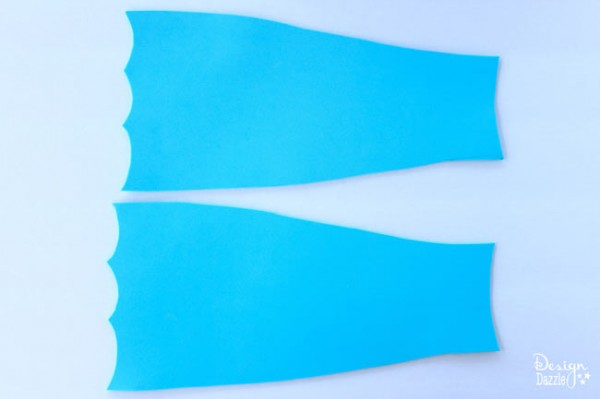 7. Now the flippers. Cut out a flipper shape on regular paper first and then use that as a template to cut out the fun foam sheet into two flippers.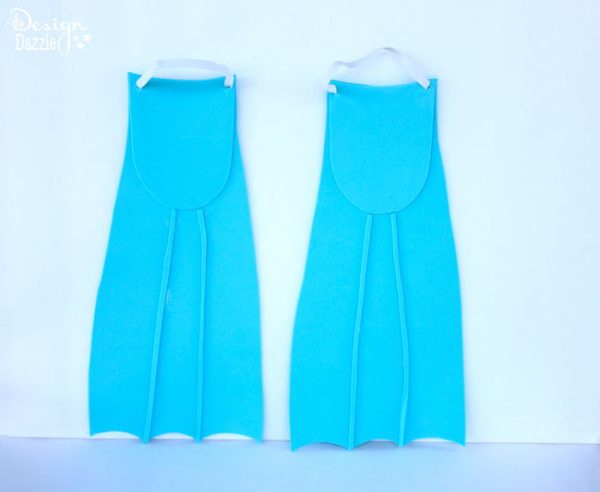 8. Cut out a few extra pieces of foam and add to the top of the flipper to make it look real.
Tie elastic to the top of the flippers to go around the feet/shoes. And now you are done!
We trimmed the fins significantly, because they were too long for the feet/shoes.
If you want to make the scuba diver even more authentic, add a dive weight belt.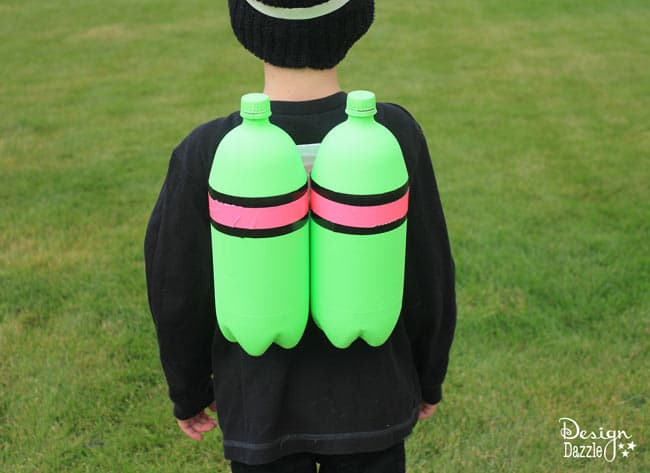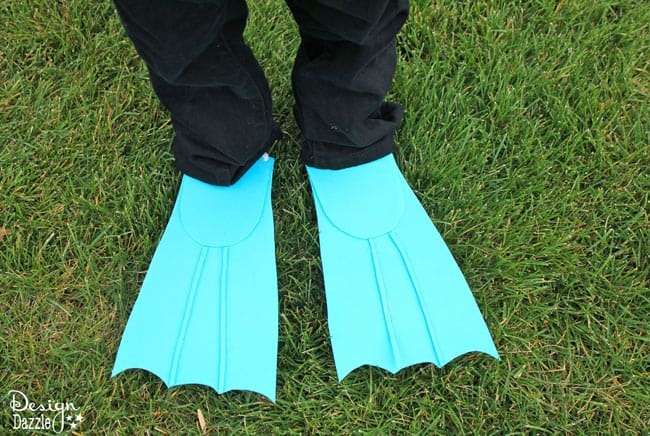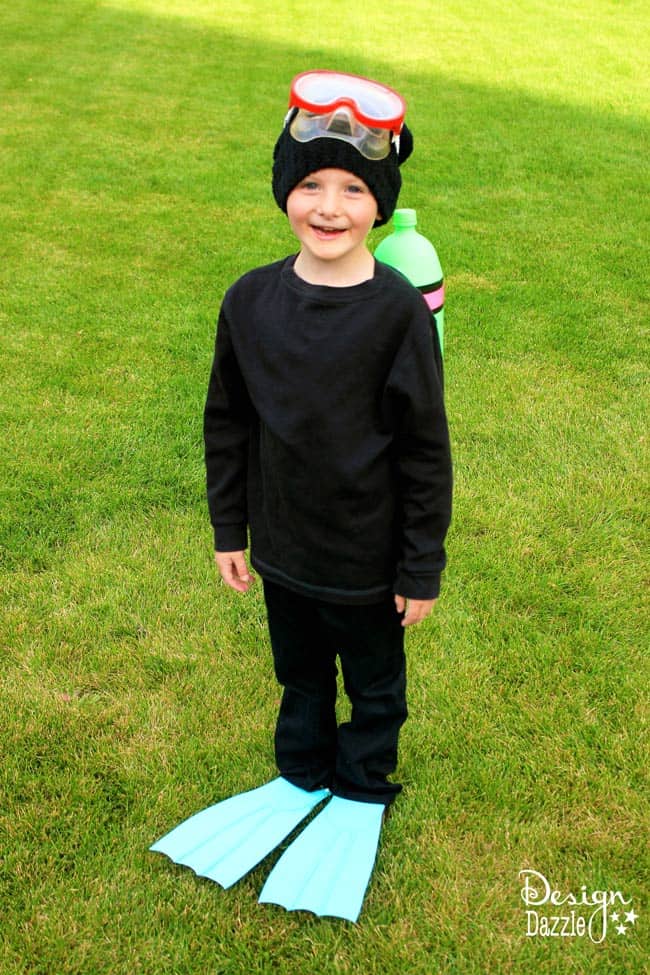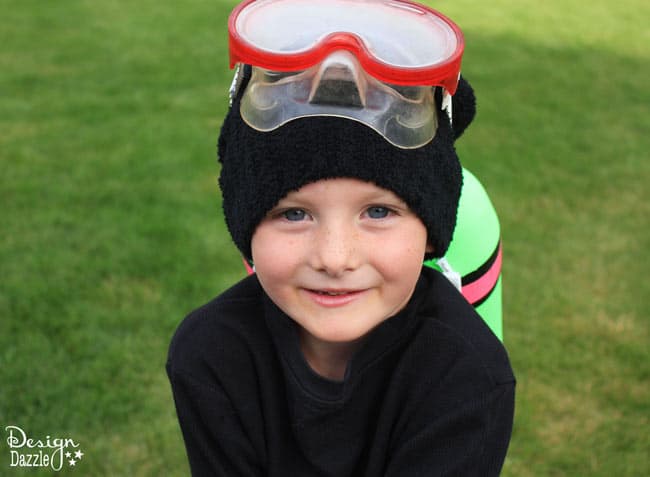 Now dress up your child in the all black shirt, pants, socks and beanie so they have their "wetsuit" on and then strap on the flippers and oxygen tank.
Last touch are the swim goggles and you have the cutest, most adventurous scuba diver EVER!
Thank you Phoenix for being our scuba diver model!!
Check out these other cool DIY Halloween costumes for your boys!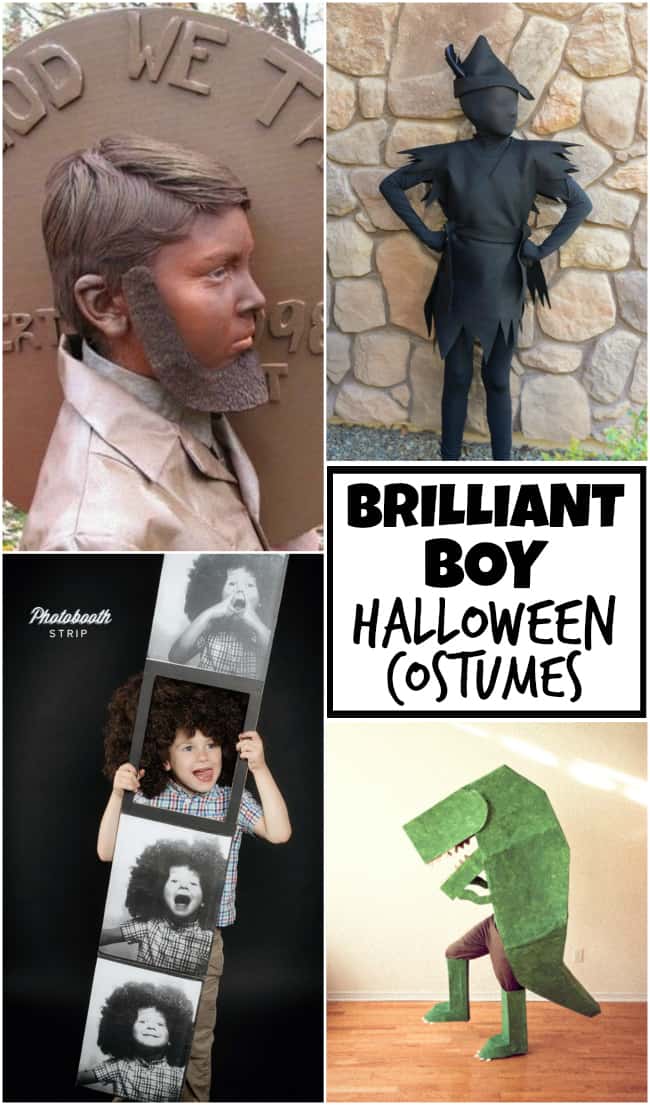 This post has affiliate links.
Save