This post may contain affiliate links that, at no additional cost to you, I may earn a small commission. Read our Disclosure Policy.
Hi everyone! It's Jess from Everyday Party Magazine, and I am so very excited to be back with Design Dazzle for Christmas Wonderful! We are getting ready to host my sweet niece's birthday party. With a dozen or more 7 year olds, I need to have some simple and fun activities for them. We will have an ice rink set up for the kids, and a DIY ornament station. I am super excited about the DIY Ornaments. They are simple and affordable!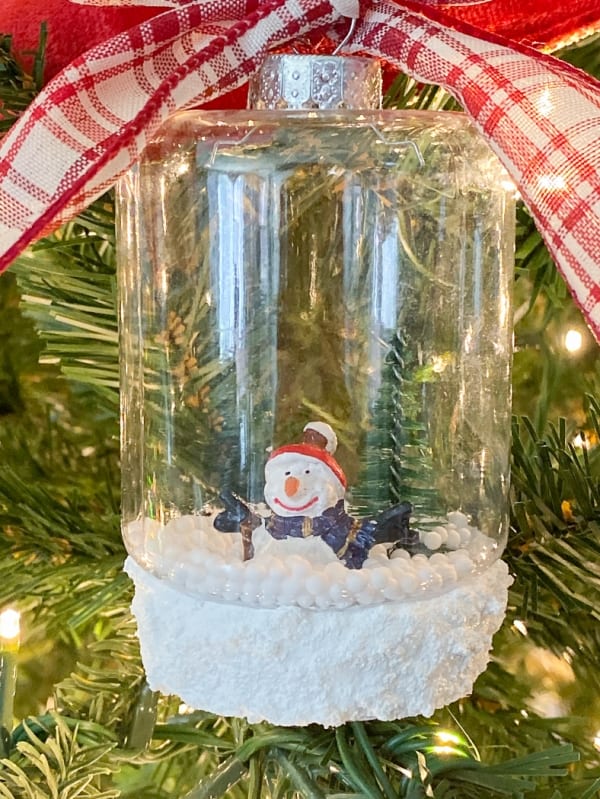 Winter Party Activities
Since there will be so many little guests at my niece's party, I needed to find an activity that would take them a few minutes to make, and was cost effective.
I was able to get nearly everything I needed with a quick trip to the Dollar Store, and I spent less than $30!
Whenever we host a party we have plenty of activities for the younger guests. Homemade ornaments for holiday parties are always a big hit.
DIY Ornament Supplies
Our handmade ornaments are also fun snow globes. You will need a few supplies, but they are all very affordable.
Snow Globe Ornaments
Fake Snow
Small Christmas Tree and Figurine (to fit in the ornament)
Hot Glue Gun and Glue
Ribbon
Snow Tex
Step 1
Hot glue the tree and figurine to the snow globe lid. Add additional glue to the lid and sprinkle snow on top. My older son will be helping the little ones at the party with the hot glue, but you could also pre-glue all the pieces.
Step 2
Add a small scoop of snow to the jar of the globe. Make sure you don't add too much and cover your figurine and tree.
Step 3
Place the lid onto the jar, and secure it.
Step 4
Once the lid is secure, put the whole globe in a disposable cup to hold it, and paint Snow Tex around the lid to cover it.
Step 5
Use the ribbon to tie a bow on the top.
Now, you can hang it from your tree or enjoy it as a waterless snow globe!
Jessica is a party blogger from Florida. She can often be found at the hockey rink cheering on two of her boys, at the art museum with her other two sons, or at Disney with her whole family. She began sharing her passion for parties when her younger sons were born with a life threatening immune deficiency. Now that they are older and healthier, she shares budget friendly DIY party inspiration on her blog, Everyday Party Magazine.