This post may contain affiliate links that, at no additional cost to you, I may earn a small commission. Read our Disclosure Policy.
This shop has been compensated by Collective Bias, Inc. and its advertiser. All opinions are mine alone. #CraftAmazing #CollectiveBias
You all know how much JOY Christmas decorations bring to me! Christmas is such a joyful time of year. Getting the house all ready for the season and for family to come home brings me so much JOY and really gets me feeling festive.
Other than your twinkling Christmas lights, your Christmas wreath is the first decoration your guests will see walking up to the house. Thanks to Scotch® Expressions Tape, this year, you can make the cutest wreath in no time! Can you believe the black and white striped letters is tape? Yep, Scotch® Expressions Tape!
You can find these adorable Scotch® Expressions Tapes at your closest Wal-Mart.
Supplies
Scotch® Expressions Tape (With these cute patterns, you'll have a hard time choosing!)
Scotch® Create utility knife
wood craft letters
thick Christmas ribbon
old wreath (or a new wreath in need of that certain something!)
thick floral wire
hot glue gun
duct tape
Step 1: Wrap your craft letters in Scotch® Expressions Tape. I love washi tape because it is so easy to work with! I recommend wrapping one layer at a time. Make sure to use Scotch® Create utility knife to cut all your tape. Continue to do this until the whole front and sides of the letters are covered. I put a strip of Scotch® Expressions Tape over the ends on the back to make them smooth and keep them in place. This is the perfect couch craft! You can do this simple step while watching your favorite Christmas movie.
I fell in love with this black and white striped Scotch® Expressions Tape. It looks so chic!
I painted my "O" white to add some contrast. I love how it turned out! If you want to add some contrast, paint one of your letters with a pop of color or a neutral, like my white.
Step 2: Cut 6 long strips of floral wire. Use your hot glue gun to glue the middle of the floral wire to the back of your letters. I did one strip of wire at the top and bottom of the "J" and on either side of the "O" and "Y". You will use the wire to secure the letters to the wreath. Put a few strips of duct tape over the hot glue to make sure the wire is very secure. Wrap the floral wire around the wreath tightly, like a twist tie. Make sure to arrange the letters at cute angles to give the wreath a whimsical, fun look.
For the little bow, take a long strip of tape. Fold it in half and match up the sticky side of the tape. Make two loops with the tape. Wrap a piece of string around the center and tie it tightly into a knot. Then, wrap a piece of tape over the string. Dab hot glue onto the bow to stick it on.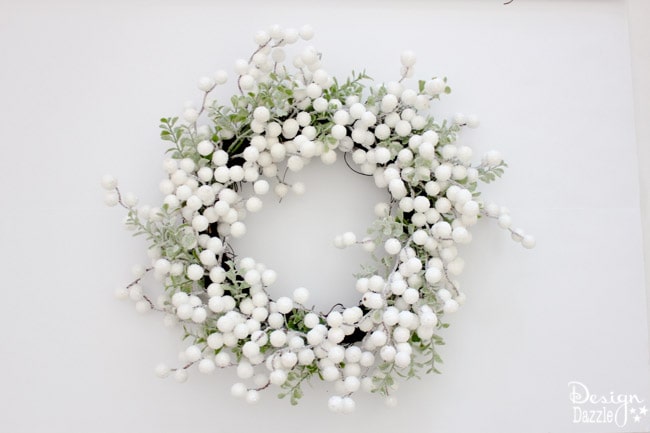 Step 3: Grab your cute, wide Christmas ribbon. Wrap it around the top of your wreath to create a long loop. Hang this on the top of your door or on a wreath hook. Take another strip of ribbon and tie an oversized bow. Let the tails of the bow hang down on the sides. I love how the ribbon really frames the wreath!

If you want to get even more into the Christmas spirit, check out this year's Winter Wonderland Glam Christmas Tree. It has more DIY ideas and crafts to make your home festive!
The Quickest Gift Bag with Scotch® Expressions Tape
I was having so much fun with the tape, I thought was could I make quickly and easily?? My printables and a craft bag makes for this quick, super adorable gift bag, you only need a few minutes and a few supplies! You'll have a super cute gift bag in less than 2 minutes- seriously!

Supplies
Scotch® Expressions Tape
Scotch® Create utility knife
Paper bag
fun tissue paper
Simply print and cut out the JOY printable, tape it onto the bag with Scotch® Expressions Tape, find some cute tissue paper, and wrap up your sweet gift! Make sure to use Scotch® Create utility knife to cut all your tape. Yep, it's that simple and it looks so great!
I hope your Christmas decor and gift bags can be as joyful as mine with the cute Scotch® Expressions Tape! I can't wait to see your JOYful, creative Christmas ideas with the help of Scotch® Brand products !