This season is truly a season of giving. While it is so fun for kids to receive fun Christmas toys, it can get overwhelming when it comes time for clean up. A fun way to teach your kids the joy of giving even more than receiving, is to have a "Dear Santa, Recycle My Toys" bag. Have your kids go through their old toys *before* Christmas to make room for new toys and to spread joy with boys and girls. Put the toys in the bag and then when it's time to take the toys to the thrift store, simply put them in a large trash bag so that you can keep using your recycled toys bag each Christmas! You can also place the bag under the tree for "Santa" to pick up on Christmas Eve.
Of course, your kids think the toys are headed to the North Pole so don't let them in on the little secret of donating the toys to Goodwill or a thrift store!
All you need to make a "Dear Santa, Recycle My Toys" bag is a pillowcase
or drawstring laundry bag
, the printable, iron-on transfer paper
and gently used toys! This is such an easy, wonderful way to teach your kids the importance and the joy of giving at this holiday time. If you don't want to do an iron-on you could use a fabric Sharpie
and just write on a pillowcase.
Tip: When using iron-on paper make sure it is compatible with your home printer – laser vs ink jet, etc.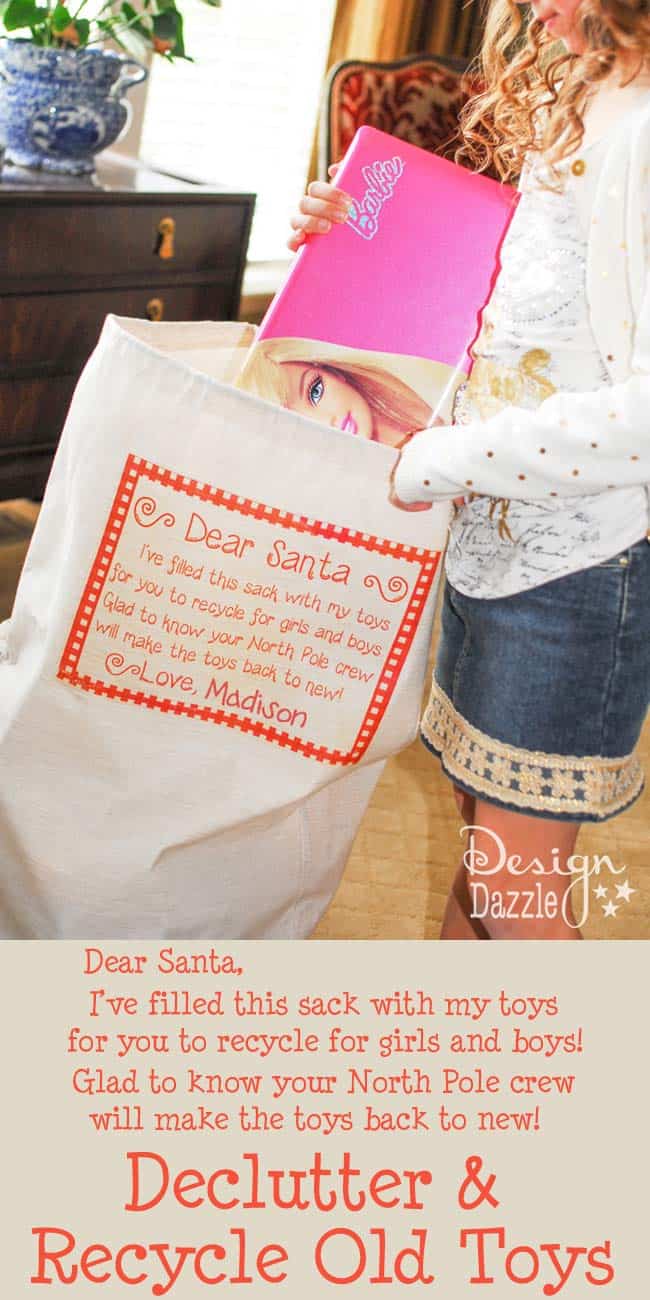 The "Dear Santa, Recycle My Toys" printable is FREE and available for immediate download by subscribing to Design Dazzle!
To receive this free printable – enter your email address in the box below and click submit. Make sure to check your inbox for an email from Design Dazzle. You will have access to all of our FREE printables and also will receive an email newsletter filled with lots of great information. Don't worry your email address will never be sold.
Printable files are for personal use only. They are not for commercial use.


Save
Mentions:
christmas ideas, recycle toys, recycle toys bag
Keywords:
Dear Santa, Recycle My Toys
Last Updated:
July 31, 2020