This post may contain affiliate links that, at no additional cost to you, I may earn a small commission. Read our Disclosure Policy.
Hello Design Dazzle readers! This is Dawn from Not Just A Mommy and I'm thrilled to be returning for a fourth time as a Camp Counselor! Father's Day always brings out the pun in me and this year is no exception. I fell in love with The House That Lars Built's licorice allsorts party and couldn't wait to do my own.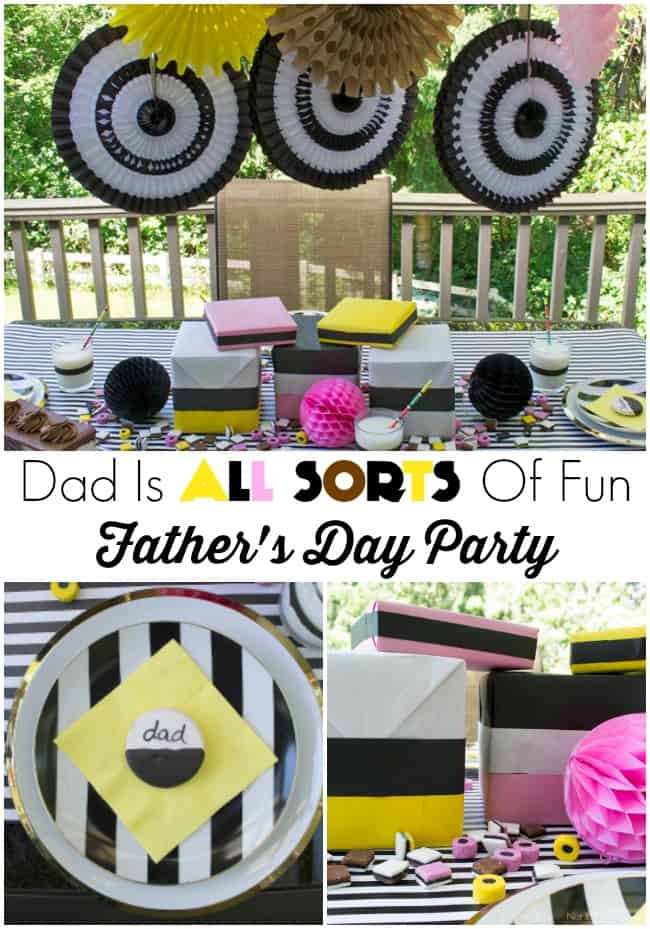 This is a great way to celebrate the awesome man or men in your life with a fun party table that won't take long to put together.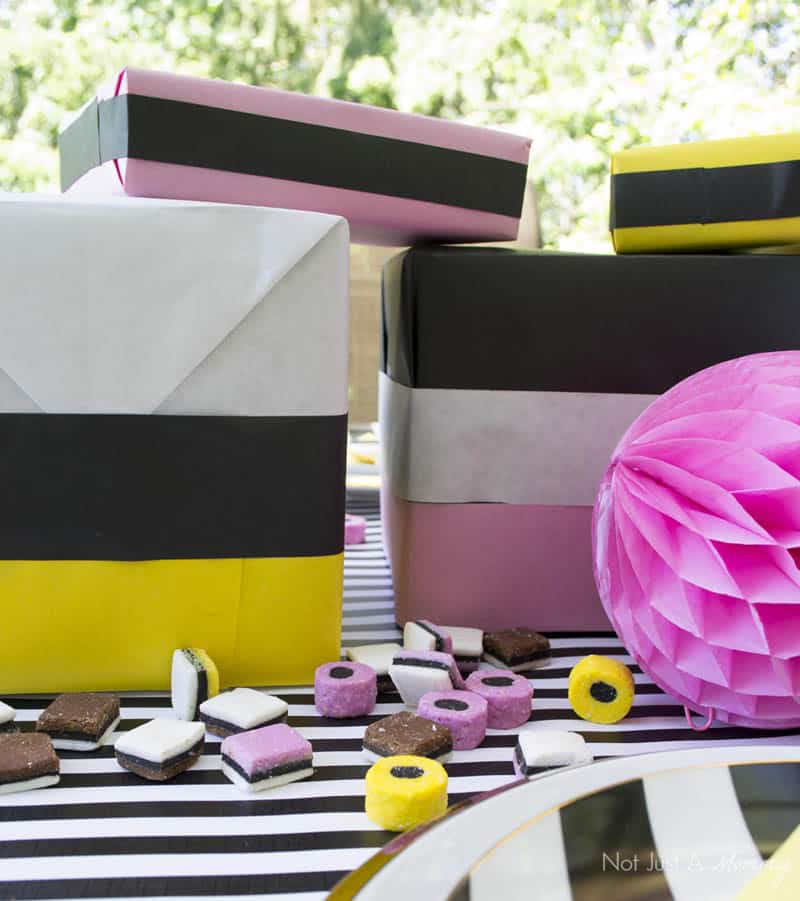 My blog readers know I love to use wrapping paper as a table cover. With all the colors and patterns available, it is a great base for setting your table and makes clean up a snap.
In a previous post, Brittany shared how to gift wrap boxes to look like the candy; they are a great way to create a centerpiece with dad's gifts. I couldn't find white boxes so I wrapped mine in white butcher paper and used other colors to finish them off. A few mini honeycomb balls and real candy as scatter finishes the look. The best part about candy scatter? Your guests have something to nibble on…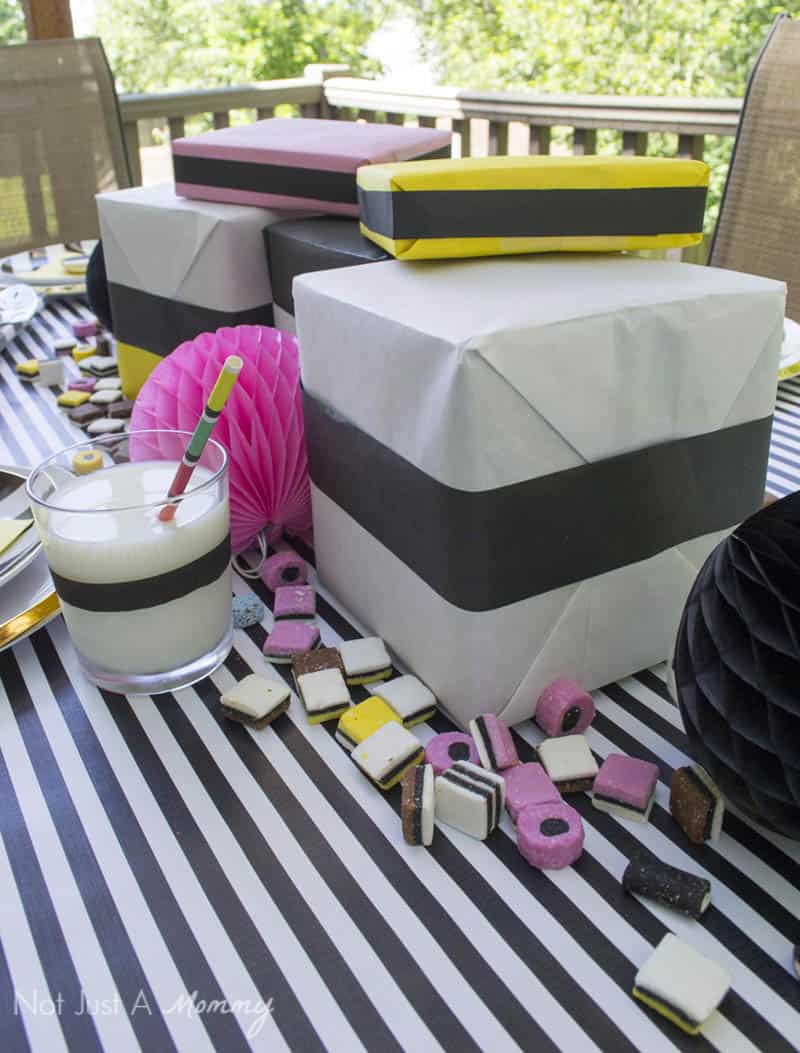 A few fun striped and solid color honeycomb fans to hang over your table and all the hard decorating work is done.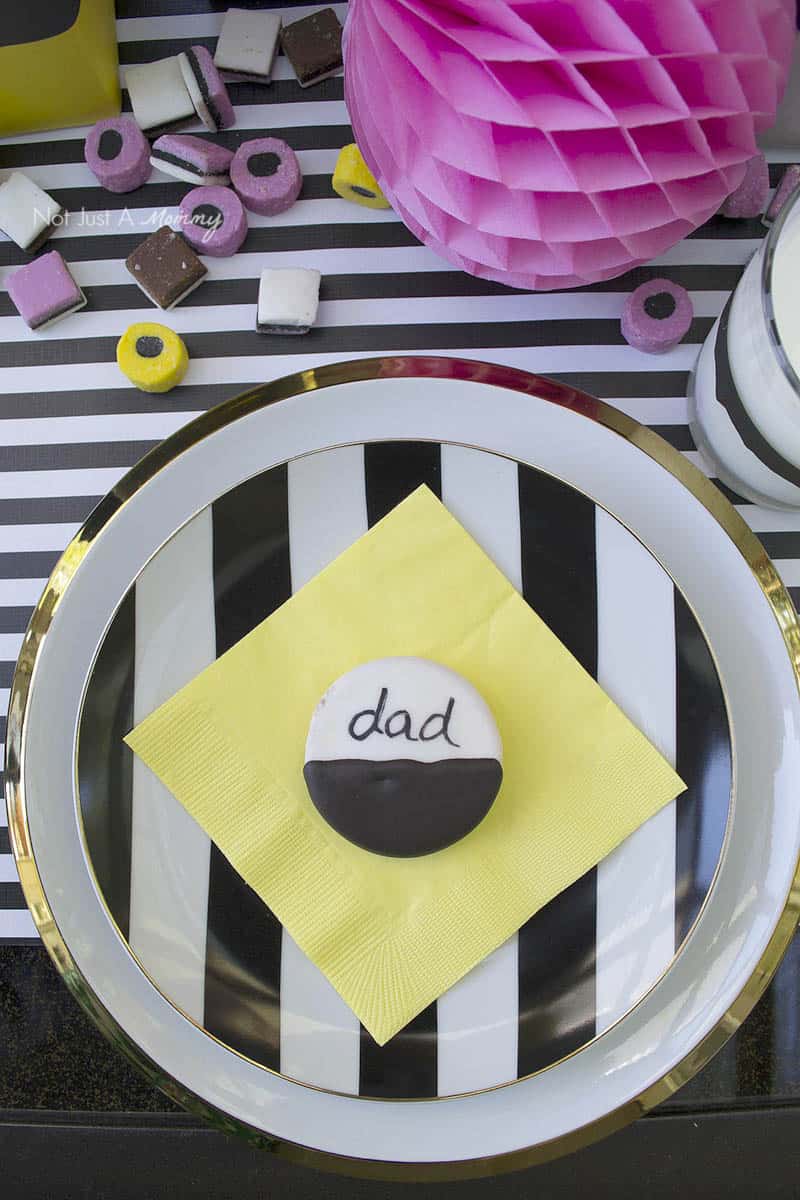 I love edible place cards! With an edible marker, you can turn cute cookies into a fun way to let everyone know where to sit!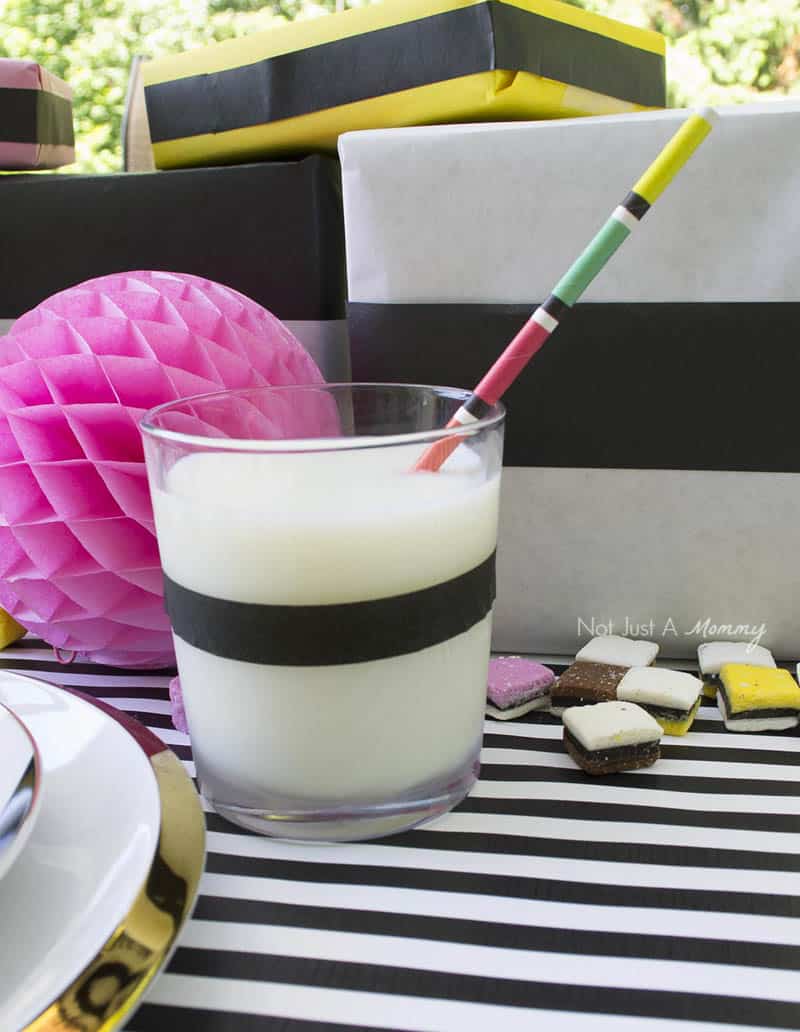 I couldn't resist using black washi tape to mimic our theme with glasses of milk…and FYI I'm obsessed with my new paper straws. When I saw them at Anthropologie, I knew they would be a perfect party fit.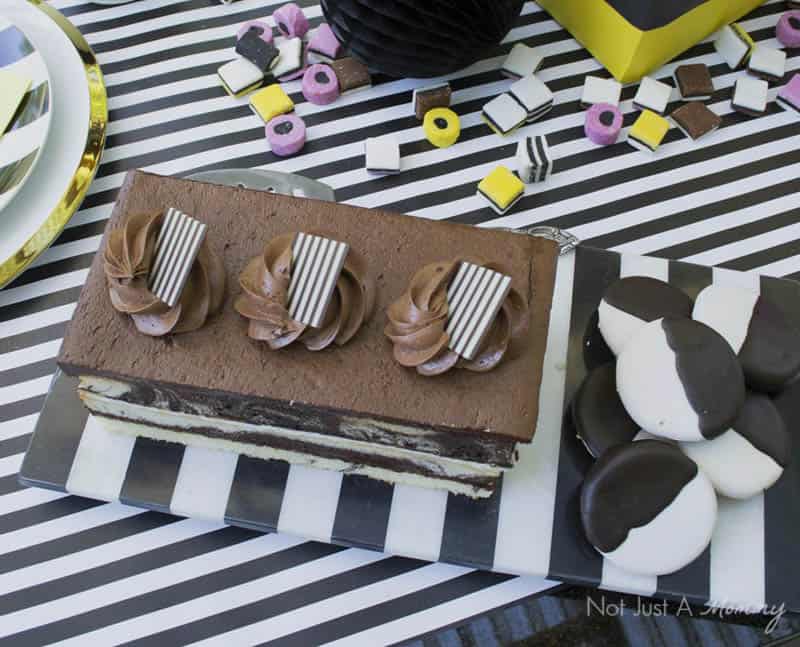 Don't hide dessert…show off your sweets as part of your party setup on a pretty cakestand or platter! Can you believe I found all of mine at a local grocery store? I love that their bakery has real cake game because I can't bake.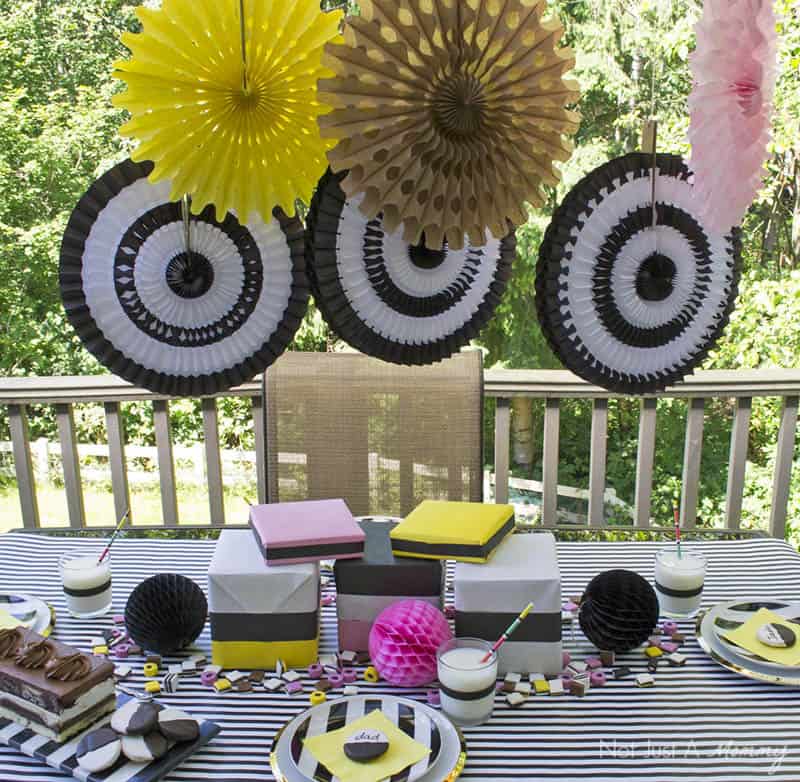 So easy and fun to put together, dad will know just how special he is! I hope you have been inspired to have a little pun this Father's Day. Need more punny inspiration? Check out last year's Dad, You Rock! party table or my My Pop Rocks! candy treat box; both come with free printables to download.
Like what you just read? There's more where that came from…follow Not Just A Mommy on Facebook, Twitter, Pinterest and Instagram. Learn about upcoming events, giveaways and more with my weekly newsletter or sign up by email. You can also follow the blog with Feedly.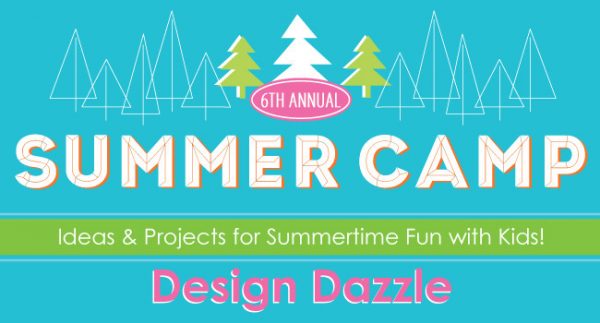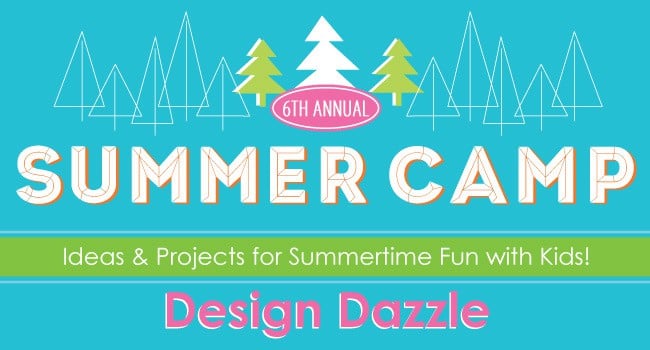 Dawn, you always have such fun party ideas. Thanks for sharing!
Stay tuned for more summertime fun ideas! Our Kids' Summer Camp Season will last until mid-July. Want to see more? Check out the full collection (including the archives!) of Summer Camp ideas.