This post may contain affiliate links that, at no additional cost to you, I may earn a small commission. Read our Disclosure Policy.
Hi, I'm Rachel, and I'm happy to be sharing a fun Christmas tutorial with you all here at Design Dazzle. I blog over at Lines Across where I share all sorts of crafty tutorials from gift boxes, to handmade bracelets, to pipe cleaner animals, to free iPhone wallpapers. I especially love sharing Christmas tutorials like this one.
If you haven't worked with Polymer clay before, then you're missing out. It is much simpler than I had expected, and there are so many possibilities. I shared beginners' tips for working with Polymer clay when I first "discovered" it last year.
I wanted to make some gift tags/ornaments to put on Christmas gifts this year. I know that you can make ornaments like this out of salt dough, but I wanted them to be smoother and sturdier so I used Polymer clay. I made this train ornament for my son Benjamin who is obsessed with trains.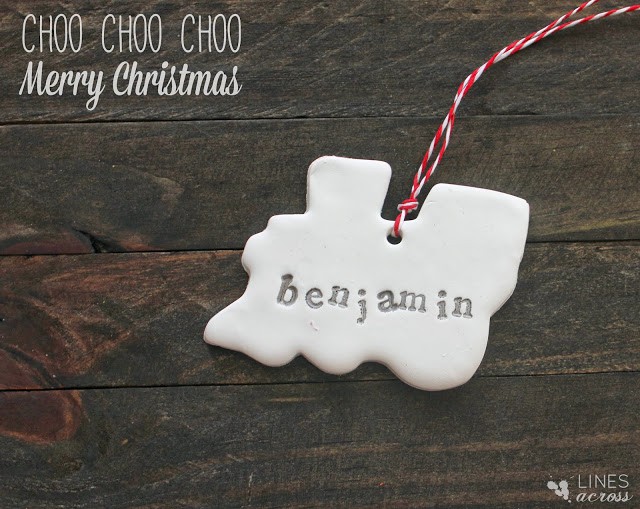 What you need:
1. Polymer Clay
2. Cookie Cutters (Don't use them on food after you've used them with your clay!)
3. Alphabet Stamps
4. Stamp Ink
5. Twine or Ribbon
What you do:


1. Knead your clay until it softens. It can be really tough at first. Roll it out to a thin flat layer. Place your cookie cutter onto the clay and push it down a little bit so that there is an outline left on the clay.
2. Gather your stamps for all of the letters you will be using. Make sure they are clean. I used black stamp ink. It lightens a little bit when baked, but it still is nice and dark against the white clay.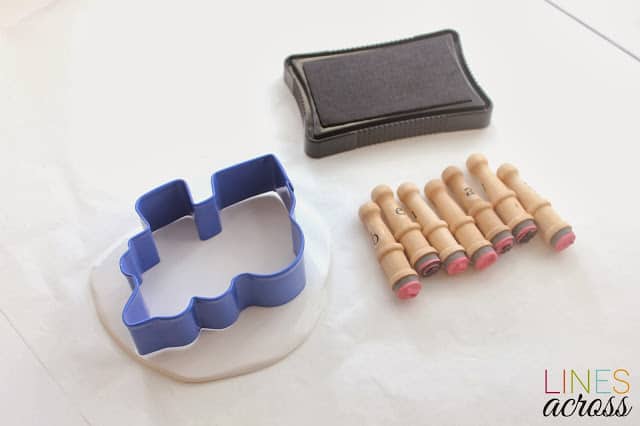 3. Dab each letter on your stamp pad, making sure that you don't get any ink around the edges of the stamp. If you do, it will show up as a circle around your letter. Gently press down on the stamp into the clay until the top of the stamp reaches the surface of the clay. Don't press any further. It may be worth it to test/practice a few times on a little piece of clay before you start.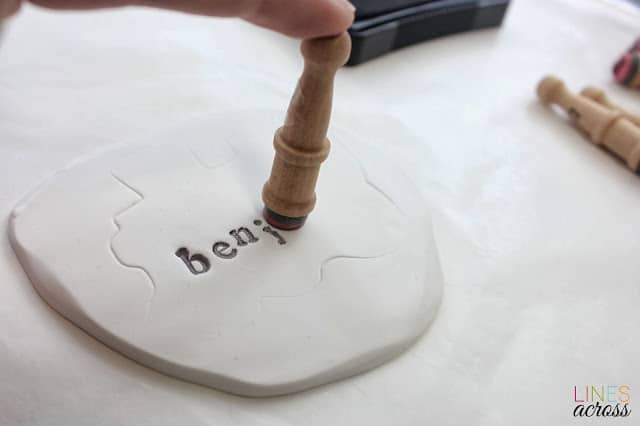 4. Use a straw to punch a hole in the top of your ornament. Then line up your cookie cutter again right over the creases from before and punch all the way through. Just like a cookie, move your clay ornament to a baking sheet and bake according to the instructions on your clay (different brands of clay have slightly different baking times and temperatures.)
5. Let it cool fully before doing anything else. Add ribbon or twine. You can make them just as ornaments, or also use then as gift tags that double as ornaments.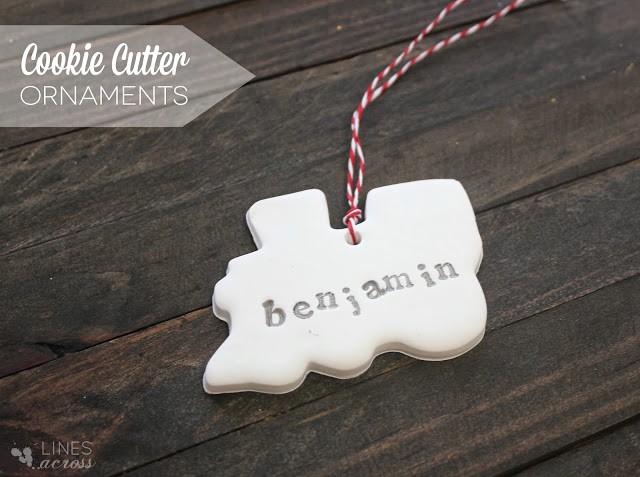 Thanks Toni for including me in this fun series! Stop by Lines Across for more Christmas tutorials, or follow along through Facebook, Twitter, Pinterest, or Google +.