This post may contain affiliate links that, at no additional cost to you, I may earn a small commission. Read our Disclosure Policy.
Everyone has that coffee table, dresser, desk, or special piece of furniture that they've been hanging onto for years. You know the table I'm talking about- the one your husband has been begging to get rid of, but for some reason you have a vision of it being exactly perfect someday! This coffee table was just that for me.
This is a table we've had for at least 14 years, and all along, my husband has been voting to throw the thing out. Through many big moves, from California to Utah, this coffee table has taken plenty of wear over the years. One of the best ways to quickly (and inexpensively!) update furniture is a fresh coat of paint. I used a paint and primer that gave the perfect color and coverage. Check out how the table turned out…
This little update is exactly what this table (and this room!) needed. This fresh coat of Perfect Taupe (that is the actual paint name) is such a beautiful color! This lighter color was a great update from the old dated orange stain- it really ties everything together and freshens up the room. The coffee table now fits in perfectly.
Supplies Needed
Any furniture piece that you'd like to update! The photo above shows my old coffee table- it's a great, solid table but definitely outdated and well-loved.
Paint –  Perfect Taupe*
clear Polycrylic top coat
paint roller and tray
drop cloth or cardboard to protect your work area
320-grit sandpaper
damp rag
Step 1: Clean the table off by wiping it down with a damp rag. Remove all the hardware.
Step 2: Now it's time to grab your sandpaper and get ready to put in some elbow grease. Sand down the table, not to the original wood, but just enough to be rough enough for the paint to adhere. As you can see, the top of the table was pretty scratched up and well-loved!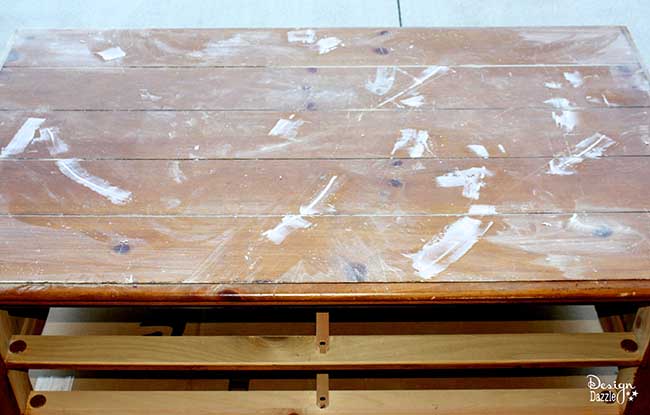 Step 3: After sanding the wood, we now need to make sure the surface is even. This is easy to do! Simply fill in the scratches and dents on the tabletop with wood filler, and let it dry. This step doesn't look too pretty, but it will make the finished product look so much better.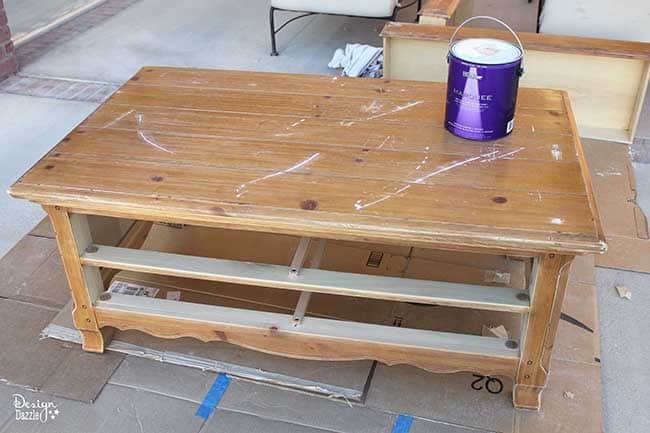 Step 4: After filling in the cracks and letting it dry, use a damp rag to wipe off the excess wood filler. Make sure to wipe down the surface really well, so that it feels smooth. It should look like the photo above- the cracks should be filled in, but the surface should look clean and dry.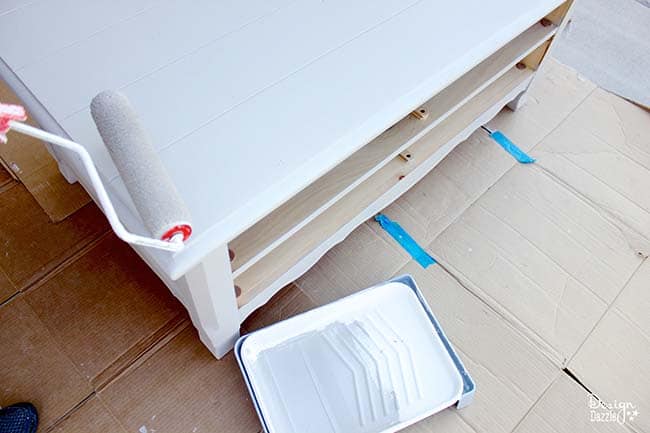 Step 5: Pick out any color for your project. I used one-coat coverage in Perfect Taupe, which is "perfect" for my project.
Step 6: Now, for the fun part- Paint! I ended up doing two coats, simply for preference. I absolutely LOVE that primer is unnecessary with this awesome paint! It is such a time-saver. I did NOT sand the paint between coats. After the paint dried, I brushed a clear water-based Polycrylic top coat on ONLY the tabletop. Because the tabletop will go through lots of wear and tear, glasses without coasters, etc. I decided a little extra protection would be a good idea.
Step 7: Replace the hardware or update your furniture with new hardware. I kept my old handles for now – maybe I'll update in the future.
I love how this turned out. Even better, when my husband saw the finished product, he was seriously shocked! He was really glad we didn't give away the table years ago. That made up for all of the eye rolling about this old table every time we moved 🙂
 This was a great, and very cheap WOW factor for my husband- I love getting that kind of reaction! I've even walked in and seen him just sitting there, admiring the finished product- I'm glad it was such a simple, quick fix! Paint is such a great solution to updating any room- it's inexpensive, easy to do, and really fun!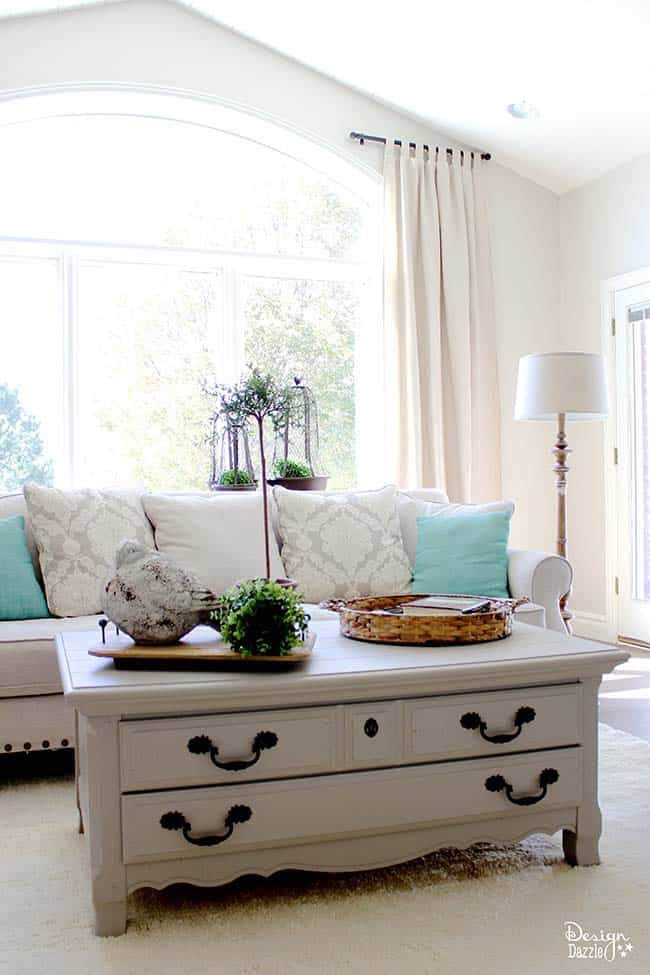 This post contains affiliate links at no additional cost to you. For further information, please see our disclosure policy.
SHOP THIS PROJECT:
You can see these chicken wire cloches on the table behind my couch. It's such pretty rustic decor. Click on the image to be taken directly to those cloche wire cages or click here for a variety.
I love my floor lamp!! It looks like wood but it isn't it. Here is a seagrass basket, perfect for organizing a coffee table. I keep the remote, reading glasses, books, magazines, etc in my basket. My drapes came from IKEA.
Yes, I truly, absolutely loved doing this project! I would recommend painting old furniture to anyone wanting a fresh updated look. I love the color of my coffee table. Painting is a perfect way to give a face lift to your old furniture that you've been holding on to for the last few years.