This post may contain affiliate links that, at no additional cost to you, I may earn a small commission. Read our Disclosure Policy.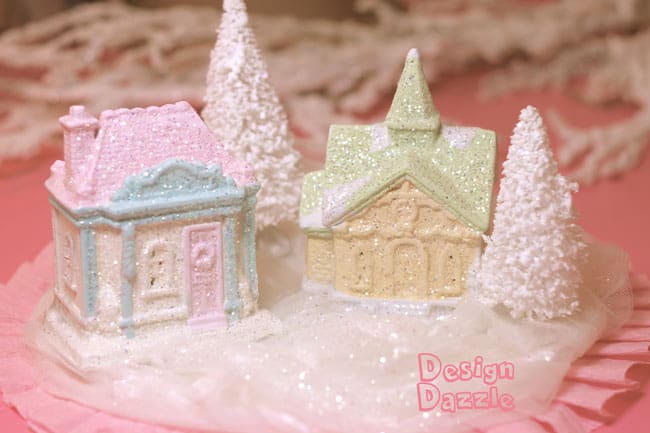 A super easy Christmas craft project to make with your kids using Dollar Store products.
Kids + paint + glitter = FUN!!
Paint these cute little village houses the color of your choice and then glitter to make fabulous Christmas decor. The bottle brush trees are sold as a set at the Dollar Store. With the paints and glitter already in my craft closet, this project cost in the $3 range.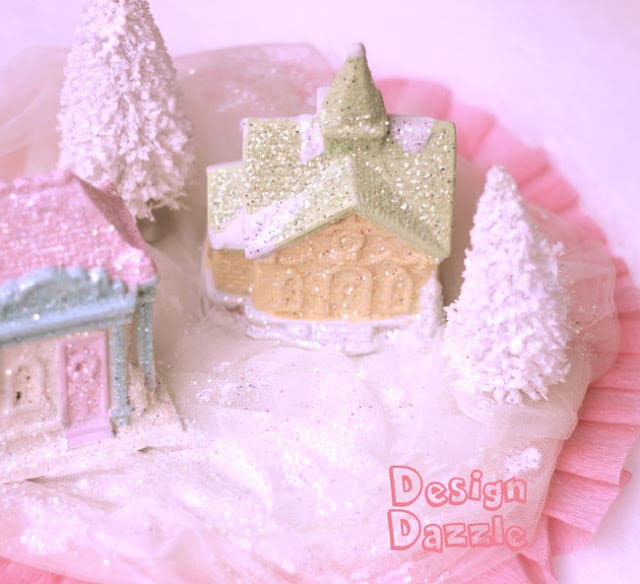 Supplies Needed:
Ceramic Village Houses (Dollar Store)
Bottle Brush Trees (Dollar Store)
Primer Spray Paint
Craft Paint (match the colors to your decor)
Cardboard (for base)
Glitter Dust – Opal/ Diamond Dust Glitter
Pink Crepe Paper Streamers

Tulle (Nylon Netting) I used less than 1/4 yard
Glue – white glue or Mod Podge
Tools Needed:
Paint brush
Scissors
Hot Glue Gun

1: Purchase ceramic village houses from the dollar store.
2: Spray paint the house with primer. Paint the house with craft paints. Choose fun colors to match your decor. Immediately sprinkle glitter all over the village house while the paint is still wet.
3: Cut a piece of cardboard to fit your village (I used a cake board). Fold crepe paper into pleats and hot glue to cardboard. Finish all the way around your cardboard piece.
Parental supervision needed with kids and hot glue.
4: Cut a piece of tulle and hot glue onto cardboard.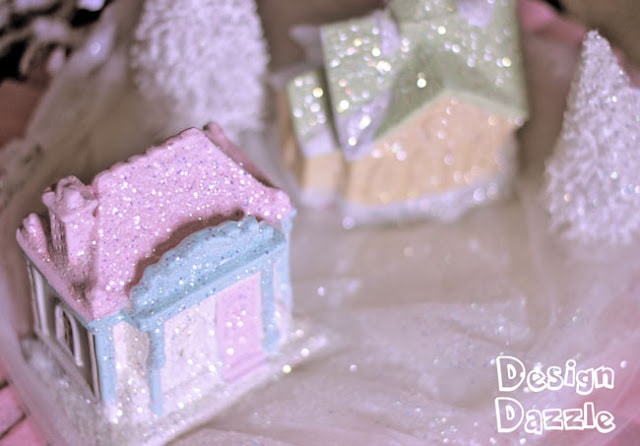 Step 5: Hot glue village homes and bottle brush trees on top of tulle.
Step 6: Paint a little bit of white glue on top of tulle and bottle brush trees. Sprinkle with glitter.
Enjoy the prettiness…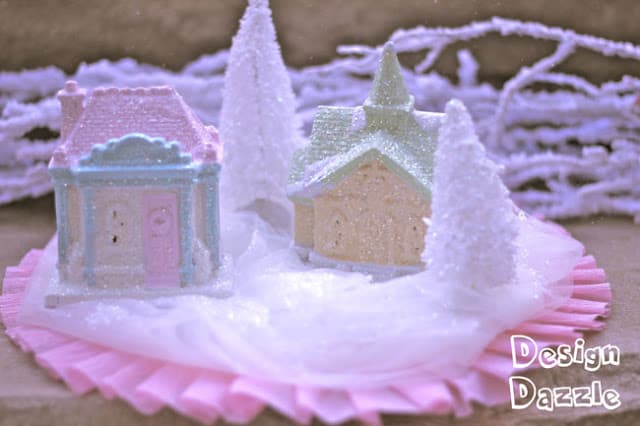 Check out all the Christmas Wonderful posts for decorating, crafts, treats and fabulous ideas!