This post may contain affiliate links that, at no additional cost to you, I may earn a small commission. Read our Disclosure Policy.
Can you believe it's Christmas crafting time already?
I'm not one to sit around throughout the year and pine away for the holidays, but every year when it is upon us I get as giddy as a school girl and have so much fun arranging decor around the house and trying to come up with new little DIY additions to those holiday accents. Do you do that, too?
Oh, and I should probably introduce myself … Hi! My name is Karah, and blog at
the space between
. You know the space … the one between where you've been and where you're going … the right now.
And it just so happens that our right now is on a Caribbean island.
About 3 years ago my husband and I, with our two pups, decided to take a leap and pursue an opportunity that took us out of the US and on a fun little adventure. It has been awesome!
And I have accumulated quite a stash of sea-ness, as I call it. Driftwood and seaglass and shells, oh my. 😉
And since I don't have the typical supply of craft stores around, I often find myself crafting with these treasures. So today, I'm super excited to be over here at Design Dazzle showing you how to make a
sea glass and driftwood Christmas tree.
A great project for the kids big enough to use the glue gun, too.
Knowing this would be a decoration only for the holidays I actually just used double sided tape to tape a piece of cream colored craft paper on the front side of the glass in a frame. In the new year I can remove the paper and tree and store it for next year and the wedding pic of me and my love will be there ready for the spotlight again. 🙂
And making this festive little craft is as easy as 1 …
… 2 …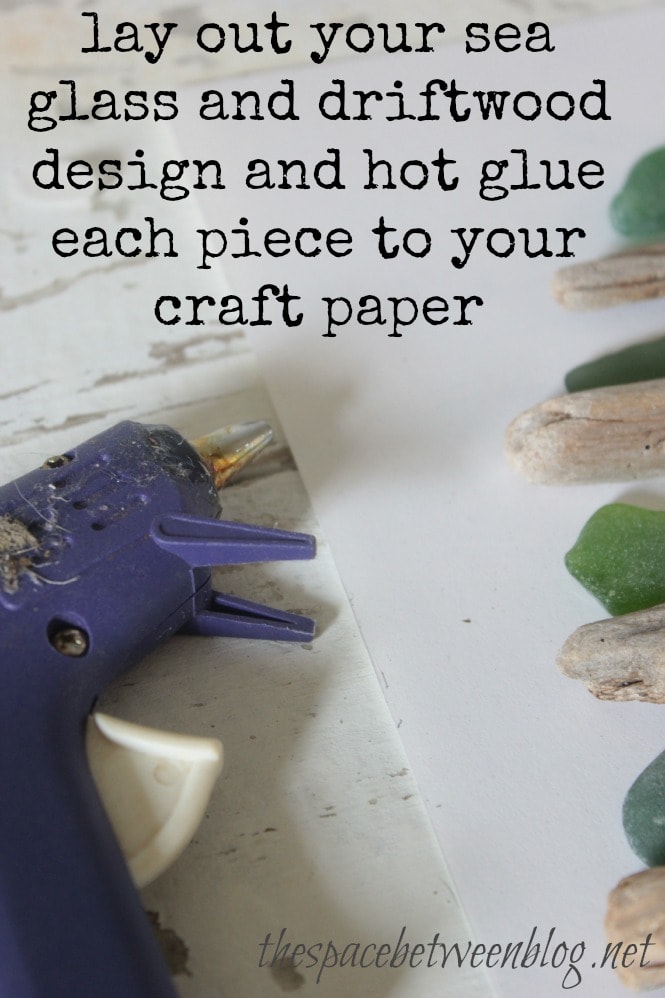 … 3.
Once your craft paper and new sea glass and driftwood tree are secured to the front of the glass, just put it all back in your frame and then there's probably the hardest step …
… finding the perfect spot to display it for the holidays. 🙂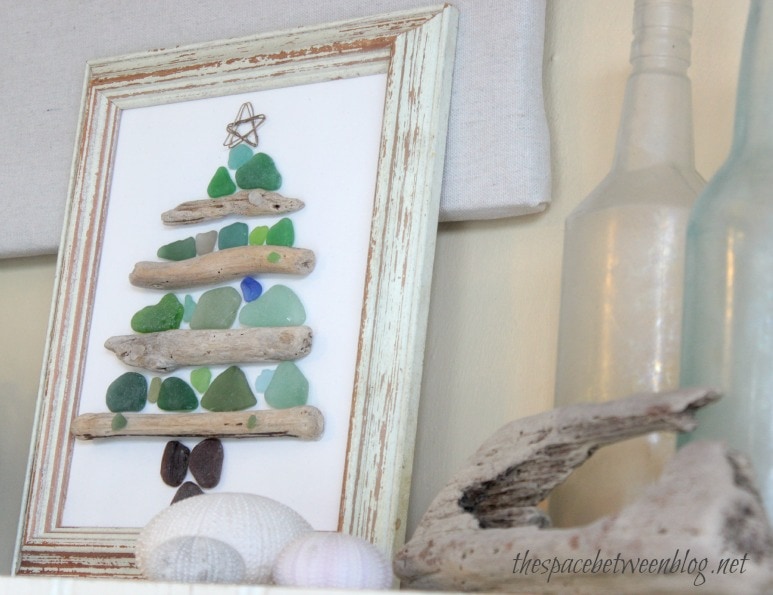 I like the pops of unexpected color the little pieces of blue and gray add … kind of like ornaments.
And I added a few teeny tiny pieces of sea glass right to a few pieces of the driftwood to give it additional dimension. And used needle nosed pliers to twist a piece of small gauge gold wire into a star shape for the tree topper.
And since I was on a roll, I took a branch I found
in July
and made a fun little advent tree. To see how we'll be counting down the days to Christmas in a non-traditional way check out
our advent tree here
.
And thank you so much to Toni for inviting me to participate in her Christmas Wonderful series. It has been truly wonderful to be over here today Christmas crafting with you all. 🙂
What do you think of the sea glass and driftwood tree? Do you craft with nature? Don't you just love a simple and stylish craft idea?