This post may contain affiliate links that, at no additional cost to you, I may earn a small commission. Read our Disclosure Policy.
Happy Holidays, Design Dazzle readers! I'm Dawn of
Not Just A Mommy!
, an entertaining and craft blog, and I'm thrilled to be part of this year's Christmas Wonderful and share Mrs. Claus and Santa Bash!
I love throwing parties and entertaining, but during the holidays there just doesn't seem to be enough time. Today I'm sharing a great idea for an easy and fun holiday get-together that's a perfect after-school or weekend play date.
A few years ago, I hosted a Santa's Mustache Bash for my girlfriends and I've always toyed around with the idea for the kids. When I first spied Cristina of Le Partie Sugar'sHandsome Fella Or Lil' Lady Gender Reveal Party pack, not only did I fall in love with it, but the wheels started spinning and I knew what must be done, a Mrs. Claus And Santa's Bash! We would use Santa's mustaches for the boys and Mrs. Claus' lips for the girls…
I contacted Cristina to work a little magic on her collection exclusively for Design Dazzle and she did a fabulous job for our cookie decorating party…
There is no need to break the bank to make an event special. A few store bought goodies and a trip to your craft closet are all you need to recreate this dessert table.
Yes…these are Hostess Sno-Balls so I'm sorry you can't make these North Pole treats, unless you were one of those people who stockpiled them. I bought mine before the company went under. The North Pole labels were easily created in Word, and the poles are made with CupKate Design's candy sticks and paper straws. A stack of mini doughnuts would make a fun substitute.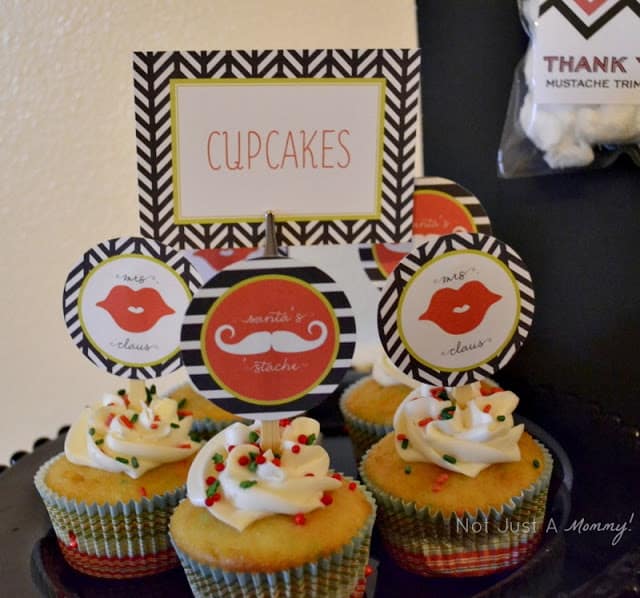 A few cupcakes…
…and Hot Cocoa On A Stick. A friend brought homemade marshmallows which I skewered onto Make And Takes' fudge recipe. To be honest, the fudge is so good, we've been eating it straight and haven't made any cocoa with them yet.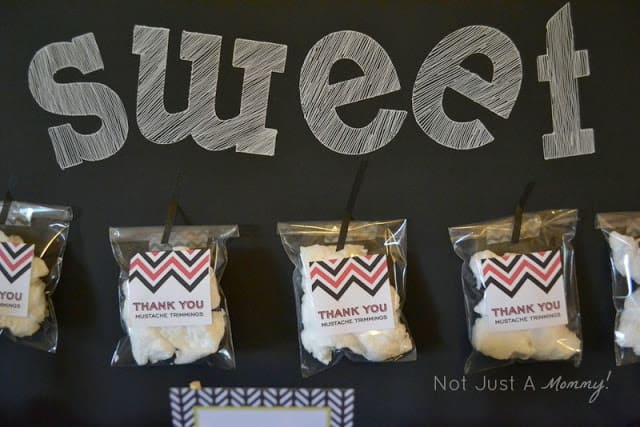 Of course we needed a few mustache trimmings AKA white cotton candy. The labels were created using free printables from On To Baby.
For the kids' table, I used one of my favorite go-tos for a tablecloth, butcher paper. It's inexpensive and comes in a range of colors and in black, mimics chalkboard and works wonders with a white pen. I layered paper plates and stamped a lip or mustache onto the striped napkins.
One of my favorite things is the sprinkle-filled ornaments hanging over the table…the perfect touch. Just fill clean ornaments with the sprinkles of your choice.
Each setting had a thank you bag with a candy lip and mustache tied with a fun tag. Both candies were made from Wilton candy molds you can find at your local craft store.
Don't put away those candy melts yet; paint the inside of glasses for more lip and mustache fun! Even without the paper straws, you'll have the coolest party glasses in town.
Decorating cookies are the perfect holiday activity. I made a batch of sugar cookies, set out frosting and sprinkles and let them at it. I have to interject that I'm a lousy cookie maker. Whenever I want to make shaped sugar cookies, they NEVER look like what they are supposed to, even with store bought cookie dough.
When I asked a friend for her cookie secrets, she swears by Sweetopia's sugar cookie recipe and tips and I'm paying it forward because, well, it worked! I'm still excited just looking at them!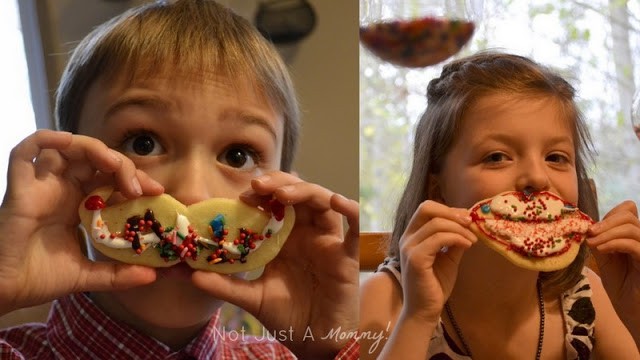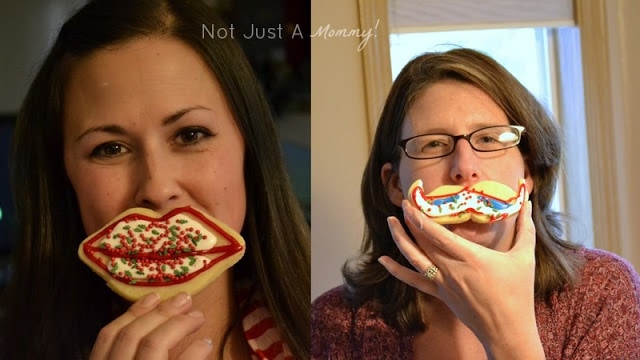 Even the moms got in on the fun!
I hope you've been inspired to throw your own Mrs. Claus And Santa's Bash because Cristina is offering the printables she designed for FREE! That's right, the 2″ circles on the cupcakes, the food and water bottle labels and the 3″ tags on the candy bags are yours for personal use. Visit Le Partie Sugar for the free download and be sure to check out her other shop goodies.
And for more fabulous parties, DIY, crafts and a little crazy, visit my blog, follow me on Facebook and Twitter and check out what makes me smile on Pinterest.
Thanks for sharing, Dawn! Your party looks AWESOME!
Come back tomorrow to see more Christmas Wonderful ideas!